Advertise
Why advertise with Northern Noise?
By advertising with Northern Noise you will be speaking directly to a thriving audience of gig-goers, musicians, culture fanatics and students.  Advertising with Northern Noise is the perfect opportunity to get your product the right attention from the right consumer.
What we can offer.
For as little as £10 per month (£100 for a full year), we can feature your adverts on our top right advertising boxes for all visitors to see.  These spaces are immediately visible to readers of any Northern Noise feature.
In addition, our larger boxes, located in the lower portion of each page, allow for more creative freedom for your advert.  These spaces also feature on every page of Northern Noise and are available for £15 per month (£150 for a full year).
All adverts are monitored and at the end of your campaign you will receive a report outlining advert impressions (views) and click numbers so you can assess the effectiveness of advertising on our site.
Advert sizes.
Small box – 125x125pxls


Large box – 250x250pxls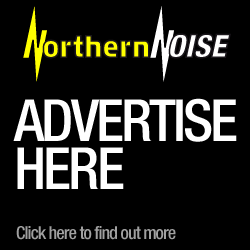 All adverts can be designed by our in-house designer or you can submit your own adverts. Formats that we accept are:
Static: JPG, PNG, GIF
Animated: GIF, SWF
We have no strict limits on file sizes as long as they are within reason and suitable for web viewing.
For more information please contact us at: contact@northernnoise.co.uk