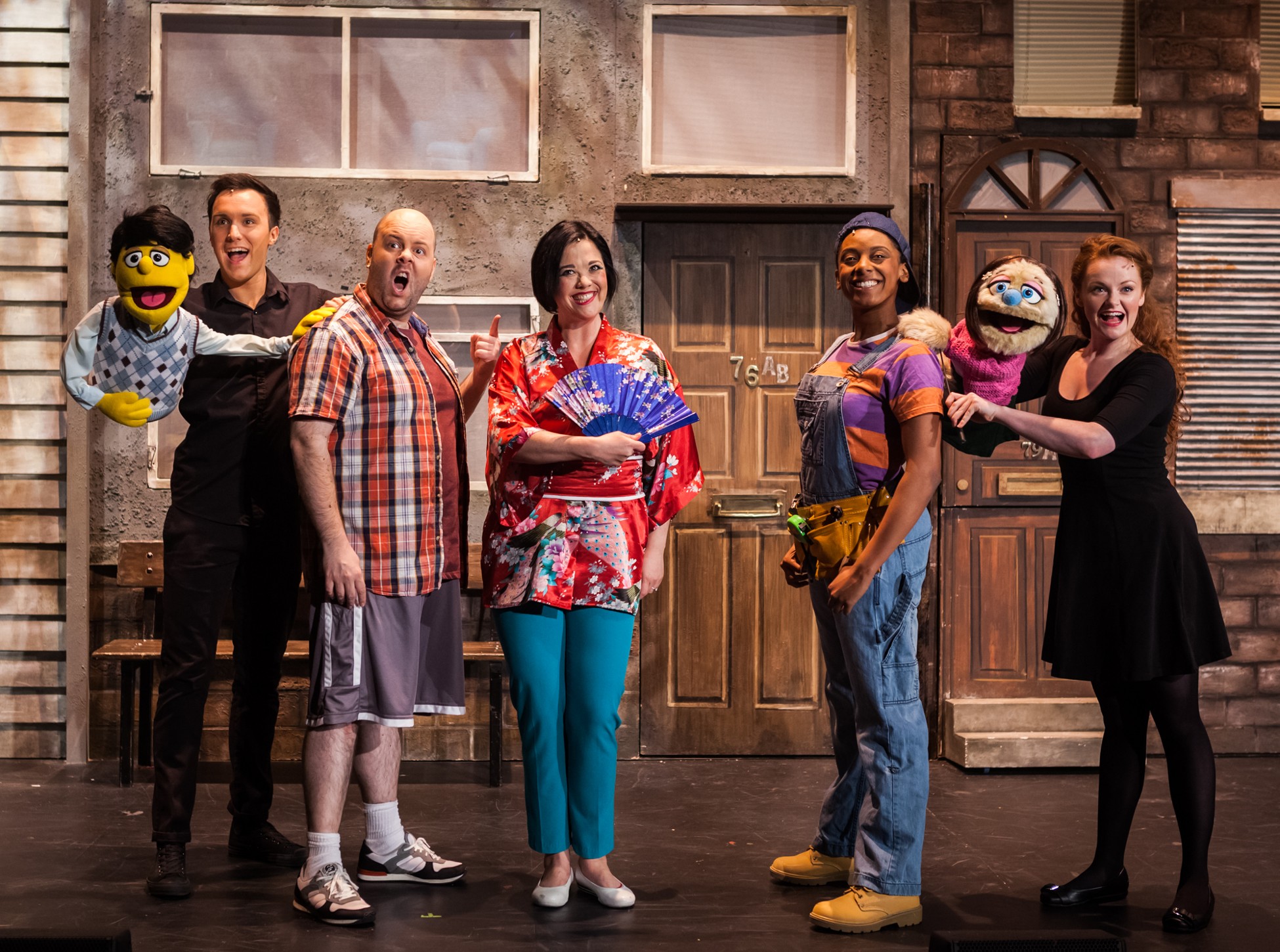 Crude and colourful theatre may have become the new 'hot ticket' thanks to the runaway success of The Book of Mormon, but it was Avenue Q that kickstarted the craze. Both shows come from the masterful mind of Robert Lopez, the world's youngest EGOT (Emmy, Grammy, Oscar, Tony) winner and the musical brains behind Disney's recent cool kiddie hit, Frozen. Everything Lopez touches may turn to award statuette gold but what happens when he takes a backseat and sends his projects out onto the road? More of the same it would seem. As Avenue Q arrives in Manchester for the Northern leg of its 12 week UK tour it quickly becomes clear why this particular show has endured 11 years and countless cast shuffles with its hilarity perfectly intact. Great songwriting along with strong casting make tonight's show a sure-fire hit with this packed out Palace Theatre audience.
What can you do with a B.A in English? Not much according to our plucky felt hero Princeton. He's arrived on Avenue Q with the world at his fingertips, soon to discover that real life isn't quite as easy to navigate as he originally thought. Luckily, the street's residents are on hand to offer some (questionable) advice via a string of NSFW numbers. The clean cut Kate Monster, repressed gay roomies (and alternate universe Bert & Ernies) Brian and Rod, trashy Trekkie Monster, unlikely human couple Brian and Christmas Eve and building super' Gary Coleman (yes, that one) are all on hand to help Princeton find his purpose.
Stellar songwriting keeps the pace high during act one, with performances of laugh-out-loud songs 'If You Were Gay', 'Everyone's a Little bit Racist' and crowd fave 'The Internet is for Porn' dishing out the chuckles before a hilariously vulgar puppet sex scene pushes things to the next level. Act two is all story but keeps the buzz going with 'My Girlfriend, Who Lives In Canada', 'The More You Ruv Someone' and 'Schadenfreude', all proving to be stand-outs hits with tonight's crowd.
Don't be fooled by the all the fuzzy colour though, Avenue Q is no kids show. Despite the puppeteers clearly visible on stage, it doesn't take long for suspension of belief to kick in. In fact, their unavoidable raw dedication to the art of puppetry makes the whole performance infinitely more impressive. The entire cast are all on top form tonight, from Lucie Mae Sumner's amazing dual-role turn as Kate Monster and the aptly named Lucy The Slut, Jacqueline Tate and Richard Morse as the avenue's tetchy couple Brian and Christmas Eve to Ellena Vincent's superb Gary Coleman. If you grew up on a steady diet of Sesame Street or even if just you're just looking for a hilarious night out, Avenue Q is sure to please the inner child and outer adult in us all. Don't miss it.
Avenue Q is playing at the Palace Theatre Manchester until Saturday May 31st.
Words by Simon Bland (@SiTweetsToo).
Be sure to 'like' us on Facebook and Follow us on Twitter to keep up to date with all the latest Northern entertainment news!