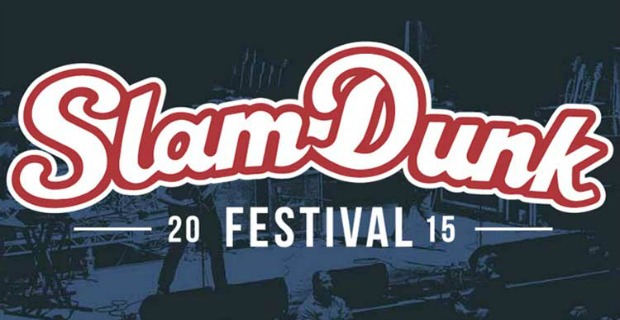 Kerrang!'s Slam Dunk Festival: think mosh pits, bearded men with their tattooed girlfriends and a handful of the hottest post-punk bands around. The annual music festival, which evolved from alternative punk/emo/ska night held weekly at Leeds' Cockpit music venue, began in the North and scaled its capacity to our sisters the South and the Midlands; Hertfordshire and Wolverhampton to be exact.
The festival is normally held on the May Bank Holiday of each year, featuring a mixture of up and coming and more established punk, emo and ska acts. Past festivals have seen the likes of American rockers Fall Out Boy, Paramore and Slam Dunk Festival veterans Reel Big Fish take to the events many stages, with each passing year bringing in stronger and more relevant acts.
This year's line-up includes rock gems You Me at Six, Taking Back Sunday and Lower Than Atlantis for the headline slots, with the well-loved Neck Deep, Gallows and Goldfinger also present to get the crowds going. With that in mind, here are 4 acts you can't afford to miss at Slam Dunk Festival 2015…
You Me At Six – "Bite My Tongue (feat. Oli Sykes)"
This song, taken from You Me at Six's 2011 album Sinners Never Sleep, is perhaps the heaviest and most enjoyable on said album. It's so quintessentially YMAS – Josh Franceschi's unmistakable purr, licks and riffs all over the scale and the calm before the storm – that belting chorus. This rip-roaring tune is guaranteed to get the crowd going at this year's festival. Unfortunately, Oli Sykes (Bring Me the Horizon's elusive frontman) won't be joining this Surrey-based band for this song at the festival, but no doubt You Me at Six will still tear the roof off with this hit.
Lower Than Atlantis – Here We Go
Lower Than Atlantis came on the scene in 2007, after hailing from Slam Dunk Festival's very own Hertfordshire. With four albums under their belts, this band are arguably one of the newest but most popular bands on the bill. Fan favourite "Here We Go" is packed full of groovy bass, shit-hot guitars and this catchy melody that doesn't seem to escape your brain for a while. According to BirminghamMail.co.uk, lead singer Mike Duce has stated his excitement to be back in his hometown for the festival: "Slam Dunk was one of the first festivals we ever got to play, so it's nice to be asked back later on in our career. We went last year as punters and had such a laugh. Roll on the summer!" Lower Than Atlantis are definitely ones to keep your eye on.
Neck Deep – A Part of Me (feat. Laura Whiteside)
Neck Deep, pipped as Kerrang!'s Best British Newcomer of 2014, are a Welsh pop-punk band with an infectious, energetic sound. "A Part of Me" is an emotional ballad, but don't let that dishearten you – there's still plenty of electric guitars and that traditional pop-rock vocal, teamed with the sugary harmony of friend-of-the-band Laura Whiteside. Reminiscent of early Sum 41 or Blink 182, Neck Deep will play Slam Dunk Festival for the first time this year.
Fireworks – Arrows
Fireworks, a Detroit-based pop-punk band, are back after a long-overdue personal break. With three full-length albums and a string of prestigious support slots under their belt (New Found Glory, The Wonder Years) it's no wonder they've been chosen for Slam Dunk 2015. "Arrows" has that underlying pop vibe, but is nonetheless bursting with quintessential punk elements like the crashing of drums and angsty lyrics. The slight quiver in lead singer David Mackinder's vocal contrasts with said rock characteristics, which can only add to the emotion that they emanate. For fans of All Time Low and You Me at Six.
Slam Dunk Festival 2015
Although Slam Dunk Festival is just a two-day, indoor festival, it's certainly still a mark on the map of British music events. Since it began in 2006, the calibre of acts has not only improved, but the festival itself has grown into this manic, untameable rock beast. Slam Dunk promises 16 prestigious bands and a whole two days of rocking out, moshing, or whatever it's called these days. For about 40 quid a ticket, who could say no?
For the full line up, more information and tickets, head here.
Keep up to date on all the latest Northern entertainment news by following us on Twitter, Facebook and Google+.