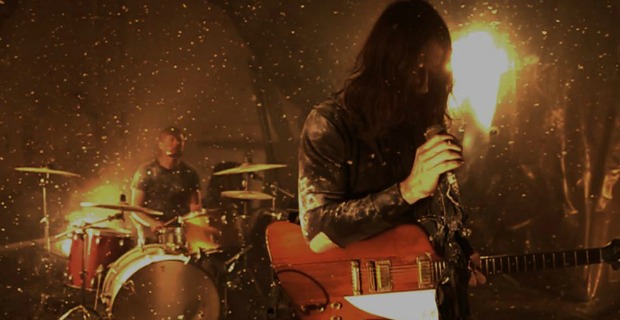 The heady combination of Antics clubnight and Beacons Festival hit Night and Day Cafe last Friday and Saturday in the form of the Antics Weekender, turning out a line-up of bright new bands from near and far, strutting their stuff on stage to bring a night of non-stop music for a crowd of cheery Mancunians. Here's the highs and lows of what Saturday had to offer.
New psychedelia man James Elvin took on the earliest chunk of the night, as people trickled in and settled at on the dancefloor, the booths and, of course, the bar of the cosy Northern Quarter venue. One of Manchester's own, Elvin is a skilled guitarist with a penchant for lingering, potent lyricism, and as well as playing the odd well know cover (U2's 'Sunday Bloody Sunday' for one) he showed off strong potential in his own work. As the night was young, so are new trio The Twisted Dolls, who brought a heavy rock-y pop sound characterised with overwrought guitar riffs and laboured singing. A little too White Stripes for my taste, the band have a way to go to streamline their sound, but they're on their way.
The next band was a personal favourite, and another band hailing from Manchester, raucous goth-pop rockers LVLS. Noisy and boisterous with in-yer-face riffs and a very impressive vocal performance from a cocky lead singer, the band's loudness detracts from the effort gone into creating unique and skilful harmonies and tracks using three guitars, bass, drums and synths all together in cleverly overlapping multi-faceted ways – such as in their song "Echoes". A fantastic mix of technical skill and attitude.
Sadly the following act didn't quite deliver the same atmosphere. Electronic rock outfit ChampionLover work with synth and repetition to create weighty noise-pop – but drown it in so much reverb that it becomes not much more than noise. There's a knack to using reverb and synth to create the hazy droney hypnotic harmonies of noise-pop, dream pop and the like, but these guy's just haven't figured it out yet. Coroner For The Police picked the pace back up with some rock 'n roll inspired melodies in the style of Queens of the Stone Age or the Raconteurs. Their closing track of the night "Born Liar" was a good one to end on for sure.
And to bring the night of bands to its towering finale was the formidable, undefeatable, sweat-dripping and guitar-shredding garage rock powerhouse Bromheads, who's lead song "Kerosene" certainly caught the attention of the dancefloor. The two-piece Sheffield band is clearly practised in live shows and did plenty of egging the audience on with their casually jokey manner and head-banging antics. Certainly the strongest on-stage presence of the night, the band were entertaining and showed off a number of strong, heavy indie-rock tracks.
As the night went on, dancing and DJ's took over… songs from all eras bringing out the dancer in all but the most reluctant, and a general all-round vibe of fun-heartedness and humour took over the Night and Day. A quality night and a good chance to check out some fresh talent, Antics and Beacons put on a good night!
Words by Conori Blue (@ConoriBlue).
Be sure to 'Like' us on Facebook and follow us on Twitter to keep up to date with the latest Northern entertainment news!