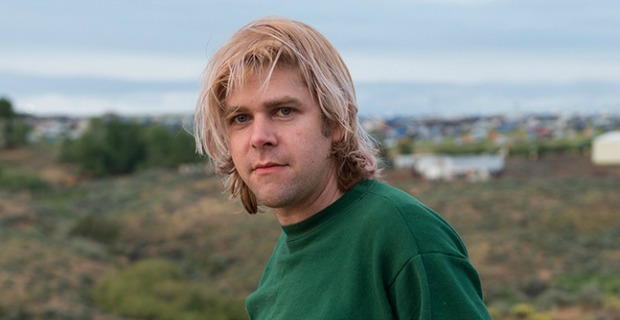 With a reputation as a notoriously brazen asshole and a YouTube channel full of some utterly woeful live performances, Ariel Pink has certainly had his work cut out for him since the release of his last LP, Pom Pom, topped many critics' best-of lists last year and thrust the LA pop enigma back into the spotlight. Booking him as the closing act of Manchester's FutureEverything festival was a risky move but an inspired one, as Pink's brand of lo-fi, nu-retro pop nests perfectly at a transmedia intersection of the past, present and future that the festival seeks to examine.
Taking place at the RNCM and sharing a venue with a jazz trio and male vocal choir means there's an odd mix of people milling around in the foyer during the pre-show, with grey-haired women and men in tuxedo's rubbing shoulders (somewhat reluctantly) with the bearded hipsters you'd typically expect to see at an Ariel Pink gig. Though the differing set-times separated the two camps fairly quickly, shuffling off into their separate auditoriums, it does help sell the idea of this as a show rather than simply another gig at a toilet venue.
Despite this, the band were nearly 40 minutes late onstage; a delay that was caused by the band allegedly having visa troubles at the airport but one that most people were happy to chalk up to rockstar BS with little fuss. Kitted out with a new seven-piece band, this outfit is much slicker than the three-piece he toured with in his Haunted Graffiti days, and seems to be a conscious effort by Pink to replicate the audio fidelity of his records, as evidenced by Pink's efforts to get the echo/reverb on his mic juuuust right before playing a note of music.
Chasing the sound of his albums is a loser's game though- a big part of Pink's appeal is metatextual, and comes from the way his production style projects a washed-out, lo-fi warmth that evokes a sense of nostalgia. Whilst the strength of Pink's songwriting and the skilfulness of his band ensures the songs stand on their own, no matter how well the band play they can't recapture the magic of the studio versions, which means a lot of the songs end up sounding a little muddy and lose that self-aware wink to the audience that's become such a crucial part of his sound and identity.
As for the setlist itself, the band sticks almost entirely to material from Pom Pom, starting with an anthemic rendition of "Picture Me Gone" before essentially running through a selection of cuts from the front half of the album. Pom Pom's a strong enough LP that there weren't really any duds in the setlist, and Pink even appeared to be enjoying himself in his own unique way, alternating between lounging around on a coach and coffee table positioned in the middle of the stage and occasionally subbing out various band members and taking over their instrumental parts mid-song.
The main takeaway from the set though wasn't the songs he played but rather the ones he left out, which included some of the best cuts on the album- There was no "White Freckles", "Nude Beach a Go-Go", "Negativ Ed" or "Put Your Number In My Phone", and the whole set felt like it was building towards a crescendo that never quite came. And despite closing with a rousing rendition of "Bright Lit Blue Skies", the other two Haunted Graffiti songs he played- "Menopause Man" and "Early Birds Of Babylon" – were huge missteps considering the wealth of great songs he's produced over the last few years. His encore song, "Goth Bomb", was certainly a good closer, but the audience were clearly waiting for a rendition of "Round and Round" that never came.
Really though, when dealing with an artist like Ariel Pink you have to take what you get at face value, and in that sense the performance we got was fine, if a little on the short side. Maybe this was Pink's way of re-appropriating the old jazz cliché- if you listen to the songs he didn't play you end up with an excellent setlist, but as it stands it falls frustratingly short of meeting expectations.
Keep up to date on all the latest Northern entertainment news by following us on Twitter, Facebook and Google+.