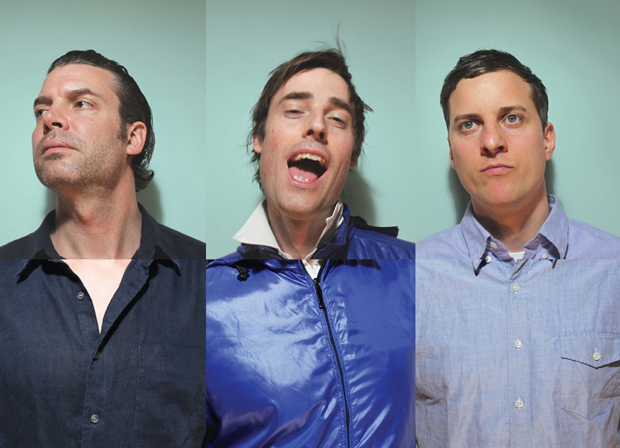 The chaos stops for a fleeting second, just long enough for Dave Konopka, Battles' sometimes guitarist sometimes bassist to address this worked up Leeds rabble. "Today was a very special day for us" he begins, "today we gave birth to a beautiful baby girl named Gloss Drop.  She weighs twelve tracks and about fifty minutes" he smiles.
But we're getting ahead of ourselves. After all we're mid set and the inhabitants of The Cockpit – a claustrophobic bunker of a venue (the reason why it's such a good live music playground) – have been hanging out with Gloss Drop all evening.  Well, after the band, like loving parents, ensured that tonight's crowd weren't the type to illegally download that is… With former vocalist Tyondai Braxton leaving Battles last year the trio have been dealt quite a challenge of late, forcing them to stretch their creativity beyond music performance. So tonight, behind their mess of wires, instruments and amps there are three screens, allowing Gloss Drop's guest singers to be here both in spirit and projection.
Rewind a tad and set opener Africastle's slow build sends shivers through the audience, with the Battles trio utilizing every available finger to push buttons, shake shakers or strum strings. Barely two songs in and both the crowd and the band seem locked into the same wavelength.  And it looks like exhausting work. By the time new album standout Sweetie & Shag makes an appearance drummer John Stanier, hunched over his modest kit with his trademark ride cymbal looming way up over his head, looks like he's midway through an endurance trial. One he's determined to conquer.
Album tent-pole track Ice Cream causes bodies to swirl and shake thanks to Matias Aguayo's giant face singing from the on-stage screens while Dominican Fade maintains the pace with its math-rock calypso mix. Futura and Inchworm keep this intricate act so engrossed in their technical performance it makes you question whether they even notice the crowd's increasing energy.  Guitarist Ian Williams furiously chews gum while My Machines summons the pouting face of 80's icon Gary Numan to the stage, his piercing stare shooting through the three furiously working Battles band members to the sweaty crowd beyond. As the band return to the stage for a one-song encore all those holding out for the demented riffs of Atlas were left sorely disappointed. Instead fans were given a lingering performance of Sundome to spend the remainder of their energy on.
This was Gloss Drop's 1st birthday party and as such, it was the centre of attention – which would explain tonight's lack of older material.  The absence of Mirrored tracks left fans a bit conflicted, unable to pinpoint why things were turned up to 10 but not quite 11.  Two post-show ticket holders summed the experience up quite well: "It was good, but missing something…" pondered one gig-goer. An answer was quickly provided: "Yeah, a singer".
Words by Simon Bland.