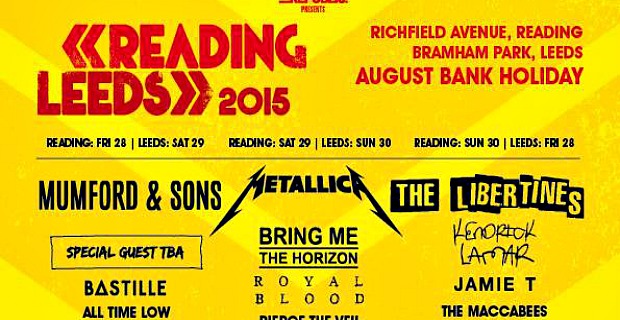 Ah, Leeds Festival. The God of all music-related Northern weekends. Not only is it held in what some would call the heart of the North (Bramham Park, to be exact), it's 4 days packed with the local Tesco's entire booze aisle and an insane amount of instant noodles. Add that quintessential electric atmosphere and of course, a great big handful of fierce acts and we have a melting pot of undeniable awesomeness. With capacity of roughly 90,000, Leeds organisers always ensure that there's something to do for each and every veteran and newcomer alike all weekend. Here's what you need to know about Leeds Festival 2015…
The Music
This year Leeds Festival boasts prestigious headliners in the form of heavy metal quartet Metallica, folk darlings Mumford and Sons and indie heroes The Libertines. As it appears, there's something for everyone this year, whatever the sort of music you're into. Across all six stages they never seem to leave anyone going short, seeing that we have plenty to sink our teeth into. The weekend will see heavy metal bands thrashing about, indie lovelies strumming away at their Fenders, electric house DJs doing their thing and hip hop clans being wholly offensive and controversial all over the shop. Unmissable acts, aside from the three emphatic headliners, include alternative bands Royal Blood and Catfish and the Bottlemen, nu-metal oldies Limp Bizkit, grime crew Boy Better Know and world-renowned DJ Hannah Wants. Check out the full line-up for more vital acts.
Silent Disco
If you're new to this whole festival business, you maybe be wondering what the devil a silent disco is. Well, it's basically about 16,000 sweaty, muddy festival-goers each donning a pair of headphones and dancing and singing to a different song. The person to the left of you could be rocking out to a heavy beat with screaming guitars, whereas the person to your right could be busting some moves in a techno frenzy; the possibilities are endless. Grab yourself a beer and head down to Leeds Festival's silent disco for a different side of your jam-packed weekend.
Yellow Caravan
Most festivals offer a myriad of other activities for when you fancy stepping away from the live music and going to explore. However, not many British music festivals have a licence to continue the booming, deafening music after a certain time. This is where Leeds' Yellow Caravan emerges… Just as you're under the impression that the party and antics are over, yellow camp hosts the legendary after party. Dance with your mates and form new ones until the early hours, but watch out for the next-day hangover.
Buses To and From The Festival
Again, unlike most British music festivals, Leeds offers what many call 'The Saviour Bus'. This simple concept just involves minibuses carting festival-goers to and from the town centre, ensuring they can stock up on alcohol, cigarettes and food to avoid the unfortunate prices inside. Some also sneak off in the hopes of finding showers too, but that's definitely cheating…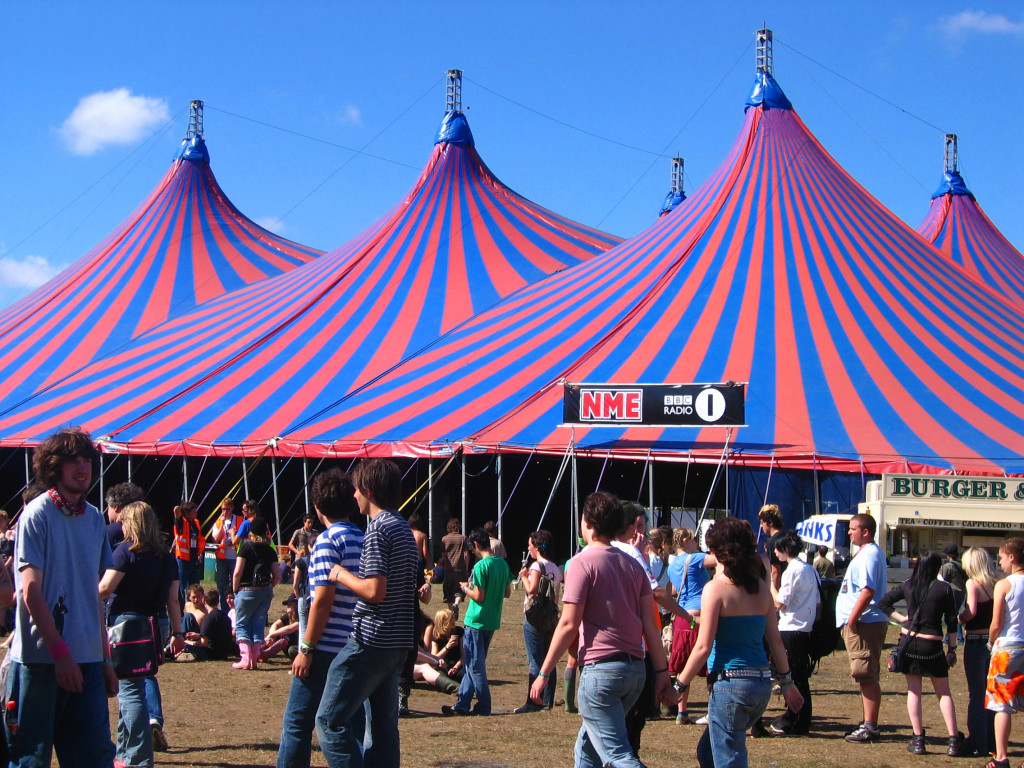 All Important Food
Although prices are often deemed as extortionate at such events, it's always absolutely vital that campers eat three meals a day and drink plenty of fluids. At risk of sounding like a nagging mother, high temperatures teamed with consuming copious amounts of alcohol (and erm, other substances) can potentially leave campers in a dangerous mess. But fear not! Leeds provides hundreds upon hundreds of food stalls, so with opportunities to munch on anything from traditional British, Mexican, Indian and Jamaican to quintessential festival delicacies like ostrich, crocodile and wild boar burgers, why not try something totally new?
The Atmosphere
This is perhaps the most enticing thing about Leeds Festival: the electric, buzzing atmosphere. Anyone who frequents or even one-timers will tell you that this festival is undoubtedly highly atmospheric and completely unforgettable each year. If you like the sound of bonding with your friends and making new ones, creating hilarious memories and getting a little too drunk (and then potentially weeping over your favourite band's performance), Leeds may well be the one for you this year. Forget Leeds' calmer, southern sister Reading Festival, Scotland's lairy, far away friend T in the Park and just completely sack off any other event such as these. For a weekend of singing, dancing, possibly frantic crying and trying new things, get yourself a tent, a few crates of your favourite beer and a Leeds Festival ticket for this summer.
Buy Leeds Festival tickets here.
Keep up to date on all the latest Northern entertainment news by following us on Twitter, Facebook and Google+.