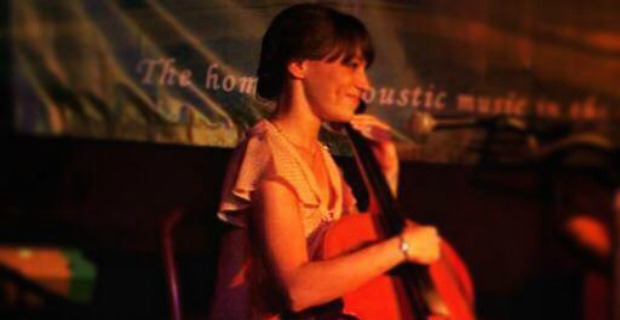 Here, for your enjoyment, a young Mancunian songstress will fill you in on why she's the one you should be listening to one repeat this week. Liz Preston uses voice and cello to create mysterious melodic tunes that sound like the soundtrack to a fantasyland. At a recent gig in the Soup Kitchen her performance showed the loop pedal action behind the magic and she shaped her enchanting sounds on set. Think Bat for Lashes meets Kate Bush meets John Martyn with a cello…
Members:
Elizabeth Preston – Vocals, Cello
What She Has To Say:
"I first started playing the cello at about nine years old and then about two years ago, I discovered the loop pedal and was instantly captivated. Since then, I've lost countless hours trying out different cello, vocal and percussion loops, often to the detriment of the adult life-basics; food… drink…. real clothes. Not the most sophisticated of days, but I feel lucky to be able to do something that engrosses me so much.
I try to cover a range of styles to keep each song sounding distinct and can be a bit of a music magpie as I'm always on the look-out for little inspiration gems from different genres. I'll then try to meld these together during a foodless, drinkless, real-clotheless looping binge -yes, my neighbours hate me… sorry no.33. I do listen a lot to slightly quirky female singer/song-writers and I like the idea that some of my favourites (Joanna Newsom, PJ Harvey, Kate Bush) have seeped into my music.
I'm originally from Blackpool, a place not widely known for its cello pop/folk scene. Last year I moved to Manchester and have been quite enthralled by a lot of innovative live music and the gig opportunities I've had so far. I've been lucky enough to play some great venues over the past few months and have felt motivated by how receptive people have been. That may sound a little cheesy, but I think being listened to by people who are interested in what you're doing makes the difference between wanting to go home to work on your next idea and wanting to call it quits and watch Beaches for the rest of your life.
I'm hoping to put some recordings I have together into an EP very soon. In the meantime, I'm planning on playing lots more gigs and carrying on experimenting with different ideas that have been swimming around. I'd really like to integrate some other instruments I play into songs and sets in the near future and keep things interesting for me and anyone else who'd care to listen!"
What We Have To Say:
"There's not much cello pop in the North's ever-growing music scene, however that could all be about to change. The introduction of Elizabeth Preston and her acoustic, delicate sounds come as a welcome relief from the recent slew of sticky-tape-and-enthusiasm fueled bedroom rock bands and laptop-dependent techy acts that seem to dominate gig bills of late. Armed with just a cello, a loop pedal and a trusty voice box, Liz's music manages to silence spaces and stop viewers in their tracks – no easy feat in Manchester's often-rowdy booze halls.
So how does she manage it? Perhaps it's the spectacle. Head down to one of Liz's gigs and you're likely to see something different to your average live show, with the busy singer-songwriter utilising every available limb to command all manner of instruments and tools with an effortless ease. Mastering loop pedals and controlling one-shot vocal recordings live on stage can be a notoriously tricky task and yet Liz manages to pull it off with aplomb, making the whole task look like a walk in the park whilst leaving those aware of the difficulty at hand, aghast. It's undeniably impressive stuff.
Sound-wise, Liz's output is equally appealing. Her breathy, raw vocals are certainly reminiscent of the Kate Bush parallels mentioned in her statement above and her understated charm mirrors that of a woodsy Agnes Obel or earthy Laura Marling. Quickly becoming a familiar face in venues all across the North, Liz is an artist who's not content gigging in one set area. Appearing around her native seaside town of Blackpool, down the road in her namesake city of Preston, all the way to her new adoptive home of Manchester and everywhere in between – there's no shortage of opportunities to catch Liz perform live. Promises of an EP release in late 2014 are definitely exciting although for the full effect, we'd highly recommend catching her in person."
To keep up to date on Elizabeth Preston's upcoming gigs and news, head here.
Words by Simon Bland and Conori Blue (@SiTweetsToo / @ConoriBlue)
Be sure to 'like' us on Facebook and follow us on Twitter to keep up to date with all the latest Northern entertainment news.