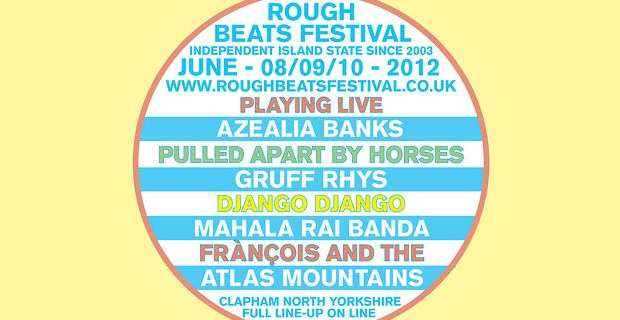 If you've been on our site in the last few months you will have seen us raving about the small festival nestled in Yorkshire's glorious surroundings. That festival is Rough Beats and we have two full weekend tickets to give away to one lucky winner.
To make sure you are free to go, the festival runs from 1pm Friday 8th, until 11pm Sunday 10th June. This year it is boasting a rather impressive line-up with headliners including psychodelicious Gruff Rhys and the mighty Pulled Apart By Horses.
Other acts include notoriously hard to pigeon hole, art-pop four piece Django Django, DedRabbit, Underground Railroad, Heartships, Hope and Social, Nathalie McCool, Real Fur,Dim, and Craig Charles' incredible Funk and Soul show.
There is also places to see comedy, theatre and cinema as well as a cocktail bar, traditional ale pub, gourmet food and the now famous 'Big Red Bus' stage. For those of whom the party never ends, you can spend your evenings dancing to curators Stylus and Tropical Fruit Brothers.
—————————
To win, all we need from you is to fill in the following blank:
Rough Beats is "Straight forward Yorkshire fun with….[BLANK]"
Send us your answer to contact@northernnoise.co.uk with "Rough Beats Competition" as the Subject heading.
Closing Date: May 1st SO BE QUICK
—————————-
[HINT] Head over to the Rough Beats website – www.roughbeatsfestival.co.uk and see if you can spot the correct answer.[/HINT]
If you don't win or want to buy some tickets anyway then weekend tickets cost £65 (includes camping) and day tickets are £30 (includes camping up to 10am the next day) and are available from our very own tickets page. Click here for tickets!