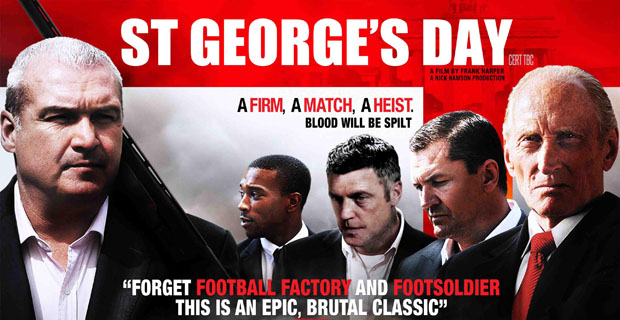 Any football fans knocking about? How about film fanatics? Aah good, because we've got just the thing for you. To celebrate the theatrical release of the new Brit crime thriller St George's Day we're offering Northern Noise readers the chance to get their mitts on some swanky signed swag.  What's more, it's well easy to be in with a chance of winning.
Directed by (and starring) Frank Harper, St George's Day tells the gritty tale of two cockney gangsters who find themselves in hot water after they lose a massive bundle of the Russian Mafia's coke. Luckily, their ex-football hooligan roots kick in, helping them to spot a potential opportunity to clear their debts during an England Vs Germany football game. With the Russians on their tale, the duo must go undercover for the mother of all heists to avoid becoming entangled in a gang war.
We've got an exclusive St George's Day poster signed by the movie's director Frank Harper and glamour model co-star Keeley Hazell. What's that? You want it? No problem, simply visit our Twitter page and re-tweet this tweet. We'll be announcing the winner next week. Good luck!
St George's Day is now showing at The Odeon Printworks. For screening times, click here.
Words by Simon Bland (@SiTweetsToo).
Be sure to 'like' us on Facebook and follow us on Twitter to keep up to date on all the latest Northern entertainment news!