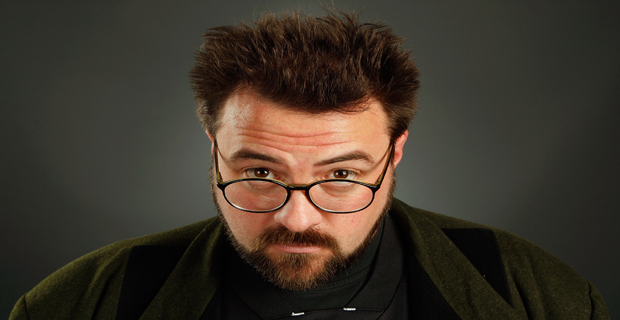 Next month the UK will run red. No joke, on September 14th  Manchester's movie buffs are in for something special. US director-turned podcast-king Kevin Smith will be bringing his hotly tipped new movie Red State straight to the heart of the north.  The announcement comes as part of the Red State Red Coats Tour, which will see Smith replicate his revolutionary self-distribution model that he has perfected Stateside right here on our side of the pond.  It's a technique that has made his latest movie one of the most talked about releases of 2011, provided no shortage of publicity and allowed the director to sell his own movie on his own terms. No small feat.
With Red State Smith explores the dark underbelly of religion, taking audiences deep into Coopers Dell. It's here where fundamentalist pastor Abin Cooper plans to make an extreme example of three wayward teens during a violence-laced sermon played out before his cult congregation.  Shot on a shoe-string budget of just $4 million and boasting blistering performances from Tarantino fave Michael Parks, Academy Award winner Melissa Leo and living legend John Goodman, Red State is set to be Smith's penultimate directing gig.  He'll step away from behind the camera after helming his next two-parter flick Hit Somebody – a generation spanning tale following the life and career of a young ice hockey fan destined to become an NHL star.
Smith then plans to turn his attention to his ever-expanding SModcast podcast network and also SModcast Pictures, a self distribution company designed to help budding filmmakers ensure their work gets a worthy release.
As if the opportunity to catch Smith's career changing horror flick wasn't enough, the screening will be followed by a live Q + A session with the man himself.  Something that any Kevin Smith-ite knows is sure to struggle to stay within its one hour time limit – much to  the delight of his fans. Red State will get a full cinema release later this year, but these UK preview screenings are sure to be unmissable for any movie fan.  Clear the date.
For more information on Kevin Smith's UK Red State Tour stay tuned to the Red State UK Facebook page.  In the meantime, check out details of the confirmed UK dates so far along with the dark and disturbingly brilliant trailer below.
Red State Red Coats UK Tour.
12th September – London Red State screening with live Q +A @ Ritzy Brixton
13th September – Glasgow Red State screening with live Q+A @ Cineworld Renfrew St
14th September – Manchester Red State screening with live Q+A @ Odeon Printworks
15th September – Birmingham Red State screening with live Q+A @ Cineworld Broad St
Words by Simon Bland.