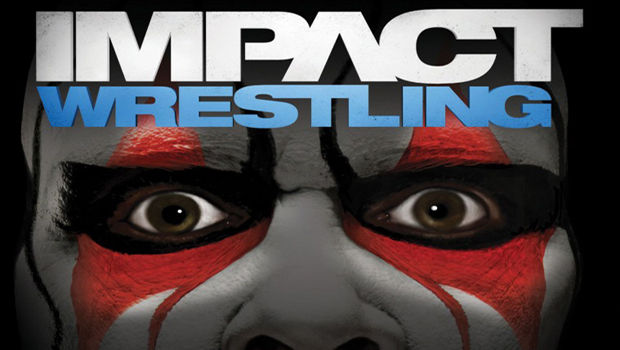 In January 2012 TNA heavyweights Sting and Kurt Angle will lead the Maximum Impact IV Tour through Manchester. Expect swinging chairs, hurled bodies and no shortage of drama – both in the ring and out – as this arena-filling event stomps through the North. To get the UK's wrestling community in the mood for action, TNA scheduled an exclusive fan-event last week at Manchester's Tiger Tiger.  Featuring surprise guests, free merch and live performances – TNA cut no corners in showing their dedicated followers a hell of a good time.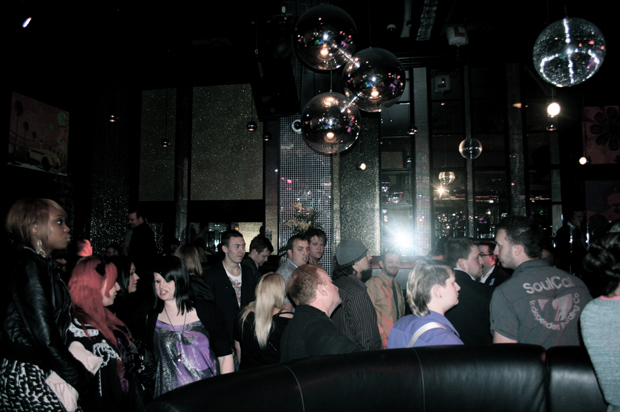 As Northern Noise arrives on the scene a group of eager fans are waiting outside the venue with anxious faces, a mixture of excitement and intrigue, not really knowing what to expect. As the doors open and the modestly sized yet suitably flashy bar fills with fans the anxious looks fade, replaced by ear-to-ear grins.
For starters it's happy hour at the bar, a guaranteed crowd pleaser with drinks going for as little a £2 a pop.  Then TNA live host Jeremy Borash (who's flown especially) gives his guests a run down of tonight's proceedings. Skype guests, some super secret late arrivals and a live filming of roundtable show Spin Cycle are all on the cards.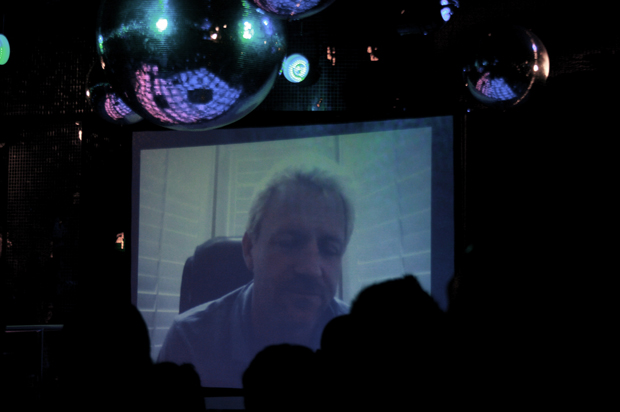 Introductions aside, fans are given the chance to win some exclusive signed merch and memoribelia in exchange for answering a few TNA trivia questions. With Manc wrestling fanatics being more than clued up on the history of their favourite show, almost everyone leaves tonight with armfuls of TNA booty. Even Northern Noise bags some signed photos, tee shirts and DVDs.
Jeff Jarrett and his loyal Queen Karen make a brief Skype appearance telling fans what to expect when they arrive in town next January, much to the delight of tonight's eager crowd. While a little later on the masked monster Abyss appears before his webcam to introduce the inhabitants of Tiger Tiger to his cat and give us a tour of his humble home.
Brit stars Magnus and Rob Terry mingle with fans before shooting a special live edition of TNA's Spin Cycle with late arrivals and former WWE superstars BG and Kip James for Challenge TV.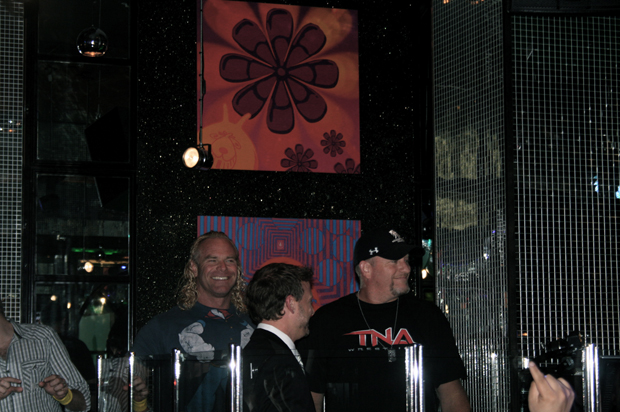 The appearance of BG and Kip AKA The New Age Outlaws was the icing on the cake of what was already any wrestling fan's dream event.  The duo couldn't have been happier to be there either – enthusiastically chatting with tonight's TNA addicts and posing for what looked like hundreds of pictures.  Last week's Manchester event proved that TNA not only take great pride in the loyalty of their die-hard fans but they also reward it.  Embracing each fan and bringing them one-step closer to the action.  If this show is anything to go by, TNA-devotees are going to be blown away in January.
Ticket's for 2012's Maximum Impact IV Tour went on sale earlier today and can be purchased here.