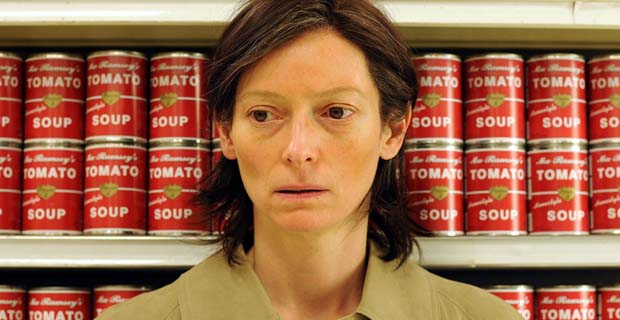 There's a knock at the door of a house splattered in red paint by vengeful neighbours. A nervous woman answers, glaring at the two suited callers with suspicion. "Have you given much thought to where you're going in the afterlife?" asks the chirpy mormon.  The woman breathes a sigh of relief and replies, "Oh, I'm going straight to hell, thanks." The woman is Eva, a mother living in the aftermath of a terrible event.  What exactly that event is is explained to us via a series of hazy memories and ugly encounters between Eva and those left affected by this mysterious incident.
Scottish director Lynn Ramsay holds all the cards in her highly ambitious third outing We Need To Talk About Kevin, dishing them out one at a time to form a truly unsettling experience.  Adapted from author Lionel Shriver's novel of the same name, it asks some tough questions.  What if you don't love your child? What should you do if you see a loved one becoming increasingly (and dangerously) detached from society and themselves? Ramsay attempts to answer these questions and the result is unforgettable.
By jumping from past to present we quickly begin to figure things out. Eva, played by an emotionally shattered Tilda Swinton, is the mother of Kevin; a vacant teen who has done something horrifically violent at his high school. That's the spine of the movie. However, it's Swinton's trial of grief that forms the bigger picture. As she tries valiantly to piece her life back together we get a glimpse into the mind of a mother wrapped with guilt.  Like the obnoxious red paint covering her tiny home, this tragedy just won't wash off her conscience.  And we get the distinct impression she doesn't want it to wash off, instead sentencing herself to a life of misery and blame. We may need to talk about Kevin, but make no mistake, we're thinking about Swinton. This is her movie.
As for her psychopathic son, newcomer Ezra Miller plays Kevin with aplomb.  Behind his sly smirk lies some serious mother issues and an unsympathetic mean streak. One scene involving his incredibly insensitive chomping of a lychee will convince you this child has no soul. Vicious and conflicted, cold and calculating, Miller is a strong contender for breakout performance of the year. John C. Reilly dusts off his 'serious role' hat as Kevin's father, oblivious to the ever growing mother/son rift. Meanwhile, Radiohead guitarist Jonny Greenwood's ominous soundtrack will leave you feeling as isolated as Swinton's remorseful mother.  It's a hard movie to digest but one that lives up to its title. You'll be talking about Kevin long after leaving the cinema.
To check showtimes for We Need To Talk About Kevin at Manchester Cornerhouse cinema, click here.
Words by Simon Bland.