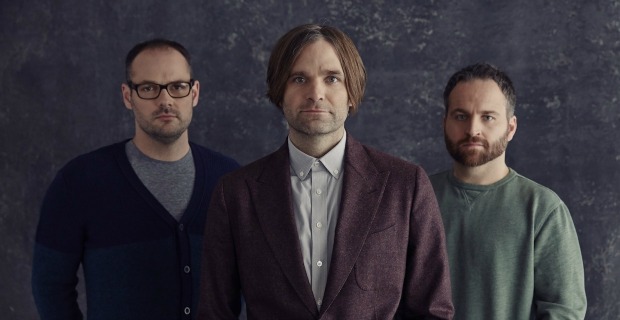 Washington's Death Cab For Cutie have released eight studio albums and haven't played Manchester in just over four years. With so many songs under their belt, it really is anyone's guess as to what Benjamin Gibbard and co will choose to pull out of the bag for tonight's show. Luckily for this tightly run alt-rock trio, the inhabitants of Manchester Academy are willing to accept any and every back catalogue pick with open arms.
Joined by touring guitar/keyboard players Zac Rae and Dave Depper, frontman Gibbard, bassist Nick Harmer and drummer Jason McGerr quickly make themselves at home on the Academy's stage; kicking off proceedings with "No Room In Frame", the perky-raw opener of new album Kintsugi. If the recent departure of guitarist Chris Walla left a dent in the band's stage presnece, it certainly doesn't show tonight as they power through a set-list of hits and warmly received new tracks.
The general feel of the evening is one of personal reflection and hope. Countless media outlets will have no doubt claimed to know the inspiration behind the band's somberly optimistic new record – a question frontman Gibbard will no doubt be expected to answer for the next few years – however whatever turn of events led to Kintsugi, the band keep it close to their chest and refrain from letting it infect their on stage candor. One minute Gibbard's battling anguish with new one "Black Sun", the next he's joking about how useless his stage towel is at drying him off mid-show. Transatlanticism classic 'The New Year" acts as "Black Sun"'s chaser; an upbeat and forward facing track showcasing the band's commitment to keeping things light and a fine juxtaposition of darkness and hope.
New tracks "Ghosts of Beverly Drive", "Little Wanderer" and "You've Haunted Me All My Life" punctuate back catalogue cuts like "Grapevine Fires" and "I Will Posses Your Heart" from 2008's Narrow Stairs and contemplative duo "Soul Meets Body" and "Brothers on a Hotel Bed" from 2005's quintessential Plans. However Gibbard's ability to silence a fairly inebriated crowd with a touching rendition of 'I Will Follow You Into The Dark" emerges as the lasting memory from tonight's show. Death Cab For Cutie may wear their heart on their sleeve but there's no one who does it better.
Words by Simon Bland (@SiTweetsToo)
Keep up to date on all the latest Northern entertainment news by following us on Twitter, Facebook and Google+.