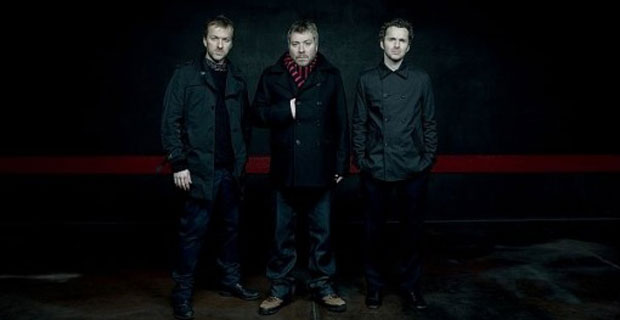 Sitting down to interview Doves can seem like a role reversal. Their stone faced, unanimated faces make them seem like interrogators. Vocalist Jimi Godwin eyes me up and down as I shuffle uncomfortably. Glancing over my shoulder at a hastily scribbled list of questions is Jez Williams. Both are wearing 1950's detective style trench coats while their slick press officer hovers over the scene trying to make sure nothing important gets leaked by the band mates. The group are a very close unit having spent the last twenty years with each other and are therefore extremely wary of intruders.
After meeting in the Hacienda nightclub in 1989, Doves could be looking back on an incredibly different legacy. The friends, who bonded over a love of Acid House, went on to form the dance collective, Sub Sub. The three's first foray into music was not a disappointment. A top ten house hit followed with Ain't No Love (Ain't No Use) in 1993. This could well have become a Never Mind The Buzzcocks line-up moment if it weren't for the true talent that lay within the minds of the these Bez aping Madchester miscreants who appeared dancing uneasily on Top Of The Pops .
Luckily there was to be an apocalyptic moment. In 1996 the Ancoats studio which had been used for their earlier chart success burned down. With the ashes of their previous campaign scattered around them, Sub Sub was laid to rest. The reincarnated Jimi Godwin, Jez Williams, and Andy Williams, regrouped with a fire in their hearts forming the aptly named Doves.
What followed in the new millennium was an instantly praised debut, Lost Souls, which would go on to be nominated for the Mercury Prize. Follow up, The Last Broadcast, built upon the foundations laid by the predecessor by hitting number one in the UK album charts and again making its way to the Mercury shortlist. There Goes The Fear, the first single from this record would become their fastest selling to date, peaking at number three.
Some Cities became the group's second number one record and saw them play in support of U2 and Oasis. Fourth studio effort Kingdom Of Rust followed after a four year absence, but still peaked at number two. The hiatus was not down to a lack of creativity, the new album was their most daring to date. Working with the likes of John Leckie who had previously produced for The Stone Roses and Radiohead, as well as having Tom Rowlands of The Chemical Brothers helping with arrangements, this offering has a more experimental edge. Dance influences that had been dormant since Sub Sub reinvigorated the formula, leading to highly positive critical acclaim.
Kingdom Of Rust marked a do or die time for a band who needed to step outside of their tried and tested comfort zone. At a time in which music consumption placed so much emphasis on new bands that are lucky to release more than two records before being dropped, here was a group who had gotten better as the number of albums they released increased. "In the back of your mind you do worry, are we still relevant? Does anyone give a fig about us anymore? We felt that more than ever after the four years out," Explains vocalist Jimi Godwin while sipping a less than rock'n'roll herbal tea.
His choice of beverage may well have changed from the Hacienda days, but it is years of hard won maturity which have enabled the band to amass such a well respected back catalogue, "We've had to survive and go through quite a lot of shit to still get through here today," asserts guitarist Jez Williams with a guarded glare. As the trio have aged, they have grown wary of outsiders and had to learn how to deal with threats along the way, journalists are treated to a healthy level of distrust. "I like that gang mentality to a band, it's you against the world and you do have to have that camaraderie between your band mates and not to be mocked by outsiders," explains Jimi Godwin.
Doves are often ridiculed by the media for looking more miserable in photographs than a crowd of Emo's at a Cure concert ever could, but they insist the passion is still within despite the hard exterior. "It gets difficult to keep the desire when some of you have families and if you're getting a bit older but we're still here and still fighting," announces Jez Williams while shaking a clenched fist.
While deliberating over a decade together it is evident that angst to outsiders is what motivates this trio to make music, believing themselves to be under-appreciated. Any perception placed upon them or their sound merely antagonises them and fuels the fire which gathered from the embers of Ancoats. Kingdom Of Rust was a clear attempt to shirk assertions that Doves could be caged and categorised. "if we feel like we're getting stuck into a formula then we can't do it. We always want to boldly go where we haven't before," explains Williams while doing an impression of William Shatner at the controls.
Doves are for example quick to disassociate themselves from the city's past, "I don't feel like we're representing a city. We're not flying the flag for Manchester but we do recognise its past," admits Jez Williams before Jimi Godwin heatedly interjects, "It's a very important thing to recognise the past and to push away from it. I'd say to people 'get over your obsession with The Stone Roses, we're not about that, we're about moving forward, and that's a very Manchester thing to do."
Jimi is excited about the city because of what it can go on to achieve in the future, "You've got bands like Delphic who are getting compared to the city's past and they're not having it, they're saying that was thirty years ago, and that's the sort of attitude we've always had," he argues. Manchester's heritage has sparked lots of heated debate among the younger generations. Some of whom adore the legacy bands including Joy Division and The Smiths have left, others believing the past to limit the future.
Now Peter Hook's Fac 251, modelled on the old Hacienda has reignited the debate, opening earlier this year. "I don't wanna piss on anyone's chips but it's been how long since that place shut? People are too quick for the nostalgia ticket these days. Wasn't 2003 great!" Godwin says exuberantly.
"There's a new website, fuck 251, dedicated to knocking the Factory club and the media for holding onto it and that's really cool. The youth need to reject the past and let go of Factory so they can move on to something else," states Williams.
Godwin sees the decade as drawing a large chapter to a close but is optimistic about the future. "With the greatest hits we've cleared everything off the shelves from the past and we've bought ourselves a bit of time to do other things. There might not be another Doves record for a couple of years. We just need to feed ourselves to be honest, and maybe recharge our batteries as people as well as band mates and get inspired again, then who knows we might come back and whack a killer album out in four months."
Both Godwin and Williams allude to side projects for 2011 but gang mentality once again comes into play as the press officer looks at her watch unsubtly and the two become very tight lipped about future plans. One thing is certain, the Manchester mob are not splitting up and are very much as tight as ever. "I can understand why people think we might split up after this record because if you do quite well and you do sell a lot of records it's quite hard to fight against and keep pushing yourself. There's some real psychological pressures that you impose on yourself. But luckily we've been quite stubborn and stuck to our guns so it shouldn't be a problem," promises Godwin. "That's one thing actually," adds Williams, "We will have to make our album quickly because you can't go outside in Manchester anyway. Staying indoors because of the rain helps. What good bands come out of Spain?"
Words: Simon Butcher