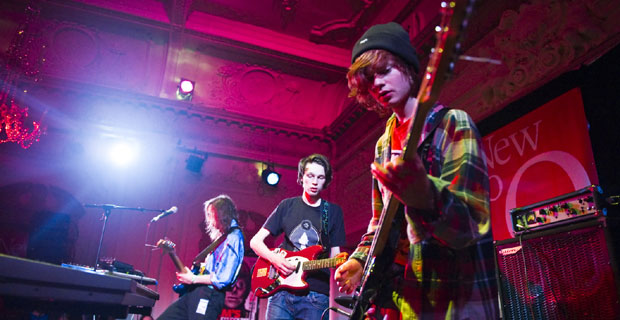 Last Thursday night saw two much talked about Mancunian acts enter the crowded streets of London in a New To Q Session. Despite tweeting eight hours prior to the gig asking for the help of anyone nearby with jump cables, Dutch Uncles, made it down to perform alongside Egyptian Hip Hop, the talented 17-year-old's who often have to plan their touring schedule around a school timetable.
It was an act from much further afield who opened the night. Detroit born Alex Winston, a fantastic multi-instrumentalist, impressed with her quirky-pop productions. Winston's creations carry the alternative yet commercial spirit of Lykke Li . She is extremely dexterous and her set carries a wealth of ideas while each moment retains its ability to get heads nodding and feet stomping to a well crafted chorus.
Vocally a further memorable element is added to the mix as her distinctive tonality is reminiscent of Canadian soloist, Feist, or even at times hinting towards the high pitched nasality of Joanna Newsom. Material from Winston's debut, Sister Wife, makes up the majority of this set. The album is marked for release in February. Finale, Medicine, has everyone hooked. Winston's tambourine is thrown into the crowd who appreciatively clap along.
Dutch Uncles managed to make it on time after their earlier transportation issues and they truly turned up, with an intriguing tightly structured set similar to the art-pop outfit Everything Everything. Upcoming single Face In was the first song to be given an airing. The jilted dance moves of frontman Duncan Wallis mirrored the ever changing time signatures. By second song, Love, Wallis was dancing around in a similar fashion to Bez on a bad trip, with the vacant stare associated to Ian Curtis.
Previous single, Fragrant, had the audience bouncing. Wallis even looked as though he was threatening to rip off his purple sequined shirt at certain points as the excitement took hold of him, but luckily for those in the front rows, he kept it on. Every Uncle bounced around as the energy transferred over to the crowd. All except their keyboardist who stood at the back looking as though he was typing out his tax-return rather than hitting the keys. But nonetheless a fantastic spectacle.
Egyptian Hip Hop were one of event organiser Q Magazine's highlights at In The City 2010, the festival which takes place each year in Manchester. Certainly the buzz has built around these youngsters since last year and they have been placed in Q's 10 New Faces Of 2011 since then.
Would the pressure of the occasion get to the group or would their youthful naivety mean this would simply be another exciting performance? After a second sound-check, the lads emerged to expectant applause. A few technical issues marred the first song. A case of nerves saw heads down and unfortunate feedback problems steal from the spectacle.
Once material from recent EP, Some Reptiles Grew Wings, made an appearance in the form of stand-out track, Moon Crooner, the false start was well laid to rest. This synthesized gem draws comparison's to New Order, with a very prominent bass riff adding a funky dimension. Rad Pitt , another off the EP, with a dreamlike floating guitar riff, provided a perfectly chilled highlight. It was the guitar stabbing and fast bass rhythm of Wild Human Child which closed the set in spectacular fashion.