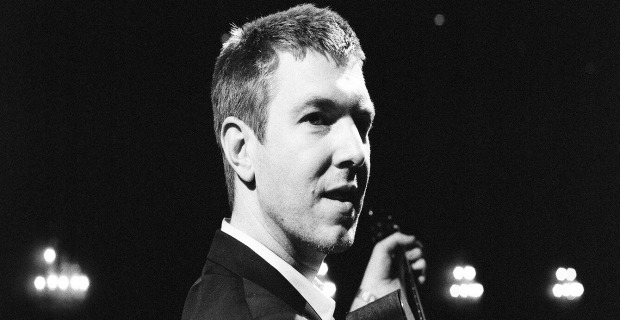 Cutting his teeth with the fuzzy garage rock of The Recoys before weaving his rich croon into the intricate sonic quilt that was The Walkmen, New York's own Hamilton Leithauser has polished his impassioned howl, donned a refined suit and is heading to the Night and Day Café in promotion of his first solo effort, Black Hours. Released in early June and produced by Vampire Weekend's Rostam Batmanglij, Leithauser assembled a band with a little help from members of The Shins, Fleet Foxes, The Dirty Projectors and his old partners in The Walkmen; putting together ten brooding tracks of marimba enthused, piano laced visceral indie folk-rock. Leithauser's coarse, wistful rasp is ever present as the first piano chords ring out on album opener, "5am" and he begins to contort and wrap his calloused words of chaotic exuberance over the course of the oncoming three quarters of an hour. In celebration of his return to the North, we take a look back through his often overlooked back catalogue; from boozy blues led bar-room sing-along jaunts to slow burning, fore-boarding acoustic numbers to find those standout moments throughout the course of his illustrious career.
"11 o'clock Friday Night" – Hamilton Leithauser – Black Hours
Bound with the rich tones of a lightly beat marimba and tied together with the breezy vocals of The Dirty Projectors' Amber Coffman, album highlight, "11 o'clock Friday Night" takes all the familiar notions of Leithauser's previous body of work and progresses each sentiment further into something delicately majestic. Leithauser's lost, observational lyrics paint a stark portrait of a young man aching to fit in to the often bleak city life; a seemingly common thread tied together by The Walkmen guitarist Paul Maroon's directed video of a lone Leithauser cycling around a darkened city spliced with intermittent shots of a traveling street walking carnival.
"In The Shallows" – Hamilton Leithauser – Alexandra B-Side/Black Hours (Deluxe Edition)
Beginning with the thunderous reverberation of a snare drum roll before settling into a tight cadence of a traded marimba and guitar interlaced riff, spare cut "In The Shallows" is a strange choice to be left off Leithauser's debut. With the heady loathing refrains and added progressive percussion, the track introduces and maintains a steady groove before the crunchy guitar riffs appear at the chorus and along with the accentuated drum fills, aid to propel the track up a notch before relaxing back into a bridge of the introductory instrumental melody.
"We Can't Be Beat" – The Walkmen – Heaven
The final Walkmen album, Heaven has in hindsight become a fitting eulogy for the New York band. Littered with wistful harmonies, foreboding acoustic guitar riffs, daring confessional lyrics and atmospheric yet natural uplifting bridges, The Walkmen found a fragile sweet spot to close out their 14 year career. Album opener, "We Can't Be Beat" employs all of the previously stated merits and exemplifies them with the steady roll of a kick drum pedal and a harmony laden final refrain. Leithauser's lyrical palette is once again broad and unnerving, interlacing his nonsensical yet regal prose poems into something so sweet and delicate; his lower vocal register burns and rises as the acappella intersection transforms into the steady pulse and stomp of a dive bar sing along, laying the way further into Heaven.
"Victory" – The Walkmen – Lisbon
With its stabbing, picked bass line and reverberated swirling guitar riff introduction, "Victory" emits a resounding military feel as Leithauser makes his heady, laboured sentiments dedicated to his 'lord' above.' Growing and building in temperament, The Walkmen allow Leithauser's vocal premise to dictate the direction and flow of the song with his unusual melody patterns and passionate vocal arrangements. The swells of his vocals which burst into the chorus of, "Victory right beside me/There's blood all over my hands" seem reminiscent of a violent battle cry, whilst the dense and bludgeoning cymbal hits meld with whooping bass and forcibly smacked guitar chords to create a melodic yet blusterous storm which repeats and slows throughout the course of the tune.
"Red Moon" – The Walkmen – You & Me
On brooding piano-led lament, "Red Moon," Leithauser's yearning words of longing are casually strewn upon a warm bed of flugelhorn and a thumb-stroked acoustic guitar. Showing a darker, more subversive shade of his notebook, Leithauser muses, 'And you shine like the steel on my knife/The darkness is wrapped all around me tonight,' a stark sentiment which reflects his uncanny ability to confound an element of love and longing with a dark sense of the macabre.
"Many Rivers to Cross" – The Walkmen – Pussy Cats
2006 saw The Walkmen release a song-by-song cover of John Lennon produced Harry Nilsson 'lost weekend' album Pussy Cats. Starting off as an in-joke and evolving lovingly into a full fledged album, Pussy Cats showed off The Walkmen's ability to merge and morph the original source material to something oft-dark but also subtly humorous. Opening track, "Many Rivers to Cross" originally written by "The Harder they Come" star Jimmy Cliff, adds a shade of violent tension into the once sweetly sung verse melodies. The added ending refrain of "Sitting in Limbo" is a fitting sentiment to the original writer, whilst the bold and tenderly vulgar backing vocals add an emotional depth to the concept of which Leithauser frequently laments.
"The Rat" – The Walkmen – Bows + Arrows
Starting with a harsh cadence of downward grazed guitar chords strangely reminiscent of an ethereal church organ, leading through to a heavy-pounded drum kit introduction complete with bar-spanning frenzied rack-tom fills, the song that charmed many people to be conscious of The Walkmen sounds just as fresh today as it did way back in mid 2008. The bass slide to the C# minor as the full instrumentation meets and explodes into one minor cacophony shows a focused and more polished side of the band, a far progression from the jangly, loosely picked riffs and spare rhythm section of their debut album.
Hamilton Leithauser will be bringing his new album, Black Hours to the Night and Day Café in Manchester on Saturday 8th November. Buy tickets here.
Words by Dale Smith (@TheGoldenHeron).
Keep up to date on all the latest Northern entertainment news by following us on Twitter, Facebook or Google+.