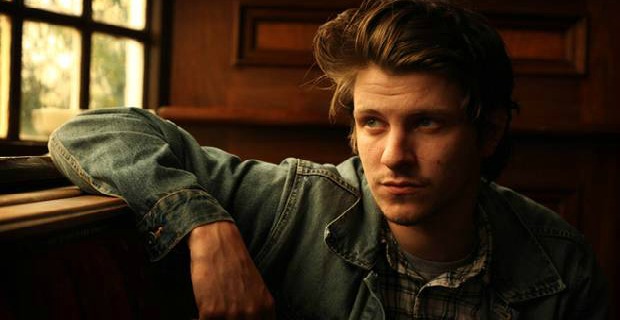 Spitting tales of council housed, kitchen sink drama and armed with an acoustic bass in hand, Wimbledon's Jamie Treays first emerged onto the UK's dirty indie scene with a fag in hand and the sour taste of yesterday's brew on his lips. Channelling the cocky antagonisms of Joe Strummer and reciting his stream of urban consciousness poems through teeth only Shane McGowan could be proud of, Treays managed to cast a tall shadow among the wilting ruins of a decaying musical landscape. Three albums and seven years later and Jamie T has managed to eclipse his former raucous self, in search of an inner clarity to find the kind of peace needed to continue with his art. Diving headfirst into a rabbit hole sometime around 2010, only to re-emerge in recent months, newly released, Carry On The Grudge suggests he finally managed to find the final piece to the missing puzzle of the illustrious golden third album. Here we take a look back, through standout singles to more off-kilter cuts to see the progression of the former punk troubadour turned seductive songwriter.
"Brand New Bass Guitar" – Panic Prevention
From its profanity laced opening exclamation to the gospel sounding vocal harmonies entrenching it's choral refrain, Panic Prevention's opening track ensnares you by the ears and drags you inside for the forthcoming 49 minute, 32 second municipal journey which lies ahead. The track is bound together by Jamie's plentiful coarse diatribes, which weave in and around the warm tones of his acoustic bass, against a pallid backwash of soulful, almost nourishing background harmonies.
"Calm Down Dearest" – Panic Prevention
Fresh off the success of debut singles, "Sheila" and "If You Got The Money," the third single taken from Jamie T's caustic debut was a lackadaisical slow jam which showcased a tender, almost lethargic side of the young 21 year old upstart. With a lazy, rolling beat laying its pace and littered with bursts of sporadic piano chords, Treays' passive melodies are bound together by tales of late night adolescent excess, marking a subtle turn in the budding bard's repertoire.
"The Man's Machine" – Kings and Queens
Even with its obvious Hip-Hop influences, Jamie T's second album, Kings and Queens was fully rooted in the previous punk rock styling's of his sneering debut. Third single, "The Mans Machine" with its Angelic Upstarts spoken word sample introduction, cutting through a very Lou Reed infused sliding double bass riff and various eclectic twinges of piano flourishes surprisingly becomes Treays' stand out sing-along anthem. Its burley melody, effectual message and dominant refrain make for a definite highlight of the sophomore effort.
"Earth, Wind & Fire" – Kings and Queens
From its sampled, Joan Baez introduction to its broken down, rich rickety drum beat, the 9th track from Treays' second effort manages to merge the contentious punk rock saunter previously mentioned with a more straight up jazzy, urban dynamic. The tracks sparse instrumentation on the verses allows Treays' lyrical palette to run free, zipping the two genres together into a seamless collusion; whilst his sultry croon on the choruses lie upon a bed of shimmery guitar ring outs, reminiscent in some strange way of Chris Isaak's "Wicked Game."
"Love Is Only A Heartbeat Away" – Carry On The Grudge
Throughout the whole of album number three, Jamie T manages to meld his anthemic tendencies together with the aforementioned 'Punk-Folk' of his earlier career, yet it can easily be sensed now that Treays is no longer contented with the speedy laments and quickly fizzled bursts of antagonistic indie rock; finding a deeper, more reflective cave to dwell upon. "Love Is Only A Heartbeat Away" replaces his old acoustic bass with its six-stringed brother for a comely ballad completed with wistful bowed swells and graceful harmonies. Never before have we seen Treays so laid bare, so upfront and so strangely vulnerable.
"Zombie" – Carry On The Grudge
Although much of, Carry On The Grudge seems to be a farther subdued, more brooding affair than its predecessors, Treays still a manages to find a moment or two to dredge up the shadows of his past for a quick nostalgic dalliance. Newest single, "Zombie" carries the same fractious 'fuck you' attitude, the four power chorded choruses and the wailing background cooing harmonies associated so deeply with his earlier work, yet now they are interlaced with 70's b-movie horror motif laughing FX's and a post bridge section which seems almost lifted from a Gene Clark number. Although third time around, the themes seem bigger and almost a little darker in reference, Jamie T shows he isn't afraid of getting back to his roots, albeit with a little more progression and a tiny bit more polish.
Jamie T's new album, Carry on the Grudge was released 29th September through Virgin Records. He will be bringing his raucous Pacemakers through town on his huge headline tour which stops off at the Manchester Academies on both the 7th and 17th November.
Words by Dale Smith (@TheGoldenHeron).
Keep up to date on all the latest Northern entertainment news by following us on Twitter, Facebook or Google+.