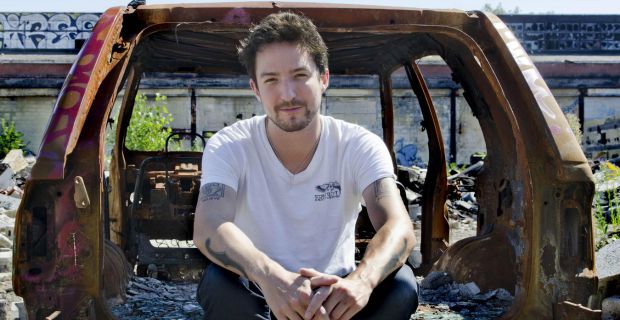 Today sees the launch of  singer-songwriter Frank Turner's brand new album, Positive Songs for Negative People. To celebrate the release of the record, we caught up with Frank to talk about his thoughts on the finished album and life on the road, he also shares some words of wisdom with us for all aspiring musicians.
PSFNP is Turner's sixth studio album to date and it sees him and his backing band, the Sleeping Souls, producing the classic folk-punk/acoustic rock that the world has come to expect from them. Following on from the success of the 2013 release, Tape Deck Heart, the new album offers listeners "a record about defiance", with tracks all about picking yourself up when you're down and never giving in.
'Get Better', 'Glorious You' and 'The Next Storm' bring the album alive with catchy guitar riffs, relatable issues and positive, reaffirming lyrics, delivered in true Turner style. With such a vast back catalogue of emotionally charged songs fuelled by brutally honest lyrics taken from his own life experiences, Positive Songs for Negative People doesn't fail to showcase Turner's impressive ability to write touching sentiments and moving tracks such as 'Mittens'.
To promote the new record Frank will be doing an in-store signing and acoustic set in Manchester's Market Street HMV on August 10th at 5.15pm. Later that evening there will also be a live performance at Turner's favourite Manchester venue, the Night and Day Café.
Is the title for the new album Positive Songs for Negative People to be taken literally?
If you want to; it's not up to me to dictate people's interpretation of what I do. I don't take myself overly seriously in general though.
Judging from comments on social media, your  lyrics seem to help a lot of people get through different circumstances. How does it feel to know your work touches so many of your fans' lives and gives them something to relate to?
It feels good, on balance. It makes me feel slightly weird in some ways; there's an implied weight of responsibility which I find slightly unsettling. But of course it's great to think that I could make a positive impact on the world, regardless how small.
As a band, can you agree on the new album's strongest songs and are there any particular favourites when it comes to performing?
I'm sure everyone has their own opinions, haha. My personal favourite (today) on the record is 'Silent Key'. Live, well, I just like playing songs that get the crowd involved in the show.
With such a huge back catalogue of tracks to choose from, how difficult is it to decide on setlists for each show?
Writing setlists is an artform in and of itself, and something I spend a ridiculous amount of time thinking about it, trying to structure it properly, make sure I've covered all my bases and albums, something for everyone… It's endless.
One preliminary review we came across of PSFNP indicates that 'we've heard these songs before'. Personally, we love what we've heard so far and it sounds like the album has stuck with Turner formula that made the previous three releases so successful. What can fans be expecting from the new album?
My best. I feel like I threw everything into these songs, as did the Souls. What people then take away from it is up to them.
We know you keep count of your live performances, do you also keep a tally of how many times certain songs have been performed?
I do not, no. I'd imagine 'Photosynthesis', 'Recovery' and 'The Real Damage' are up there.
You occasionally throw in a cover or two into your live performances. Have you and the band been working on any for the upcoming tour or are they just decided in the spur of the moment?
We've only ever done two full-band covers (The Weakerthans and Queen). It's more a personal thing. It's usually pretty spur of the moment. I like to learn new songs, it keeps me on my toes.
You've played US and UK tours numerous times now with the success of previous albums. When playing night after night stateside, how does it compare to a tour in the UK?
There are surface-level differences – people travel further, Americans have better manners on average, the drinking culture is different. But aside from the size and the fact you can basically keep going indefinitely in the USA, the experience isn't radically different. I do love American culture though so it's always good to be immersed in that.
Do you have any support acts penned down for the UK leg of the tour?
Yup. Announcing soon.
The last time we spoke the #FTHCFLAG touring flag was doing the rounds at your shows across the country. Are you still having success with the original flag or has a new one had to be put into circulation?
They are doing a new one for this album cycle, with the new artwork. I actually don't have anything to do with it, logistically, any more, which is kind of beautiful in a way. I mean, the game worked.
What are FT and the Sleeping Souls rehearsals generally like? Are they as spirited as your live performances?
Not really. We're not much for rehearsing actually. Usually we're on the road enough that we don't need to very much. We work on new stuff in soundchecks generally. New material is quite stressful for me, working things out, arrangements and the like, so it's not my favourite time.
How has your music evolved since you first began playing music together?
The main thing is that we've learned to play together, as a band. When I write now, I know who's going to be playing the songs. Hopefully I've changed and evolved as a songwriter as well; that's the point, after all.
With your career going from strength to strength could you share any words of advice about the industry for aspiring local musicians?
Work hard and mean it. Make your own luck.
What inspired you to launch the 'visual shazam' side to PSFNP? Manchester has three locations, will you be adding anymore posters to it during your brief visit up north?
That was an idea from the record label, not entirely sure what the scope of it is. I wanted them to do things that focussed on the lyrics for the record.
The #FTRAOK (Random Acts of Kindness) running on your website/twitter is just another way in which you seem to be bringing people together through your music. You've built a large fanbase and now it feels like you're establishing a community amongst it. How important are the fans to you?
I don't like the word "fans", it seems to imply that I look down on people, which I don't. The people who like my music are no different from me. I'm very grateful that people do.
Despite all the success, you come across very genuine and sincere. Do you think this has contributed to your constant touring schedule?
Uhm, not really. I try to be genuine and sincere, of course. The touring schedule is how it is because that's what I want to do.
It seems refreshingly honest and down to earth compared to other autobiographical books out there, was it worrying publishing something so open and honest?
There was a moment or two of consideration on that score, but I was circumspect about private aspects of my life.
Musician, performer, author… what's next for FT?
Music is the main thing for me. There's a lot of road to cover for this new album. After that, well, we'll see. It's a few years down the line now anyway.
The new album is available to buy now, but if just listening to the record isn't enough for you then be sure to catch Frank Turner & the Sleeping Souls on tour across the UK this November.
Words an interview by Damon Ashton.
Keep up to date on all the latest Northern entertainment news by following us on Twitter, Facebook and Google+.