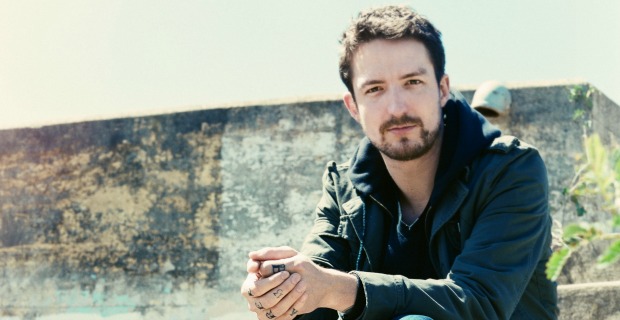 Welcome to 2015 – a brand new year chock full of brand new album releases, exciting new bands, gigs and festivals-galore for you to enjoy. To kick things off the right way, we thought we'd pick a special piece of content for our very first post of the New Year. That's why we caught up with ex-Million Dead frontman Frank Turner for an exclusive natter ahead of his intimate Manchester show at the Night & Day Café later this month, tickets for which can be found here…if you're lucky.
Read on to hear Frank share his thoughts on the most personal thing he's ever written, pick his all time favourite Manchester venue, discuss the tricky transition into a solo life and talk about the potential closure of Manchester's beloved Night & Day Café…
What are your plans for 2015? Is the new project aiming for a 2015 release?
"I'm going to be mixing the record we're recording right now in January and then the rest of the year (and probably most of 2016 as well) will be focussed on promoting that, touring, getting the word out. Most other things tend to take a back seat in that time, though I usually find ways to do other things in my downtime."
The success of Tape Deck Heart appears to have expanded your audience tenfold and has seen you filling UK arenas lately, yet despite this you recently chose to do a tour of town halls and places that you wouldn't usually associate with big name artists. Do you have a preference to the size of shows you play?
"Not really. I mean, I do, but I think other considerations are more important – primarily, accessibility. I like to do my best to play places where everyone who wants to come can get in. A lot of people complain about me playing bigger rooms, and I get it, but when I play smaller places they sell out quickly and exclude a lot of people (as well as helping the touting market, which I hate). So it's a delicate balancing act; at the end of the day I think there are more important factors for a good show."
The recent touring flag of yours showed us all just how important music still is today in bringing people from all walks of  life together even if it is just for that one moment. Is it nice to have such a dedicated following of fans?
"Absolutely. I'm not 100% sure why it is that people react in the way that they do to my music, and I guess I don't want to spend to long self-analysing, but I'm grateful that they do."
How do you decide the distribution of new lyrical content between the Sleeping Souls and Möngöl Hörde?
"They're pretty separate, in my head. The MH lyrics, and indeed a lot of the music, is first draft stuff, by design. As a project, the vibe is to just fucking go for it, write quickly, play hard, not think about it too much. By contrast, my "solo" stuff I think about for a lifetime and work through. So the two are, at least in my head, easily separable."
What would you say is the most personal thing you've written?
"Probably the song 'Anymore', which I'm still not totally comfortable with."
Your lyrics have always been quite raw and laid bare. When writing, how much thought do you give to how transparent or revealing you're being about your own personal life experiences?
"In a way I try not to think about it too much while I'm writing, as, to me, that would compromise the process. I want my art to be direct, unadorned, unaffected. Of course there are moments after the fact, when singing songs in the same rooms as other people, that it can get pretty uncomfortable and weird, but I think that's actually a positive sign, in a strange way. It means I'm dealing with something of substance."
Do you have a strict writing technique when coming up with new material or is it a case of having a phone full of months of distorted ideas that all eventually group together?
"There's no set method. Things coalesce slowly over long periods of time, with the occasional growth spurt. I also take the songs to the Sleeping Souls when they're finished for vocal and guitar, and we work through the arrangements together. That can take anywhere up to a year, we're always tinkering with new things."
Despite being  the social hub of Manchester's  music scene for years the Night & Day Café is still facing potential permanent closure.  How does it feel to know that the January show could be the last you'll ever get to play there?
"It's a shame, I have a lot of good memories of playing there over the years. I think it's important to be realistic about small venues; it's not a particularly profitable business and there will always be a high turnover of these places, they come and go, that's life. Having said that, of course, we can, as a musical community, pitch in to help, and it sucks to see places going down for shitty or spurious reasons. Hopefully the Night & Day will live a little longer yet."
Manchester isn't short of smaller venues and over the last decade you've probably played in all of them, do you have a favourite local venue?
"Night & Day probably wins the prize for Manchester for me, though I fondly remember the Roadhouse from the Million Dead days. I also played a crazy secret show at the Trof a few years back."
We like to think we know our local surroundings and we review a lot of venues here in Manchester, do you have any personal favourite establishments that we may not have heard about?
"I'm not an expert, alas, I'm a Southerner."
After spending many years performing solo with just your acoustic and charisma up on stage with you, has it been difficult  embracing life in a band? If so what's the hardest thing about being in a band?
"Well, I was in a band before I went solo, so there was a degree of return to that transition. It's not exactly the same, of course – I'm the boss of the show these days (haha), whereas in MD it was much more egalitarian. Not that I spend my life ordering the Souls around, we generally pull together. I guess just trying to get along, in close proximity and an artistic environment, with four different people, is always going to throw up problems and arguments. We've been going together nearly 7 years now, so I think we are doing OK."
You've toured with numerous other artists, without trying to cause offense to any of them have you had a favourite to share the stage and road with?
"It's difficult to pick one, sure. Of the bands we have opened for, I'd have to say the Dropkicks, such an amazing band, crew and vibe with them. Of the bands who have opened for us, my personal favourite were Larry & His Flask, just one of the best bands I know. But I feel bad singling people out, I've been lucky, I have very few bad experiences to report."
Frank Turner will play Manchester's Night & Day Café on January 28th. Buy tickets here.
Interview by Damon Ashton (@Damon2604).
Keep up to date on all the latest Northern entertainment news by following us on Twitter, Facebook and Google+.