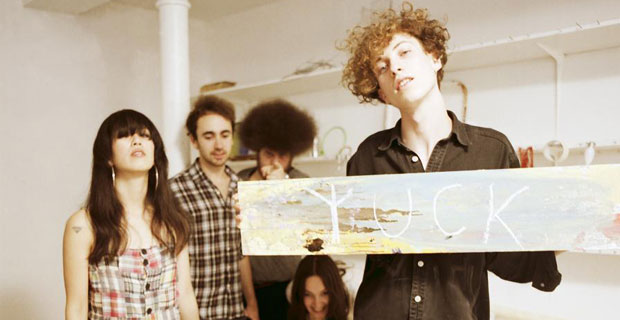 Yuck have been gaining attention as front-runners in a shoegazing revival. The band comprise of Jonny Rogoff (drums), Mariko Doi (Bass), Max Bloom (lead guitar) and Danny Blumberg (vocals, rhythm guitar). The latter two were once a part of the highly hyped indie outfit,Cajun Dance Party, who failed to live up to expectations after releasing The Colourful Life.
No such fate awaits for the new band, having steadily built a following by doing things on their own terms. Nonetheless a place on the BBC Sound of 2011 was reserved for them. Self-admitted Influences include Teenage Fanclub, Pavement, and Sparklehorse. Recent live slots have also seen them twinned with America's alt-rockers, Dinosaur Jr.
The self titled debut, to be made available from 21 February, shows a much broader spectrum than the imposed shoegazer tag. A breadth of ideas impart these 12 tracks, with gritty grunge sitting beside stripped back tenderness. From the moment opening track Get Away hits you with a wall of guitar distortion the disc undulates between shredded highs and soft, gripping lows in what asserts itself as a confident self-produced debut.
As its Friday turn it up to 11 and give upcoming single Holing Out the chance to brighten your day. You can get your hands on the track from 7 February as excitement builds towards the appearance of the full-length. In the meantime there's a list of tour dates below with the band returning to the UK in February.
Words: Simon Butcher
UPCOMING LIVE DATES
JANUARY*= with Smith Westerns
25 – Mercury Lounge, New York
26 – Glasslands, New York
28 – The End, Nashville*
29 – Pilot Light, Knoxville*
30 – Local 506, Chapel Hill*
31 – 40 Watt Club, Athens, GA*
FEBRUARY
1 – Drunken Unicorn, Atlanta, GA*
3 – Backbooth, Orlando, Florida*
4 – Club Downunder, Tallahassee, Florida*
6 – Fitzgeralds, Houston, Texas*
7 – Emos, Austin, Texas*
8 – The Loft, Dallas, Texas*
10 – Rhythm Room, Phoenix, Arizona*
11 – Echo, Los Angeles, California*
12 – Detroit Bar, Costa Mesa, California*
13 – Bottom of the Hill, San Francisco, California*
17 – The Joiners, Southampton
18 – Bush Hall, London w/ Cults
20 – Library, Lancaster
22 – Sneaky Pete's, Edinburgh
23 – Stereo, York
24 – Jug of Ale, Birmingham
25 – Night n' Day, Manchester
26 – Arts Centre, Norwich