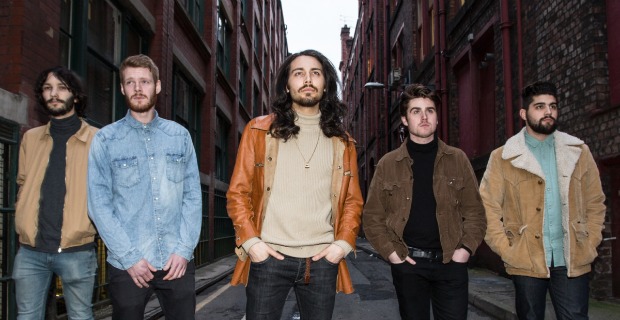 Following the release of their latest single "Coming Back for You" Feed the Kid have generated much buzz on the Manchester music scene. The five piece consisting of singer Curtis Taylor, lead guitarist Ciaran Egan, guitarist Dane Stubbs, bassist Jake Murphy and drummer Adam Smith are the latest retro, blues-rock musical delight to come out of Manchester. With a packed out gig schedule throughout the whole of 2015, including appearances at Kendal Calling and Headlander, the future certainly looks promising for the band. We caught up with them before their single launch at Manchester's Ruby Lounge to discuss the struggles of being unsigned, influences and intentions for the future.
How would you best describe your sound to someone who is unfamiliar with your music?
Curtis: Rock and roll, bit of blues. Say we go back to a sort of country element, Ciaran lived in Ireland for quite a bit. Probably best to say influences are stuff like T Rex, The Doors, and stuff like that so it's a bit like an amalgamation of a few things.
You've recently launched your new single "Coming Back for You" what can you tell us about the song?
Ciaran: It's accessible.
Curtis: We recorded it and produced it in Sheffield with George Moran. He had a bit of an idea of what we are about and what we wanted, so took us that way. We record again with him in January.
Can you talk about the song writing process, is it a team effort?
Curtis: Different ways I guess, I don't play the guitar but I write, that's how it started off. I wrote, Ciaran did a melody. A melody that, if anyone robbed my phone it would be a bit embarrassing because I love melodies. I'd write, sing over it and send it to Ciaran. Ciaran writes on his own, Dane writes on his own. There's the three of us that write so usually we go away, write, come to the room and then it's sort of everyone's influences that get involved.
Ciaran: If we did it the other way, like from a jam or whatever it's not as successful. The melody's not there and the structure. It's easier for us to do it on our own, acoustically then build it up from there.
Out of all the songs you have written, which is your favourite?
Curtis: "Salutation Blues".
Ciaran: I second that.
Dane: I'm going to say the B side, "Boat that Floats".
Curtis: I'd probably go with "Salutation Blues", it's what we're about. It was written about a pub actually, in Manchester, called the Salutation Inn, when the war was going on, it was the first British protection for volunteering for the war. So that and Salutation Inn were the same kind of vibe, hence why it's called "Salutation Blues".
What do you think about the music industry at the moment and do you think it's harder for musicians who are unsigned to get noticed?
Jake: Especially with the X Factor and all that kind of stuff, of course is it. Morons who think they can be rock stars when they can't, do you know what I mean?
Dane: I think it's difficult but you need to graft at it, if you're not ready to graft at it then you're not going to get anywhere.
Curtis: There's a lot of people who are thinking they're photographers or DJs and that they know something about music, when probably essentially they don't. So they back someone, they get them somewhere and then they're there when they fizzle out. I think the longer it takes, the more you appreciate it, the more you adapt who you are. If you stay who you are and you stay true, then hopefully you get somewhere and if not, we just want to be doing what we're doing and just live off it. We don't want to be here or there, just as long as we get a bit of money to do this for the rest of our lives then that's cool.
Ciaran: I think if you're good enough, you're going to get what you deserve.
Adam: I always think the best band in the world isn't going to be playing in a shitty pub somewhere, they're always going to get noticed.
Ciaran: If you're good enough, you're going to impress someone and then you'll get to know that person and it'll go from there. The only anomaly is The Coral, they didn't do as well as they should have done.
Do you feel like being from Manchester influences your music in any way?
Curtis: It doesn't influence your music, it makes you get into it.
Ciaran: Growing up with that around you, it kind of makes you proud, like you want a stab of it yourself. You think all these people have come from here and you're also from there, you want to carry on the legacy.
Curtis: You know what does my head in? We try to either consciously or unconsciously stay away from the "Manchester thing" but it got us into what we're doing, but what does my head in is when people go, 'based in Manchester, what's that about?' You're from Manchester, you're born from Manchester. If it's music, it's music, you don't have to go, oh I went to uni in Manchester and that's where we met, it doesn't have to be Manchester based does it?
Who do you listen to when you're not making your own music?
Ciaran: I'll tell you who I've been listening to today and one of them is really embarrassing. One of them is Eagles of Death Metal, I had a bit of Kings of Leon on today and then my embarrassing one, and I don't know why I put it on today, is The Beautiful South.
Adam: I went to go and see Uncle Acid and the Deadbeats at Gorilla last night. Drum heavy music, that's what I like. But that's because I play the drums.
Dane: I was listening to Electonica today whilst cleaning my kitchen. I'm into the old school stuff, 90's Manc based bands.
Curtis: I listen to a lot of First Aid Kit, I think they're amazing. Free, I love Free, The Doors, Rodriguez. Rodriguez is the main one really. I've actually lost my job again, twice in five months and it's "lost my job, two weeks before Christmas" and it come on the other day and I was just like "shut up, shut up!" Everyone knows I've lost my job.
What's been your highlight of 2015?
Jake: Kendal was the highlight for me.
Dane: I'm going to put it out there, I'm going to say the mini-tour that we did at the start of the year was good.
Curtis: Southampton was top.
Dane: Kendal was obviously the best gig we've done but I think as a laugh, the little tour was class. There are a couple of videos which are on our Facebook and every time I look at them they make me cry. You know when you reminisce, because you don't think about that part of the year. You just forget about the beginning of the year, you think of the latest things.
Find out more about Feed The Kid by visiting their website or Facebook page or following the band on Twitter.
Words and interview by Danniella Wright (@DanniellaWright).
Keep up to date on all the latest Northern entertainment news by following us on Twitter, Facebook and Google+.