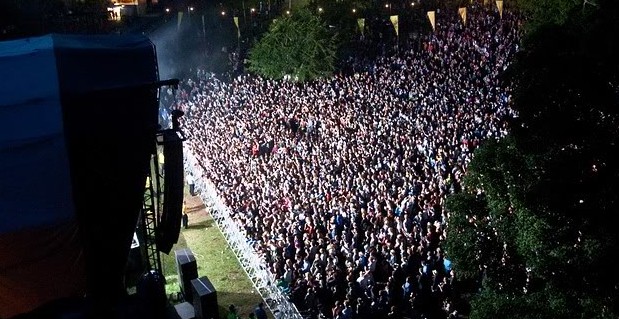 It's April and that means it's only one thing. It's a few months to festival season! This is also the only part of the year you're likely to strangle a genuine smile out of Northern Noise's Sophie Lea. After casting her eye over the Lancaster music scene last week, she now passes judgement on some the festivals on offer up here.
It's startlingly sad isn't it, that after all that waiting for those precious, sun-kissed/cloud-bummed days of [INSERT FESTIVAL HERE], I spend the majority of the time complaining about how bollock-achingly awful I feel after drinking the bottle of Glens Vodka I mixed with some two day old "Dr. Pop".
Sometimes I wonder why I bother, but there must be something to it. This year I started tent shopping early, even by my own standards. I've been rubbing my thighs and getting all flushed over pictures of sleeping bags and retractable canopy poles since February.
You might be all like "It's all about the line-up though innit!" or "It's nothing to do with the line-up, it's all about having a larf wiv me mates innit!".
You're all wrong. It's about buying a fucking massive picnic table that folds into a suitcase.
Getting excited mainly just at the prospect of buying camping equipment is a pretty good stance to have, because it distracts you from the diabolical fanfare of bullshit this year's line-ups are. Almost.
What are my options?
The big ones:
V Fest
I'm probably best off not saying anything about this one as my seething hatred for it and all the straw trilby sporting bantosaur wankers it represents leaves me quite unable to portray an unbiased outlook.
If you have to go, put a plastic bag over your head until Madness come on and you might be alright. You might die in the process but at least you won't be able to hear Example. If that rat goblin Dappy is in the line-up, it does not qualify as a music festival.
To think, my sister went to see James Brown at V '98. What the fuck happened?
Leeds Festival
Yea. Fuck you Reading.
I've been going to Leeds religiously since 2006. I've always had a really good weekend, although last year I was probably a decade older than the majority of people there and I finally realised it.
This year, I let the line-up decide for me whether I braved it again. It's a no.
I think Melvin Benn used the game of 'pin the tail on the 2003 edition of NME' to decide what he was booking this year. He's so fucking desperate, apparently he's offering free food to people who buy weekend tickets. I would sincerely love to go and see The Cure, but I'll be fucked if I'm paying 200 quid for that alone. I considered getting a day ticket and then much to my amusement I discovered the rest of the day's line-up.
Granted, there are some pretty decent bands playing. Bombay Bicycle Club would be good, if not a little lost on the main stage at tea time. Foster The People would also be a good watch, but they're in the NME tent before the Maccabees, which means you won't get anywhere near the NME tent and would end up watching them on the telly outside. Atmospheric.
Justice will be undoubtedly amazing but they're touring right left and centre. They'll probably crop up in your local community centre soon enough. The one that's tugging my heartstrings is the Black Keys. It's their only UK festival and I know they would be incredible live, but the thought of having to listen to the Kaiser Chiefs first puts the fear of god into me. I reckon if I was in the campsite and caught a muffled blip of Ricky Wilson even saying "Hello Leeds" that would be enough to make me vomit up my own pelvis.
You should probably go though, you'd have fun.
Bestival
I'm going. Why? Go look at the line-up you donut.
Apparently there are festivals down south and in Scotland too. There's even some in FOREIGN COUNTRIES!? But I'm from The North, so not only am I reluctant to risk having to talk to outsiders, but my minimum wage packet doesn't allow for such luxury.
Going to Bestival is terrifying enough. The Isle Of White is pretty much like traveling to New Zealand. Via boat.
But there are plenty of smaller festivals on offer for you. Let's look at the midi-fests…
Kendal Calling
I have had a love hate relationship with Kendal Calling from the outset. I remember the very first one that was held in Abbot Hall in the city centre. It was basically a patch of grass behind a museum but it was really good. At that time absolutely nothing was happening around here and then this poster started appearing advertising bands that people had heard of playing in a town within easy driving distance. The locals nearly choked on their pie and chips.
I saw Pendulum for the first time, in a crowd of no more than 500 people. They might be absolute dogshit nowadays but back then they were cooler than a polar bear in shades and it was, to be fair to them a really good live set.
There were loads of other bands too, but the only one I can remember was White Rose Movement, which I doubt anybody else remembers. I liked them. I have no idea why.
After the success of the first one, Kendal came back the next year with a proper field with camping and proper marquees and everything. It was a really nice weekend, very personal and the rare luxury of space to camp your tent without waking up to find somebody having a shit down the side of it.
It's moved location now to a deer park just outside Penrith and it's BEAUTIFUL. The atmosphere has totally changed and the late night entertainment is everything from comedy to secret woodland acoustic sets.
Yes, this year's line up may be fresh from 1997 but there are some really good little bands playing like Vintage Trouble, which we stumbled upon at 3am last year. And anyone who's a fan of good electro, the house party tent was absolutely incredible last year.
And now, my favourites, the teensy weensy mini-fests…
Beacons
Beacons Is just outside Skipton, North Yorkshire, which I can verify having grown up round there an exceptionally beautiful place. I can't tell you what the festival is like seen as this year is its first. I do know I was going to go last year but unfortunately it rained profusely and the site was flooded, so sadly it was called off. They appear to have made up for it this year though. For around 75 squid, you get to see Wild Beasts, Patrick Wolfe, Willy Mason, Roots Manuva, Errors and loads more. There's even a deposit scheme.
I can't go, due to my assistant manager going to fucking V. (I didn't think I could resent it any more than I already did, but wow, there we go).
So I think you should go. Just don't tell me how good it was or I'll cry.
Rough Beats
I may have saved the best till last.
It started many years ago by a group of brothers and friends setting up a birthday party in their back garden, it has gained popularity so much that this year boasts Azealia Banks, Gruff Rhys,Django Django and Pulled Apart By Horses.
You will have to trust me when I say it's worth £65 and it's worth traveling from practically anywhere in Britain, possibly even Western Europe. It's worth not knowing if you like any of the bands because the atmosphere is friendly and warm and relaxed and there's some sort of incredible musician in every tent playing cello or harmonica or a fucking dustbin or whatever.
It's quite difficult to describe why I think everybody should go and I've never been one for descriptive writing, so all I'll say is "GO RUFF BEATZ. IT GUD".
For now, I will continue to surf eBay for superfluous camping equipment and stare longingly out the dingy window, for I know it's not long till I get to don my wellies and head for the fields.
At Northern Noise we're going to be continuing our festival coverage from last year, with some exciting announcements in the coming months.
See you there yeah? Yeah.
————————
Follow us on twitter or facebook to keep in touch and to view our new articles easily.