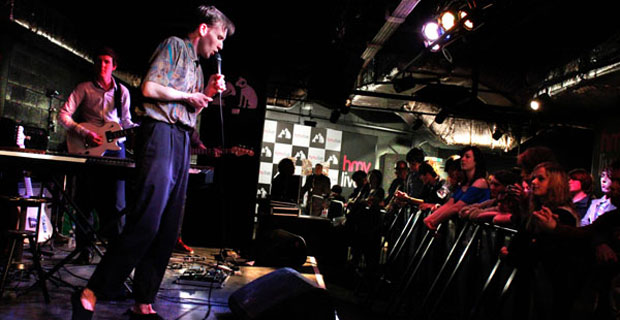 Last week Dutch Uncles new album, Cadenza, hit the shops, as did the band themselves with a number of in-store performances across the UK. We managed to capture a fast paced set, with Duncan Wallis' moves being showcased as much as the music, inside HMV at Manchester Arndale.
In-stores are heralded as being vital to record stores, an integral way of keeping them alive, and you can witness some special moments watching bands squeeze themselves into incommodious spaces somewhere between the techno section and the world music shelves in a small independent store. When you're playing for a major retailer like HMV however, things are a little different. The crowd were led downstairs into an artificial gig space for this performance. The problem was that everything did feel a little artificial. The bouncers were skinny and polite, probably because they usually work behind the check-out upstairs. The crush barrier was a flimsy hollow pole, which the bouncers meekly had to ask people to stop leaning on, and worst of all the dark walls were decorated with the sight of a dog looking into a gramophone. Isn't that animal cruelty? Surely the HMV dog has tinnitus by now? Someone should at least take away the gramophone and buy it a mini-disc player to add a new sense of irony to their logo.
To many inside the store this was a first opportunity to hear material from the record live and thus witness its complexity first hand. Wallis entered wearing dancing shoes and skipped from one place to the other, finding the time to hop onto the piano in between bouts of striking moves. It real was a mixture of shock and awe from the audience, who were not sure how to react to the innovation on display.
Words: Simon Butcher
Have a look at our gallery, provided by Katy B Photography to see for yourself what the instore was like. If you were there share your thoughts with us below.
All images are provided by Katy B Photography view more of her work and buy prints on her personal site… www.katybphotography.co.uk
Other News
On Repeat: Dutch Uncles – Cadenza
True Faith – Manchester International Festival
Northern Noise April Mixtape