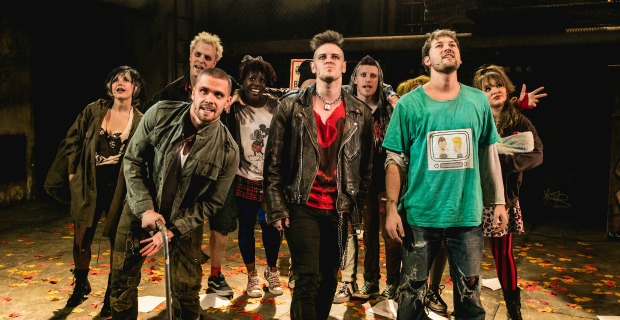 American Idiot was an important album for Green Day. Released back in 2004, it fired the band into the mainstream. All of a sudden it wasn't just torn-hoodie wearing youths that were listening to Green Day – entire stadiums-worth of fans had cottoned on to the digestible pop-punk of Billie Joe Armstrong, Tré Cool and Mike Dirnt. Would anyone have guessed at the time that it would eventually lead to a fully fledged Broadway production? Probably not. However the fact that it has says a lot about the current state of the band. Now the underdog is stood in the spotlight.
Arriving at Manchester's Palace Theatre for a brief five day stint, American Idiot the Musical comes out swinging, throwing its arms around in an angsty protest to the tune of the album's titlular track. What exactly its colourful, mohawked cast are so up in arms about is not obviously clear. A television screen hanging from the stage displays scenes of a wounded America and the 'war on terror' that ultimately followed 9/11. There are lots of middle fingers and 'fuck the establishment, man!''s flying around from the show's caffeinated, guitar strumming players. All the while, Green Day's American Idiot album tracks are shoehorned in, sometimes seamlessly, sometimes requiring a little elbow grease.
Despite having two last minute swaps on opening night, one a major player (Cellen Chugg Jones steps in as band member Tunny while Lawrence Libor tackles Theo), it's hard to fault the cast. Lead by Matt Thorpe's tortured-musician Johnny and X Factor finalist Amelia Lily as his Courtney Love-esque love interest, the entire troupe give it their all and maintain high energy levels throughout, sometimes verging on OTT territory. However, overlooking the fact that an ex-X Factor contestant is starring in a theatre production about punk, the actual narrative of American Idiot may leave theatre goers scratching their heads.
It feels like the show relies a little too heavily on Green Day's American Idiot tracks (all of which get an airing) and neglects actual dialogue and story development. In fact, the only consistant piece of storytelling involves the occasional mention of the passing of time and even that's only there to lead into emo classic "Wake Me Up When September Ends". When all's said and done, Johnny and his pierced buddies end up sort of exactly where they started off just in time for a group singalong of complatative classic and non-American Idiot tune "Time of Your Life". While fun, it might not be enough for some.
If you're a Green Day mega-fan, chances are you'll probably enjoy the show regardless. However if you even remotely consider yourself a fan of the punk or anti-establishment movement… well, you probably were never going to come to this anyway.
Green Day's American Idiot the Musical runs until Saturday 9th April at the Palace Theatre in Manchester.
Words by Simon Bland (@SiTweetsToo).
Keep up to date on all the latest Northern entertainment news by following us on Twitter, Facebook and Google+.