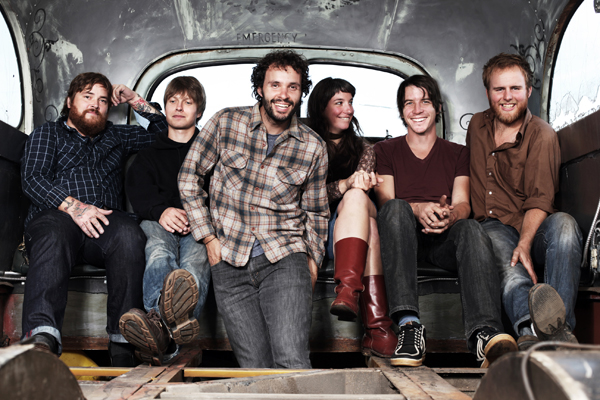 Blind Pilot is currently in the UK this week opening for The Decemberists and Surfer Blood.  If you saw our recent news story on them, you'll know that they're a band with no shortage of unusual travelling tales.  As such, the circumstances of our interview seem quite apt.  We caught up with founding member and drummer Ryan Dobrowski beside a dumpster outside his hotel in Birmingham for a brief chat before tonight's show…
How's the UK tour going so far?
So far it's been pretty great. Really enjoying playing for so many new people. The jet lag is wearing off and we are getting more comfortable driving on the left side, so it should really only get better.
For all those in the UK who may not have heard Blind Pilot's music, how would you describe your sound?
For some reason we always have a bit of a hard time with this question. I'd say it is Americana influenced indie pop. The songs are structured around Israel's voice and guitar, but we fill them out with, bass, drums, banjo, trumpet and vibraphone. We have a pretty strong attraction to acoustic instrumentation.
In 2008 you did a tour of the US on bikes, how did the idea for that come about?
That was sort of the starting point for this band. Israel and I wanted to sort of recreate some of sense of adventure that came after spending a summer busking in Newquay, England. It really just seemed like a fun way to spend a summer. Ride your bike all day and play music at night.

Was there ever a point on the tour where you were like "let's just get a van…" ?
Not really. There's been points on other tours where we said "let's just get back on our bikes". I'm pretty happy to be covering more ground these days, but we have very fond memories of bike tour.

Can we expect a UK bike tour anytime soon?
I certainly hope so. That's been talked about quite a lot. Figuring out the right time to do it will be the key.
As a band that seems to revel in travel, do you feel more comfortable on the road, touring from venue to venue?
Yeah. As hard as it can be to always be away from home, I can't think of anything better. I think it has a pretty large influence on the music we make.

There's a very earthy tone and stripped–down quality to many of the tracks on 3 Rounds and A Sound, what were the major influences on this record?
Some of my favorite musical moments have been just listening to a street musician poor themselves into a song. There is something very direct and very human about stripping things down like that. It might not be as exciting at first as synthesizers and drum machines, but if done well, it can be very effective at connecting with people.

Things began to gel for you guys in the UK surfer town of Newquay. Do you think the mindset and excitement of that experience has stayed with you throughout your progression as a band?
Definitely. I mentioned that earlier, but that was an amazing time for us. It's good to check in with that now and then just to remember how lucky we are and to treat all of this with the same sense of adventure.

You also did some busking whilst in Newquay, are impromptu shows and quick busking sessions something you'd like to continue doing in the future wherever possible?
We haven't busked in a little while, but the impromptu show is always fun. There is something about catching people off guard and having to win them over that's good for the soul. It's always pretty fun to have an audience sing along to your songs though.

As your shows are getting bigger, do you miss the intimate crowd interaction that your smaller shows provide?
It can be a little more difficult to connect in the larger rooms, but I think we do a pretty good job of keeping intimate. We often will be down in the lobby after the show just so we can talk to people a little more.
Can fans expect to see you at any of this year's UK festivals?

If they ask for us, we will definitely be there. If not this year, I certainly hope we'll be there next year.

Folk rock has had a recent resurgence in popularity, why do you think that is?
It's hard to say. I'm certainly glad it is though. There is a lot of great things about folk music and I think in an ever increasingly fast pace, it can be sort of a relief.

Is a new album in the works and if so, what can you tell us about it?
We are in the middle of recording it right now and I'm really excited about it. We operate more as a six piece now than just Israel and myself. That changes a lot right there. Some of the songs feel a lot bigger than what was on 3 rounds. There are still a good number of fairly stripped down songs as well. After this tour, we'll go back to Portland and finish it up.

What can we expect from you guys in 2011?
Definitely another album which will be followed by a whole lot of touring!
Find out more about Blind Pilot right here.