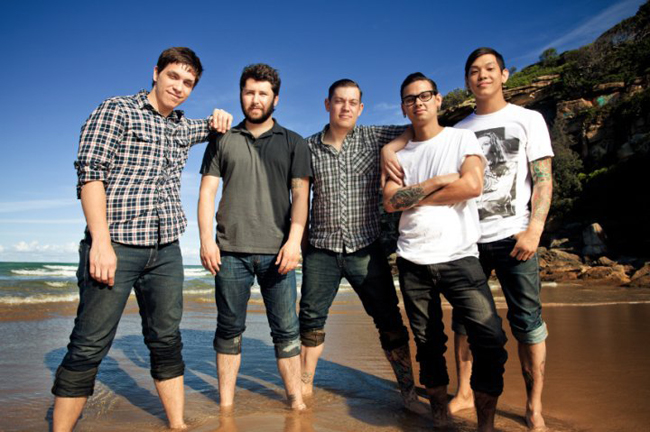 With their new album 'Gospel' hitting store shelves and fan's ear drums on May 24th, Detroit's own Fireworks return to the UK for a bit of a warm up lap.  Having recently played a special Kingston gig where they performed their 2009 album 'All I have To Offer is My Own Confusion' in its entirety the band are scheduled to storm through the North during the next fortnight with shows in Manchester, Leeds and Sheffield.  We asked guitarist and vocalist Chris Mojan a few questions about Fireworks past, present and future…
How's the tour going so far, enjoying being back in the UK?
It's going great. Just finished the third show in Birmingham. Make Do And Mend was able to finally join us tonight so everything finally felt right.
You kicked off the tour by playing 'All I Have To Offer Is My Own Confusion' in its entirety, why did you decide to do this?

Actually, Banquet Records asked us to do it. The first show sold out so we both thought adding another show and doing something cool at it would be appropriate.
You've been to the UK before; do you have any standout memories of your time over here?
So many. We say it a lot but we always have a total blast while we're over here. Have a lot of great friends and it's always easy to make new ones.
The UK has a huge dedicated pop-punk crowd, is there a noticeable difference between the kids that come to your shows at home and those who attend this side of the pond?
Kids here seem to have more fun in a way
New Found Glory's Chad Gilbert produced your last album, how did he get involved with the band?
It was actually all through Triple Crown, Chad and ourselves thought it would be a good idea.
How did this collaboration shape the way the record turned out?

Well since he produced it, Chad was sort of like the 6th member of Fireworks in a way. So his ideas and thoughts are included on the record.

Your last album was recorded in 11 days, that's pretty crazy – how was the recording process for 'Gospel'?
Well first off we had 4-5 weeks this time around. Which made us love and appreciate Chad and Paul Miner that much more for handling a record in such a short period of time. With 'Gospel' we had about 8 days of pre-production and about 4 weeks of tracking. Also had the option to jam and work on stuff 24/7 in the studio.

Brian McTernan produced this time around, how did he get involved with the band?

We've always worshiped Brian and his work so we basically contacted him, sent him songs and he ended up really liking them and wanting to work with us.
He's worked with a lot of bands over the years, how did he help shape the sound of 'Gospel'?

He really pushed the songs to their highest peak and really squeezed the best out of us. He's a king.

What artists, tracks or albums would you say influenced the new record?

We don't really listen to songs/bands and try to write songs that sound like them. It all just comes into play naturally. That being said we all listen to a lot of bands and records.

The album artwork is pretty striking, how/why did you decide upon that cover?
Fits the sound of the record perfectly. The feel I get from listening to the record is the same I get while looking at the artwork.
You guys had a busy year in 2010, lots of shows – touring with NFG and Saves The Day – would you say these experiences have affected your writing/sound?

No, if anything we just learned how to be better song writers from bands like them.
Are you excited to be letting fans hear your new material?

Kinda
Along with bands like Set Your Goals and Hit The Lights, you seem to be leading the way in a new generation of pop-punk, what are your thoughts on the current pop-punk scene?

I think putting a label like that to yourself really sort of segregates people from wanting to listen to your band. I always just tell people we're a rock band. If someone doesn't like pop punk, they're not going to want to give Fireworks a chance. We've never really been about this whole, 'Pop Punk Revival' thing, to me it's good people making good music. If people want to refer to us as pop punk though it's no problem.
Can we expect to see more UK shows in 2011?
We hope so!
Will Fireworks be making an appearance at any UK festivals – Reading and Leeds maybe?
No idea yet, we need to do those eventually, why not start this year?