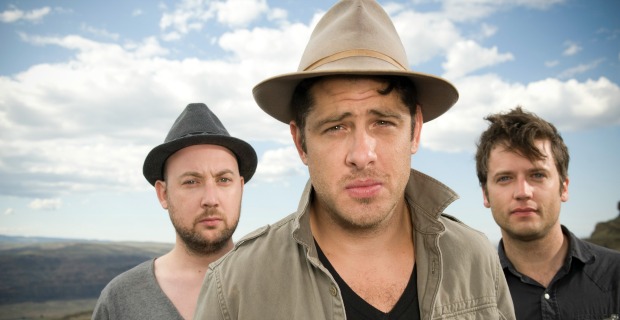 Later this month Brooklyn indie trio Augustines head out on a European jaunt that'll see them arrive at the atmospheric Manchester Cathedral on December 1st. Returning to ears this year with their quietly confident self-titled second album, the band seem poised for big things – and they're sharing the love. Throughout this UK tour, they'll give one lucky trombone, trumpet or saxaphone player the chance to join them on tour, all expenses paid. Not too shabby.
We caught up with Rob and Bill to discuss the band's history, their future and the personal journey that lead to their new album…
Augustine is often associated with religion – St Augustine, Augustine Church. Did religion come into play when choosing the name?
"Rise ye sunken ships covered some tragic subject matter, and a lot of that stuff happened in the month of August. Also Bill's Birthday, his brother James and Eric's birthday are all in August, hence Augustines."
You've been shortlisted by the Festival Awards for Best Breakthrough Artists but we know you've been playing sweet music to our ears for a long time now. When did Augustines form?
"Bill and Eric were playing as an acoustic two piece until I joined early 2011 which is when we became a band. Bill and Eric went our on one tour with The Boxer Rebellion which was late 2010 if my memory serves me correctly. I joined shortly after."
You said that Rise Ye Sunken Ships was about adversity and saying we're here and we're not going to let it beat us, what then would you say your latest album Augustines is about?
"I'd say Augustines is about positivity and hope. None of us could ever have imagined what kind of success Rise would have had, and once the tour cycle was over we were asking ourselves the question, what now? Where do we go from here? And I think it's fair to say that we were ready to move on from the subject matter of Rise. It was a tough time for all reliving that stuff on a daily basis, and to me, it was a natural progression to want to look forward and expand our horizons emotionally, mentally and musically."
How did you go about writing the songs? What inspired the lyrics?
"We basically locked ourselves away in an old church in upstate NY for 5 weeks and constructed the record. We each took a short time to demo prior to that session. Bill is the primary writer, but we'd bring ideas, see what was working and then form them as a group."
"Cruel City" has been voted as record of the week by XFM, it has a really upbeat tune yet the lyrics imply a darker feeling. Why did you choose to have this contrast?

"Bill and Eric may have a different feeling on this, but I always felt this song in some ways wrote itself. We had the main riff, and the drum beat was the first thing I played"
Another track from Augustines is "Walkabout" which is featured in The Judge commercial! Can you talk us through what "Walkabout" is all about?
Bill: "The song is is about being at an impasse in one's life and needing to go be alone to figure out what direction to go in for that for me it was the ocean on the north coast of California
Speaking of "Walkabout", it seems that you've been constantly on tour this year, hitting the festivals, North America and you're on your Walkabout tour. Is there somewhere you are determined to visit whilst touring?
"Australia Mexico Asia there's really so many…"
Have you/will you bring any memorabilia back with you?
"A sombrero, a kimono? A didgeridoo?"
You were lovingly mithered to go to Ireland by fans, out of the three of you who has the best Irish accent?
"Probably Rob!"
The video for "Weary Eyes" was shot in Paris; did you not fancy wearing a beret whilst cycling?
"I probably should have had a helmet, those drivers are nuts!"
Finally, what's planned after the tour?
"Writing, motorcycle, writing, sun, tacos, more writing."
Augustines will play Manchester Cathedral on December 1st. Buy tickets here.