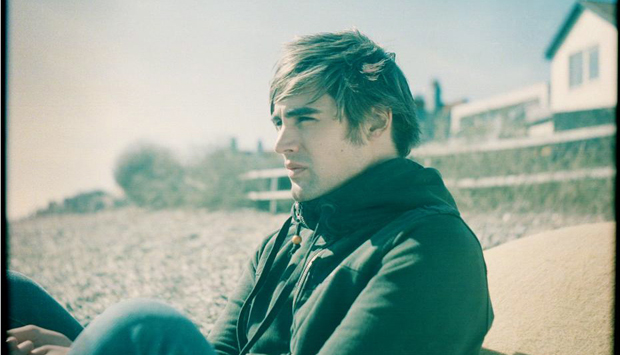 When we catch up with Charlie Simpson he's feeling a little bit worse for wear. It's the morning after his first ever solo gig at London's Tabernacle and, appropriately enough, the Fightstar frontman celebrated by hitting the town hard afterwards. Whether it's due to a comedown from the booze or the adrenaline of the gig, or whether speaking to the press has become so robotic for him over his years, he's not on the giddy high I expected him to be when talking about his first gig.
"The crowd were amazing, I had a really good night," he tells me, his tone not matching the enthusiasm of the words. They look good in print though, and maybe that's the problem. Simpson has become media savvy over the years, having been on the receiving end of both good and bad press for the best part of a decade. After becoming increasingly unhappy as part of the pop-rock trio Busted, Simpson formed Fightstar, a post-hardcore alt-rock outfit which sat much more comfortably with the then 18-year-old. But the transition wasn't easy and the media backlash towards Fightstar soured any affectionate feelings Simpson may have otherwise had towards his time in Busted, which shot him to celebrity. Eight years on, Simpson says it no longer haunts him.
"I don't really think about it. It just feels like a lifetime ago so when people bring it up I'm like 'yeah, whatever'. I don't really feel any which way about it I just see it as something I did quite a long time ago." Simpson may have privately removed his Busted days from his memory, but the world certainly hasn't forgotten the catchy delights of chart toppers like Year 3000, which co-incidentally is around the time we expect Simpson to stop being referred to as an 'ex-busted member'. The reason is, of course, that while Busted dominated the charts, Fightstar have never been overly familiar with the top 40. The point is, of course, that the world is aware of Simpson's range and diversity and his solo material, while perhaps unexpected in style, is unsurprising in quality.
Thus far the solo project has only generated good press. His debut single gained vary early acclaim when Radio 1's Fearne Cotton named Down Down Down her record of the week in early April and reviews have been overwhelmingly positive. After bubbling away between the surface and the underground with Fightstar for four albums, was Simpson expecting this mainstream attention? "To be honest, I didn't really think about it," he says. "I didn't stop and think or analyse it…but it's amazing that people have been playing it, it's flattering." And there's little not to like. Down Down Down is a gorgeous acoustic blend of folk and rock which suits Simpson's distinctive gravelly tones arguably more than any of his previous material. The single, he says, is a good reflection of the forthcoming album Young Pilgrim.
"Down Down Down is a very acoustic based record and there are a couple of songs on the album that are more band orientated, but the reason we released that first is because every time someone asked me what the solo stuff was like, I played them that. I was naturally making it the pacemaker for the record." The sound is mature and a world away from the post-hardcore roots of Fightstar. At 25 no one would blame Simpson for having outgrown the alt-rock scene that he was a part of during his teens but Simpson insists he hasn't. "I still love rock music but I think this really goes back to the earlier roots of my musical upbringing," he explains. "When I was growing up my dad was listening to stuff like Jackson Brown, The Beach Boys, and lots of stuff from that 70s LA scene, like the Eagles and other big harmony stuff. I've always loved singer/songwriters as well as listening to rock music so my solo stuff is that side of me coming out and it really is a true representation of me. It's just a very raw record and I think that this was just a nice chance to not really think about what I was doing, to just get in a room and write from the heart."
With echoes of other rock frontmen who have pursued successful solo careers of a more mellow nature such as Dallas Green, Simpson is hoping that Fightstar fans will embrace his solo material. "It is very different but a lot of people who like heavy music also like acoustic stuff. I don't think that there isn't a link between the two things… I think that the Fightstar fans who are into the much heavier stuff, maybe wouldn't but I think that the people who are into the lighter Fightstar stuff will really enjoy it." And so far he's confident, with message boards and social networking sites a buzz with praise and the crowd reaction at the Tabernacle gig unwaveringly positive according to Simpson. "It's difficult when you do a show and people are listening to new songs but it went really well… and for the songs they knew, they were singing every word, I was really overwhelmed by it."
The show was a warm up gig for the six date tour Simpson will be doing in June and July, but after nine years touring with bands, does he feel out of his comfort zone hitting the road alone? "Yeah, I do, but funnily enough one of the guys in the band, is a friend of mine from school and we used to play in a band when I was about 14 and write together all the time…so it's nice to have a familiar face, it makes it feel like more of a band situation and the other guys are cool. Even though it is my solo project, I did want the live band to feel like a band.
"I thought it would feel weird but actually it feels more like a band situation. It is weird doing interviews and stuff without the others but it's cool, I always wanted to do a solo record…I didn't want to write another Fightstar album, we'd done four albums in a row and we wanted to take a bit of a break and we would have just been taking time off anyway so it was the perfect time to do it." But the welcome break the band are taking has no set timescale and with all the members of Fightstar tied up in various commitments the chances of them all being free to reform don't appear high. "Fightstar is always going to be there and it's a case of when we come back to do another album not if but I'd like to go and do some international stuff with this so I'll definitely be doing this for the foreseeable future.
"I wouldn't be able to put a time on it, it's just a case of seeing how it all goes. There's no real pressure, all the guys in the band are totally cool so I want to focus my attention on this because it's an important record for me and it's something I've always wanted to do." While Fightstar have become progressively more mellow over the course of their albums, seemingly heading in the same musical direction as Simpson's solo material, Simpson says he felt constrained to the realms of the rock genre. "Fightstar is a rock band. That's what we love playing together and that's the sound that comes out…It was nice to have that artistic freedom because when you're in a band, at least in our band, it's a democracy and everyone has an equal say so if you have ideas that someone doesn't like, you have to come to a compromise. It was nice to just put in whatever I wanted and to have free reign and that goes for everything. It was nice to be able to pick the directors for videos, to pick the artwork myself and to think 'I haven't got to run this by anyone I can just do the things I want to do.'"
Words and interview by Antonia Charlesworth
Tour Dates:
Wed 29th Jun
King Tut's Wah Wah Hut
Glasgow
Thu 30th Jun
O2 Academy Newcastle
Newcastle upon Tyne
Fri 1st Jul
O2 Academy Birmingham
Birmingham
Sat 2nd Jul
Manchester Academy
Manchester Mon
4th July
Wedgewood Rooms
Portsmouth Tue
5th Jul
O2 Academy Bristol
Bristol