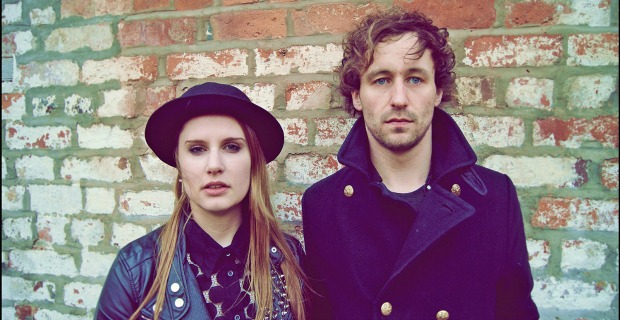 Two years ago we hosted the brilliantly minded duo Coves (made up of John Ridgard and Beck Wood) on our Northern Noise Live stage at The Castle Hotel. Since then, it's no surprise to hear they've been quite busy, spending their summer at festivals, touring with The Raveonettes around the US and releasing debut album Soft Friday earlier this year. It's pretty obvious to see why we like this twosome; all you need to do is watch their latest video Fall Out of Love (and their live performance at The Castle Hotel). Their psychedelic stance truly does entrance.
Now travelling across the world on a tour with St Vincent (it really doesn't seem to stop for them), we had a good old catch up over the phone with John to discuss the delights of a Soft Friday, Beck's artistic direction and to debate what games to play on the tour bus.
Okay, so your new album is called Soft Friday. Why the name?
"Erm, 'cause it was all made on Fridays, mainly. Me and Becky used to work in a music venue so Friday was the only day we usually had off 'cause then we'd be working club nights and stuff over the weekend so we used to make a lot of music on Fridays. We called it getting soft, like your chosen relaxation method and then we'd make music all day. So, yeah it just turned into 'Soft Friday'. We'd also invite our managers James and Matt over, we'd say for a soft Friday and they said that's what you've got to call the album so we were like okay!"
What can you usually be found doing on a Friday, like you said, is it usually making music?
Well we had to move to London to do more music stuff so we didn't get our Fridays off anymore so I had to work all the time but I've actually just quit my job so now everyday is just going to be a soft day. Monday-Sunday equals soft days!"
In 2012, we asked you to make us a mixed tape of songs that heavily influenced your music. Could you give us an inkling of what your mixed tape would be for a Soft Friday?
"That was all kind of recorded around that time so I guess it would be pretty much the same. I've listened to lots of like 60s nuggetsy bits, garagey stuff but I've always listened to a lot of modern music as well. So, you know there was a lot of synthy stuff at that point that I was listening to at the same time as the garagey stuff so that's why it's crossed over a little bit. I wasn't trying to make a garage album or anything like that, we were just messing around and it just kind of came out."
You've got quite an artistic video for Fall Out of Love, who helped with the art direction?
"That's all Beck! 'Cause we agreed when we started that I was the ears and she was the eyes so anything you see is meant to be designed by her and anything you hear is meant to be done by me. But then obviously record companies get involved and they have to have their say so there are actually a few videos with other people involved. But Fall Out of Love is Beck again, just using chopped up images and editing."
When your performing your style is also quite arty, is that all Beck too then?
"Oh yeah so she'll usually direct how the lighting is and she's spent quite a lot of work on visuals. When we're playing bigger shows we can use quite big visuals and she's made all those and she's quite strong about how she wants it to look. So, if you turned up wearing a rubbish t-shirt or something she'd probably send you to the shop to get dressed so she's quite strict with our session musicians!"
On Tuesday 21st October you embark on a tour supporting St Vincent. How did you meet her?
"We haven't yet! Yeah, I've been a fan for years. We were out on tour in America a few weeks ago with The Raveonettes and we just got invited. I don't know who showed her but our manager got in touch and said we'd been asked to go on tour so we finished the tour in America and I came back and quit my job and now we're going away for a month and a half."
The first stop is Manchester at the Albert Hall, then you'll be touring internationally, when you're not performing what do you get up to?
"We've only just started touring but like America there'll be a lot of driving, like 8 or 9 hours between the shows so I think in between performances we'll just be sat on the bus."
Ahh but you need to take board games – take travel monopoly or something!
"Yeah I guess so, I haven't got anything small enough – I've only got the big versions. Maybe I'll take travel battleships or something!"
Yeah that's a good one! Are there any places you're performing at that you have visited before?
"Yeah most of Europe! I've been to Germany so there are places such as Sweden which I've never been to."
Do you think you'll bring back souvenirs for everyone?
"Yeah, we did that in America we decided to go out and get loads of tacky stuff! I just got completely stunned out in New York, like the places where they just charge you ridiculous amounts of money for a fridge magnet! So we got plenty of crap and lost all our money."
It has to be done though, it's like the British thing to do!
"I know yeah, you end up wearing caps and stuff but we said that we're just going to live off our daily allowance money this time because we're not working so we're not going to spend our money on anything this time, just food. But I'm sure we'll probably come back with a little plastic leaning Tower of Pisa."
So, A while ago you played two Northern Noise Live shows for us at the Castle Hotel, how have things developed for you since then?
"So, we released the album but not much has changed other than lots of gigging but I think we were going to come back to The Castle. We'd planned another headline tour but we had to cancel because of St Vincent. We'd love to come back to The Castle again that was an ace little venue! I think last time there was a leak and it was just on top of the mixing desk and it was just really fun for me 'cause I was just watching our sound man deal with this sort of cardboard house that he'd built himself!"
So it's the entertainment you miss?
Yeah!
Speaking of live shows, can you tell us about your recent US tour?
"Well, we missed the first two dates because our visas didn't come in time so yeah the start was pretty stressful and then our flight got delayed on the way so we made it with about 2 hours to get to this show in LA. Then when we got to the show in LA all our equipment was broken. So it was a nightmare start but then after that, that show was really good and it just kind of got better and better."
How does it compare to a tour in the UK?
I don't know, all the people are so much more enthusiastic. I know what I'm like when I go and see a band – I just tend to not want to go and speak to them afterwards but in America everyone just comes running over and yeah, they're just so enthusiastic! I think it's just the British cynicism like 'oh I really like that band but they're probably going to be twats so I won't bother talking to them'. The venues were really cool too and I loved travelling around, mental country.
So what have you got planned for the rest of 2014? Are there any key dates in 2015 that we need to note down in our diaries?
"Well, after the St Vincent tour that's when we start to properly work on the second album and we plan to do nothing really than just solidly work on that and try to slowly send ourselves insane in my little room and make something exciting and that's all we've got planned."
You can find out more information about the Coves' tour dates on their website.
Words and Interview by Hollyann Prince (@HollyannPrince).
Keep up to date on all the latest Northern entertainment news by following us on Twitter,Facebook or Google+.