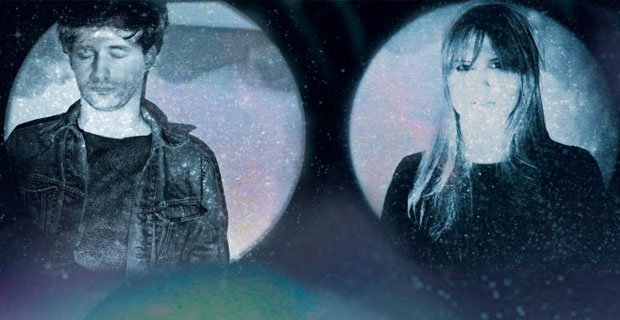 October is the month of Northern Noise. Five days ago we kicked off our double-punch of events by welcoming Novella to Manchester and partying with Shinies in Fallowfield and we're not done yet. On Saturday we'll be hosting the triumphant return of Coves to our original Northern Noise Live stage at The Castle Hotel.  When we last saw these guys they were draped in a moody kaleidoscope light, blasting out their psychedelic pop sounds to an audience shrouded in darkness. It was trippy to say the least. That was back in July, cut to October and Coves have exploded into the national consciousness. An invitation to record a live session with Lauren Laverne was graciously accepted while Zane Lowe crowned them his favourite new act. Impressive stuff. We caught up with Coves duo John Ridgard and Beck Wood to discuss influences and accolades…
Buy tickets for Northern Noise Live: Coves w/ Jaws & Civilians right here.
So let's start at the beginning. How did you guys meet?
BECK: "Well Leamington isn't very big so it was bound to happen… plus you can spot John's head a mile away."
How long was it before you decided to start making music together?
BECK: "How long is a piece of string…"
Was the band always intended to be a two-piece or did you ever consider recruiting more musicians?
BECK: "COVES will always be me and John, we have already recruited a drummer 'ANDY' but that's it for now…"
For a duo, you guys create a lot of sound. Do you think working as a two-piece makes things harder or easier?
BECK: "Easier…too many cooks and that!"
So 2012 has been a pretty big year for Coves. Looking back, what are your thoughts on the experience?
BECK: "It's crazy…This is my first ever band I have EVER been in so for me it's amazing…It feels of natural. BEST YEAR EVER!"
Has there been a highlight so far?
BECK: "Yeah, meeting Lauren Laverne on our live session. (she is so beautiful)"
How long did the Cast A Shadow EP take to put together?
BECK: "Well John is a genius so not long at all."
JOHN: "That's not actually true…I didn't really have a clue what I was doing, was kind of new to the production thing so there were many many sleepless nights lost in mixes"
It's definitely laced with some psychedelic pop sounds. Did you know what vibe you were trying to capture before you set out to record?
JOHN: "Yeah, kind of…I had got excited by a lot of 60's nuggets/pysch stuff and also that big 50's reverby production of stuff like the Everley Brothers…I've always had a passion for epic pop too so I guess I was just messing with all that."
Musically, what did you want to bring to the table with the new EP?
JOHN: "Pop on the outside, fucking weird on the inside. We're learning our craft though…so just see what flows"
You self produced your last EP and handed it out for free. What useful things did you learn from this DIY approach that you utilized with the release of Cast A Shadow?
JOHN: "Does anyone do it any different these days?? I don't really pay to much attention other than the song I'm working on."
Talk us through the typical writing process. What comes first, the lyrics or the sound?
JOHN: "Hours and hours spent in the messiest, stinkiest disused office room in England…this is our Coves cave…it's packed full of semi working bits of gear…I'll spend some nights messing round with stuff, then Beck comes round…we drink and have fun and don't leave until we got something good"
Lyrically, what are your biggest influences?
BECK: "My life"
Your live performances are very visually striking – your last NN set at the Castle saw you draped in a trippy kaleidoscope light. How much thought and preparation do you give to the presentation of your live shows?
BECK: "We always take time and think about how to make an impact through the sound or the visuals…if you have all that going on for me it helps get people involved with the set."
You've had a lot of important people say some very nice things about you. How does it make you feel?
BECK: "It's amazing…But when I read/listen to it I can't get my head around the fact it's COVES. I just think they are talking about someone else."
Of course, Zane Lowe recently cited you guys as his new favorite band. Did you ever expect the Cast A Shadow EP to make such an impact?
BECK: "No way… it's reDICK!"
Do all these accolades add any pressure on you two to keep delivering the goods?
BECK: "Not really, me and john are always working hard on new tracks, images and visual ideas to it's always at steady speed."
JOHN: "As Becky said…doesn't really feel like all these accolades are about us. When I'm in the studio I don't feel like anyone is listening…just feels like we are doing it for our own amusement."
What does the remainder of 2012 and the New Year have in store for Coves?
BECK: "We are going on tour with Eugene McGuiness in November which will be fun…then get back in the studio to make some more COVES KIDS"
We can't wait to have you guys back at Northern Noise Live. Is there anything you'd like to say to your Manchester fans?
BECK: "LETS HAVE IT!"
Got your tickets for Northern Noise Live: Coves w/ Jaws & Civilians at The Castle Hotel? No? Then click here.
Words and interview by Simon Bland. (@SiTweetsToo)
Be sure to 'Like' us on Facebook and follow us on Twitter to keep up to date with all the latest Northern music news!