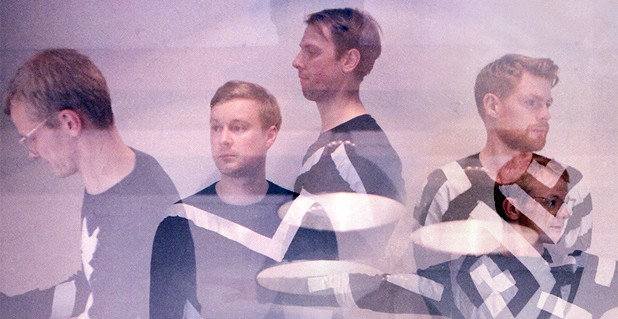 In the run up to Rough Beats Festival, we will be speaking to a few of the artists set to play. First up are Edinburgh four piece, Django Django who have swayed critics and music fans alike and seem to be set to storm 2012.
Sophie Lea spoke to bassist Jimmy Dixon about the making of their debut  self titled album, comparisons to The Beta Band and working on the chicken counter in Morrisons.
Everybody, the band included seems to have had a bit of a tizz trying to pigeon hole them and comparisons have been drawn from Hot Chip to The Beta Band (Dave Maclean, drummer and producer's siblings band).
Is this beginning to get a bit annoying and did you want to establish yourselves as a totally different band?
"Yeah, we do want to set ourselves apart, but no it doesn't get annoying…I grew up listening to the Beta Band, even before I knew Dave and obviously they grew up together listening to the same records…they used to DJ together so there was always going to be similarities."
Quite a lot of music journalists seem to be struggling to describe your sound; do you think this is a bad thing?
"No, I think it means we're doing something different. I think the album is a mix of all our different influences. I think it's probably a positive thing if people are struggling to describe us."
The album comes across as extremely experimental. Was it just a case of playing around and seeing what happened or were you more methodical? Did you ever get frustrated that a sound you had in your head didn't play out as you'd envisaged it?
"I think a lot of it was just pure chance. We all went to art school, so we used to working in that sort of way, you know? Being given an object and just seeing what you could do with it. Taking a paint brush and seeing what different kind of marks you can get with it. Making the record was a similar kind of process. Dave and Vinny hardly had any equipment. They didn't have a full drum set. On the track 'Firewater' the drum beat is a mic'ed up Yellow Pages book.
I remember Vinny going round one day and Dave was just in his dressing gown and slippers mic'ing up a wine bottle. We wrote 'Zumm Zumm' after being holed up in Scotland for four days, suffering from cabin fever. We lost the hard drive and half the song and when we came round to try to do it again, some of the stuff was so off the cuff it was really difficult to replicate."
The record brings a real sense of fun…
"Yeah, we had a lot of fun making it…we wanted to keep it fun and uplifting and because we had a bit of a laugh when we were making it, I think that shows."
The album's finally out now, after three years in the making. Are you happy with the final edit? Would you change anything?
"Yeah, really happy with it. We started recording most of it in 2010 and we were hoping to get it out much earlier than we did…it felt like we were never going to get it out and it was amazing when we finally had a copy in our hands. We were just saying the other week that after listening to the album, would we do anything differently? And that's just part of the process; it'll mean the next album will probably be quite different."
We've struggled to find a bad review anywhere; you've got a lot of hype at the moment. Do you think this puts added pressure on the dreaded second album?
"We took all our gear up to Scotland last week to start writing some new stuff and I guess yeah, we didn't really know what to expect with this album, we didn't even know it would be an album, we just started writing songs and hoped people liked them. So I suppose it's going to be a totally different process now, after having such good feedback. I think we're keen to get on with it and not just rest on this first album and get it out hopefully sometime next year."
Obviously you'll be doing quite a lot of gigs at the moment, do you prefer the live side or being in the studio?
"I think Dave prefers being in the studio, the creative side of things. We did our first proper UK tour in February and it was the first time people were really there just to see us, it was nerve racking but totally amazing. We've got more UK gigs and an Australian tour, which will be amazing."
For those who haven't had a chance to see you live yet, what should we expect at Rough Beats?
"Well we're going to start changing things around a bit, we want to keep the live set fresh, get a few more songs in and some new stage outfits. By the time we're in Yorkshire, we should have some new snazzy outfits."
It's written somewhere that you had The Super Furry Animals round for Christmas once. Gruff is playing Rough Beats too; will you be at the front, air guitaring?
"YEAH! I was  a massive Super Furry Animals fan, I used to go up to Manchester to see them when  I was younger."
You seem to have quite a few musical ties, is there anyone you've been really star struck by?
"I used to be obsessed with The Stone Roses and a few years ago I saw Ian Brown outside a club in London, I didn't go up to him or anything but I think I just stood there shaking for about 5 minutes. We met Chris Isaak in France and he told us a story. He said he went to see The Clash in the 70's and got down into the mosh pit and he didn't know what a mosh pit was and we were just sat there smiling. We've met loads of people and they seem to be such genuinely nice people."
I probably shouldn't tell you this but I had a weird dream that you were all bakers by profession. Did you ever think about doing a normal job? What do you think you would have done if you hadn't gone into music?
"(laughs)When I was 15 I actually worked in Morrisons on the deli counter with the cooked chicken. I used to have to wear these checked trousers and a Dick Tracy hat. Not quite a baker but not far off. Maybe I'd still be doing that, I don't know. We all went to art school so I guess something like that. But it's different. When you're in a band you get your band mates to keep you company. Being an artist is really lonely."
So you all met in Scotland but have moved to London. Do you think it's a totally different scene down south?
"Yeah it does feel different in the sense that so much stuff is always going on. I know in Glasgow it feels a lot more stable, I think people stay there for a lot longer."
Do you think the move influenced your music?
"Yeah, I mean we all live in South London and there are just so many different cultures. You walk down one street and you've got Turkish restaurants blasting out Turkish music and then there will be some afro beat or dancehall coming out from the markets. There was a compilation album that came out last year called Turkish Freakout, sort of 60's/70's psychedelic folk music. Totally bonkers but we love it. You can probably hear elements of that on the record."
Do you still get any time to listen to go to gigs? Any recommendations?
"Well not as much as we did. I'm really keen on seeing an American couple called Peaking Lights and there's these two guys called Subway. It's Krautrock, meets electro meets house – it's really amazing. We did a little live tour with Metronomy last year and we were totally blown away with their live show. I think they made us realise that we should work on our live shows."
There's probably quite a lot of pressure on getting the synth across live. Is there a certain song you dread playing?
"I'm always a little nervous of 'Waveforms', just because it's got some strange harmonies. We're really happy with our sound guy at the moment though and it's getting a good reaction from the crowd, so that makes it a bit easier"
Well, it's been lovely talking to you and to end, we ought to clear this myth up. Does the band's name come from this story of Django Reinhardt's stuttering guitar teacher?
"NO not at all (laughs) I think that started out in an article a few years ago. Basically it comes from an old 90's dance record that Dave had called Son of Django. I think we just liked the sound of it, the rhythm of the repetition.
words by Sophie Lea
—————–
Django Django are playing on the Sunday at Rough Beats Festival which is on June 8th-10th 2012. Tickets are £65 and can be bought from our own website here.
You could win a pair of tickets by entering our competition.
——————
For more interviews and updates follow us on twitter and facebook.