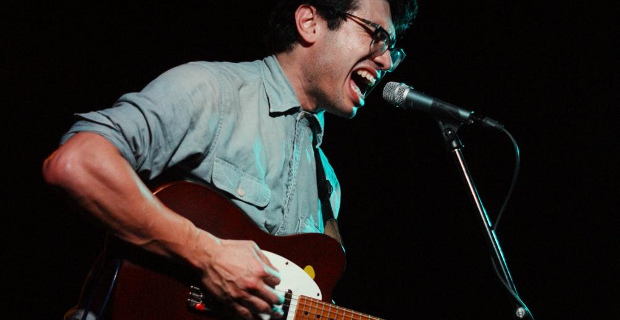 We spoke to Brooklyn-based Gabe Levine, who performed minus the hounds at Manchester's latest Communion gig in the Night & Day Café. Usually the frontman of Takka Takka, he's on a first ever UK tour in support of solo record Kiss Full OF Teeth.
The solo debut blends sumptuous string and brass arrangements with understated introspective vocals exploring loss and isolation. Collaborators include The National's Bryan Devendorf, plus performers working with Tune-Yards, Sufjan Stevens and Jonsi. It's one of our favourite releases here at NN. Find out more below…
Communion Manchester continues on 5th April with Louise And The Pins. Tickets are £5
This is your first UK tour. How's it been?
G: It's the first time I've been outside of London. It's going great so far. We're in a basement in Manchester. It's awesome.
You're signed to Communion and are on their new compilation with Ben Howard, Michael Kiwanuka and others…
G: I hear there's a painting of me on the cover. Everyone's seen it. I want that painting, but that's a little self-involved. Yeah the label's great and they seem like really nice people. Every show that we're doing is a Communion night. No-one in the US is doing anything like this and it makes so much sense plus it's great meeting all these other bands.
It's great that each night is already planned out.
G: Yeah. I'm gonna ask for my money back from the booking agent – You did nothing! No I'm just kidding.
What was your early life like? How did you get involved with music?
G: I grew up in Queens, New York –  which is where Simon and Garfunkel are from. I had a very middle-class upbringing in a suburb. My mom was a dancer so I was always around travelling creative people. I started out wanting to be a painter but I'm not as good at that. I didn't start playing music until I was 16 and then never stopped.
I think one of my big moments was in 1992 when my dad took me to see an opera by Philip Glass called The Voyage and it opened my mind to the possibilities of music.
How did you get together the array of musicians featuring on your album? The drummer from The National plays throughout along with plenty of people from other bands.
We've got Pat Jordache who's an amazing guitar player. He's just brought an album out named Future Songs and he's on Constellations (Canadian label). Bryan Devendorf was in the middle of working on The National's record and I shared a bunch of songs. He was like 'yeah the mic's are already set up and I've got a free day…'
Everyone on the record are people we've played shows with. It's probably the same as in Manchester – everybody knows everybody. The independent music scene is very small so you just end up playing shows with each other.
The record was going to just be a small solo one but then I gave the songs to Bryan and he's such a huge sounding drummer that we had to flesh it out after that.
I hear you recorded it in living rooms/basements around Brooklyn.
G: It all started with basic tracks which I put together myself and then Bryan's stuff was professionally recorded, then it was a hodgepodge of different recording methods. We never really set out to make anything. It was like clay being added on until it became some giant thing and it was never intended to be.  At one point I was talking to my friend saying 'this is insane'. Listen to the record now it's a little bit crazy right?
For the orchestral parts there's this guy named Mike Atkinson. He's an amazing arranger who's done Sufjan stuff and I met him through my manager. I'd done a lot of synthesizer work with my other band so had fake flutes and fake violin and he said 'let's make these real'.
I read somewhere that you had 4 album's worth of material and the album is around 30 mins so you've really packed it in.
G:  Yeah. There were some beautiful parts that ended up on the digital cutting-room floor. I was going through all the demos wondering what to use but these were the 11 songs which told some kind of story.
The title Kiss Full Of Teeth is bitter-sweet and the album seems to reflect that – sweet orchestral arrangements and bitter lyrics.
G: It's a batch of songs that are really close to my heart. In a way it's hard for me to play them and put them out there. You go through life – especially in music – and you're brushed up against people who you both love and hate at the same time. I've watched so many relationships disintegrate in the past five years and it's really been difficult. Maybe it's just all about getting older. There's been a lot of falling's apart.
What's the source of them? Is it possibly you?
G: Yeah it could be. Someone said that to me the other day and I said FUCK YOU! And then I punched them in the face.
Another friend lost…
G: It's hard to say. I blame myself. But in the record I'm blaming everybody else.
I love the line in The World Unfolds, "you've been asking everyone to get out of your way, but there was never anyone in your way."
G: I recorded that guitar and vocal and it hasn't changed at all. I can never re-play it that way because it was just that one moment that I just happened to be recording and I've never changed it.  That one's very immediate, my unedited stream-of-consciousness.
Is that lyrical stream-of-consciousness an approach you take throughout the record?
G: Lyrically I just let fly. I went in thinking aesthetically whatever splats onto the canvas that's just going to fucking stay there. It's far from perfect, but that's what I think was the beauty of it. I love the contrast between these pristine recordings and then my voice.
What's it like to make a 'solo' album after being in a band?
It's good. This is me on my soap-box ranting and raving. The only person I'm appealing to is myself. I've made records that people hate and ones that people love.
Where would you like to see this take you? Would you like things to get bigger or do you enjoy this level of success?
G: I only really have creative goals and outside of that if it appeals to people that's great – that's the goal, to connect with people.
I think everyone can connect with a sense of isolation and alienation because we've all felt that at some point – look at The National and how popular they've become…
G: Because they're so depressing (laughs)
You've got the orchestral parts to counteract that.
G: I'd like to think there are rays of sunlight shining through.
What do you think of the role of music at the moment? Do you feel it's too saturated or do you think it's great people have the choice?
G: There's a lot of experimentation. In the US and over here it feels like an awesome time to be involved in music. When I was in college it was all about indie-rock and there were bands who had this common sound and attitude, then it one moment it all went away. I don't know what it is anymore.
Maybe now eclecticism is winning?
G: Yeah. It's probably better that way rather than white college dudes playing music for other white college dudes.
Will you ever go back to painting?
G: Maybe once I've retired after making millions of albums – decades of music.
Interviewed by Simon Butcher Photography: Phil King