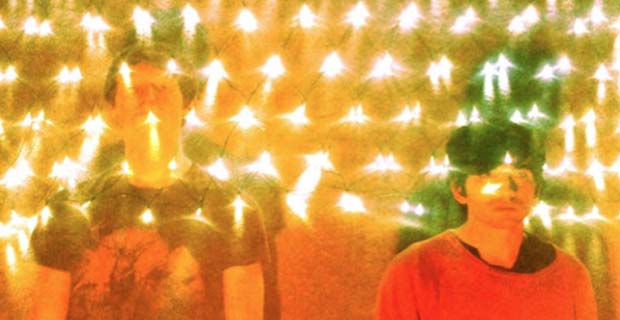 "A sound-technician compared us to Coldplay once," reveals drummer Mike Benson with a warm grin. Both the comparison and smile seem incongruent considering his irascible disposition while wielding the sticks earlier. Condensation from a cooling pint mirrors the glistening sweat on his brow. Just minutes ago Manchester duo, Ghost Outfit, unveiled their distorted rasp to London hipsters in Shoreditch. How did it go? "Disastrously great" according to frontman Jack Hardman.
The duo are here to support fellow Mancunian compatriots, Patterns – a member of whom gave them their first gig at a DIY club night in Withington.  Then a four-piece, tonight the two look intensely determined, making up for any numerical disadvantage. "You'd think it'd be really restricting to be a two-piece but it frees you up from going through all these cliché's – Having a big lead guitar solo or bass drop out – literally you can't do that, so it forces you to think differently," explains Hardman.
On such an incommodious stage it's as well really. Hardman twice bashes his head on the microphone mid-song while lost in an ebullient performance.  Those standing opposite in this darkened room see an act incandescent with purpose. We're treated sparks of shoegaze, fractured rhythms, and shredded distortion. "We like Sonic Youth and Pavement. We're starting to move towards that sound. I think with the two sided EP we were generating a lot more punk and noise-rock and we're now moving towards '90s alternative indie-shoegaze," says Hardman.
The aforementioned EP also saw creative passions turn 3D, as each song was accompanied with a video. The most instant of their repertoire, I Was Good When I Was Young (below), is illustrated with footage of two bed-sheet ghouls taking to the streets of Piccadilly Gardens, leading to befuddled rather than bewitched glances from onlookers.
httpv://www.youtube.com/watch?v=cf8nFN4sJfs
No bemused stares are warranted tonight.  The handsomely-sized crowd are quickly won over as energy accrues throughout the set.  Lo-fi hissing, which conceals certain melodic elements on record is balanced more discreetly. An agglomeration of material from an act clearly still developing creates intriguing stylistic shifts. Upcoming 7", Tuesday, implies the intended shoegaze move is working – Hardman sings in a lighter key, floating between the fuzz of his own guitar. B-side, I Want Someone Else, rocks the wooden floorboards with a reverberating Sonic Youth inspired bass-riff.
"We both push ourselves to the limit live," boasts Benson, but he's not lying. The pace only relents intermittently to allow Hardman time to fix a broken string – probably a due to the ferocity of his playing. This unbridled live energy is seemingly true wherever they play. On one occasion in their hometown the top deck of a bus was deemed a worthy venue. "It was great. The bus driver didn't have a fucking clue," explains Hardman. The two sneaked on with a guitar, drum, and an audience of around fifty people. "By the time we got to Piccadilly, the top deck had packed out," remembers Benson – not a bad achievement when your audience could miss their stop at any time. Tonight as a room is treated to their first taste of Ghost Outfit, everyone is onboard.
Words: Simon Butcher
Ghost Outfit – Endless Sun from MCR Scenewipe on Vimeo.