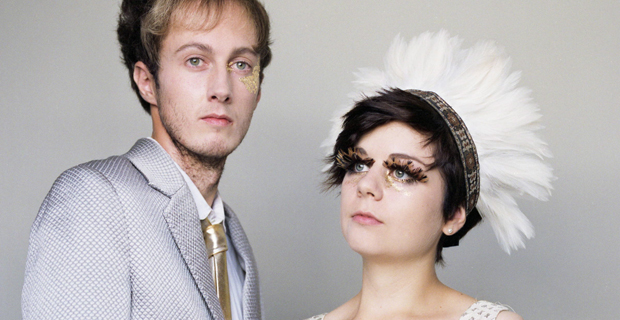 While most people are prepping for the inevitable cold weather, here at Northern Noise we're hard at work preparing for a slew of exciting Northern Noise Live events. On November 9th, we'll be playing host to the atmospheric Golden Fable at Kraak Gallery, deep in the heart of Manchester's vibrant Northern Quarter. Hailing from North Wales, Tim McIver and Rebecca Palin take their inspirations from the picturesque landscape that surrounds their home studio. It's this musical sanctuary that's to blame for the otherworldly sound they create; a blend of earthy tones and gentle melodies, punctured by the floaty resonance of some hymnal, angelic vocals. It's an alluring offering that has quickly (and rightfully) caught people's attention. 2012 has seen Golden Fable receive favourable mentions on BBC 6 music and join Mercury Prize Nominees Field Music on the road across the UK. We caught up with Tim and Rebecca ahead of their Northern Noise Live debut for a quick chat…
So how did you both meet?
We met when I was putting a band together for our previous project, Tim and Sam's Tim and the Sam Band with Tim and Sam. I started out by writing some instrumental pieces on my own and gradually this grew into a 7 piece band. After 4 great years as a band Rebecca and I decided to try making some music on our own so we could try writing with vocals and computers.
What benefits or limitations do you think come with working as a two-piece band?
The most exciting thing about starting Golden Fable was the freedom that came with working as a two piece. Tim and Sam had members from different parts of the country which made the writing process difficult, so turning our attention to Golden Fable enabled us to work on ideas and develop them into finished pieces much more quickly. We've been writing together for years now so we're completely in tune with each other and the way we work – it's a really liberating and rewarding process.
What qualities do you feel you each bring to the band that when put together help create Golden Fable's sound?
We both share very similar music tastes, but come from totally different backgrounds.  Rebecca started out singing in choirs and I've always had a keen interest in classical and fingerstyle guitar playing. We take those two things and try and fuse them with the modern music we both love.
What bands or artists would you say are responsible for influencing the music you both produce?
This is always a difficult question to answer! We spend a lot of time listening to lots of different music and going to gigs – we always get something out of everything we listen to. Our current favourites include the likes of Boards of Canada, Efterklang, Bert Jansch and Gruff Rhys. We're also now constantly singing Field Music songs after having the pleasure of doing a few gigs with them!
Any number of things can influence an artist. What would you say is the most obscure thing that influences the music Golden Fable creates?
Maybe not an obscure influence, but perhaps the biggest influence on our writing is the area in which we live and write music. We're based in north Wales and our love of the outdoors and our beautiful surroundings shines through everything we do.
Lyrically, what do you enjoy writing about most?
Golden Fable lyrics are inspired by our exploration of our natural surroundings, by the myths and legends associated with the area in which we live and (as our name suggests) our love of fables.
I read that Rebecca use to be in a church choir. How has that training translated to Golden Fable? Your vocals often form the backbone of the band's music…
Rebecca: I did indeed sing in a few different choirs when I was younger, and thoroughly enjoyed doing so. I was definitely encouraged to sing in a certain way, using certain techniques, and that training has stayed with me ever since. It feels very natural to me now – you will often find me using the same (sometimes strange!) warm up techniques before gigs.
I read that you have a home studio – does this relaxed working space these help loosen up the writing process?
Our home studio is our pride and joy. We spend so much time in there writing, rehearsing and recording. It's really important for us to feel relaxed in a recording environment and having our own studio allows us to spend as much time as we want tinkering with things. The whole album was written and recorded in our studio – it's only a very modest set up but we learned so much from doing it.
Talk us through the writing process. Is there a different creative process for each track?
Yes, it varies from song to song. Sometimes it will start with a guitar part, sometimes we'll write together and then re-work it in the studio, sometimes we'll start with a drum beat and sometimes it'll just be a melody.  When we've established the starting point we will gradually build a song, each adding parts and experimenting until we're happy with the end result.
How long did Star Map take to put together?
It took around 8 months to write and record. Quite a bit quicker than the two years it took to make the Tim and Sam record, Life Stream!
What feeling, tone or message did you want to convey with the album? Is it everything you'd hoped it would be?
We're certainly extremely proud of it. We spent a long time crafting each song and wanted to try and create a body of work that was both cohesive and varied musically. Star Map is intended to be a musical account of the key things that inspire us – our love of nature, the glorious landscapes that surround us and their correlation with human experience.
How do you feel the album's release has affected the status of the band?
This is probably something that will reveal itself in time, but for us it feels like a huge achievement. We had so many obstacles to overcome in the making of it so we're so proud that it's out and the reaction we've had from people so far has been overwhelming.
The Sugarloaf video is shot in Snowdonia. What made you choose that location?
As soon as we made the decision to release Sugarloaf we knew we wanted to film it in Snowdonia. The song is inspired by ascents up both Cwm Idwal in Snowdownia and Sugarloaf by Greenman Festival, so it felt natural to film it there. It's also one of our favourite places in the world so it was a good excuse to pay it another visit!
Rebecca's vocals add quite an earthy, grounded quality. What part does the Welsh landscape and landscape in general play in Golden Fable's music?
They play a very important role. Not only do they inspire us musically and lyrically, but they enable us to feel truly comfortable in order to be creative. We are fortunate enough to be able look out of our studio window and see beautiful countryside. Our surroundings are therefore an integral part of the creative process.
You've had airplay on BBC 6 music and recorded a Maida Vale session. Did you ever expect your music to resonate so much with audiences?
We're absolutely thrilled with the airplay that we've had so far. When we were creating the songs we didn't really know what to expect in terms of how they'd be received, so we're so pleased that we're getting positive responses from people. The continued support from a number of DJs has been fantastic and we're so appreciative of it.
Your currently on tour with Field Music – How are you finding this experience so far?
We are having a truly brilliant time. It is such a privilege to share a stage each night with such a professional, talented band. They are all jolly lovely people too – very friendly and accommodating. We'll be sad when it's over!
Do you enjoy life on the road?
We certainly do! It's always great to visit new venues and cities around the county and to meet new people. There's always a certain sense of adventure when you're travelling around to play gigs, and we're so grateful to be playing to such good audiences each night with Field Music. Having said that, we're always glad to be back in our rural surroundings when we arrive home.  We miss our dogs!
2012 has been a busy year for you both. When you're not recording, playing or touring what do you do to relax?
A number of things! We both like walking and cycling so enjoy doing these when we have time to. I also love playing classical guitar and spend many hours doing so – there's so much to learn and get out of it.
What do you have planned for 2013?
We're certainly going to continue writing – we've already started work on album number two! We will continue to play gigs too, hopefully doing some oversea
Tickets for Northern Noise Live: Golden Fable at Kraak Gallery are only £6 and available here.
Words and interview by Simon Bland. (@SiTweetsToo)
Be sure to 'Like' us on Facebook and follow us on Twitter to keep up to date with all the latest Northern music news!