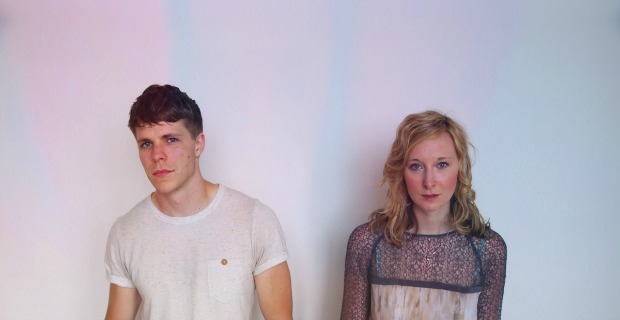 If you've been keeping your eyes and ears open, you'll know that Gymnast are not the bendy, sporty variety, but Manchester's newest, most exciting electronic duo, Cathy Wilcock and Chris Lyon. They are a healthy portion of alt-pop, with a dollop of trip-hop, blended with dark electro and nicely topped off with softening female vocals. Or if you prefer, the darker, northern London Grammar. Attracting numerous rave reviews, they have also been compared to the likes of Woman's Hour and Wild Beasts. Their debut album, Wild Fleet was released on 26th September and having already played some pretty eclectic venues (check out Sofar Sound's video on YouTube for their atmospheric live performance of "Sirens"), you can expect Gymnast's follow-up tour to be nothing short of spectacular.
But before all that kicks off, we chat with Chris Lyon about upcoming support slots for Phox and Attaque, the making of their next music video and why the death of the Manchester indie scene is a positive thing.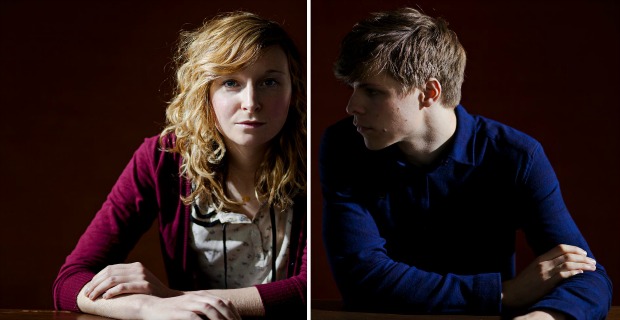 You've been compared to some big electro acts. Who are your musical influences?
"There's quite a big dollop of trip-hop in there, so mainly PORTISHEAD. I think their vocal style has also been a big influence. I like the way they manage to combine electronic beats with an almost folky approach to song writing. Wild Beasts are definitely a big influence. I admire their work. And… Beach House as well."
Some people have this misconception that only indie bands come out of Manchester. What do you think of the music scene there?
"At the moment, I think it's great. I think it's thriving. Carefully Planned Festival was on recently and there's some great stuff. There's an electro Manchester band who are big at the moment called Shield Patterns, there's a guy called Matthew Whitaker whose a very good songwriter. And then, I saw Bad Grammar at Carefully Planned, who were a very, heavy, thrashy, punk-metal band, so I think that stereotype is changing. I think that Oasis thing is dying out. It's definitely a great time to be making music in Manchester."
You say you have a habit of playing live in some "unusual places." Which venue was the most unusual?  
"They're all unusual for different reasons. One was in Cambridge in this medieval chapel which was about a thousand years old, just sat in the middle of a field. I don't even think there were toilets, but it was so atmospheric. We had to cart all the electronics and the PA in, but it was definitely worth it because lots of people came. Another one we did was in an ice-cream parlour, which was bizzare. We also did one at the top of the tallest skyscraper in the north of England, and we were looking out over the city as the sun was going down, which was really unusual but great. That was one of the best gigs, definitely."
Do you have any live shows lined up?
"We've got a couple of support slots, one is this Tuesday 11th November supporting a band called Phox from the States, which is at the Soup Kitchen in Manchester and then we're supporting a chap called Attaque on Wednesday 19th at Gulliver's in Manchester. Beyond that, we have a show where we play the whole album and have visuals to go with it, which we've done in the past and it's worked really well, so we want to take that on the road. So, we have a couple of things in the pipeline that haven't been announced yet, but they'll hopefully be in a few cities around the UK."
Do you prefer playing live or making new music in the studio?
"I think for some bands, they feel like playing live is what they're all about. That's really, at heart, what they do. They are a live band and then making an album is an attempt to capture that. Whereas, I think for us, we come from the other point of view. We really like creating songs, thinking about them very carefully, and the live show is an attempt to put across those ideas. I think at heart, we're writers, but that's not to say we don't love playing live because I think that's when music really becomes music. You get that feedback from the audience and they talk to you after. Playing live is special to us, but I guess sitting down and writing is what we exist to do. "
How did you and Cathy form Gymnast?
"We were in a five-piece band before, in Edinburgh. That finished and me and Cathy had quite a good working relationship already, so we just decided we wanted to carry on. We were interested in having a go at making more electronic music with beats and that sort of thing. So that was it. I think a lot of other bands happen like that."
Your record label, Color Station, is based in Brooklyn in the US. How did that come about?
"We released "Geneva" as a single on Gizeh Records and released the album independently, but then quite soon after the album came out, the guy that runs Color Station got in touch and said, "Are you interested in releasing it through us?" So we had a few meetings on Skype and sussed each other out. It's crazy, but I guess that's what the internet does. There's no barrier there."
Has the album been released in the US? And what's been their reaction?    
"In a sense, it's been released everywhere because it's on the internet and it's available to download from iTunes, but we've not done PR and a launch there. I don't think we fancy that. It's more like the next thing we'll do and when we do, we'll do the works. It's hard to tell what the reaction is. There's been comments on SoundCloud and Facebook from Americans. Even though Color Station haven't released the album there, they've shared one of the tracks from the album a couple of weeks ago and that's led to a lot of Americans getting into it and going, "This is good!" So, that's nice. We've had quite a few people from New York getting into it. I think we're finding that American fans are quite different to UK fans. They seem to be a bit more enthusiastic, leaving comments like, "Wow! I love this!""
What's your favourite track on the album?
"That's like asking me to choose between my children, that! There aren't any on there that I don't like, put it that way. We kept on working 'til there wasn't any filler. What I would say is that the last track on the album, "Culprits" is one that we wrote very late on and I'm really happy with the way it turned out. I wondered, with it being the last track on the album, if it would get a bit lost, but it is one of the stronger ones production-wise. We're working on a music video for it at the moment, to be released in the next couple of months."
Can you give us any hints of what the video is going to be like?
"Yes. It's going to be very geometric, kinda abstract and slightly psychodelic. We've found some really cool footage that we're going to edit. We're doing a remix of an existing video, so we're really excited to show people that one. We're new to it. It's a learning curve and you really need to respect the craft. You can't just start doing it straight away. You've got to learn all the techniques, which is difficult but very rewarding to see how your music has a synthesis with visuals, hitting all the senses."
The lyrics in your single, "Geneva" describe waves as white horses and the horse theme runs through the artwork for the album. Are they an important symbol for you?
"Cathy writes the lyrics, so you might be talking to the wrong member of the band here, but I don't think it's that the horses are particularly symbolic. The album name, Wild Fleet and the artwork are intended to represent themes on an abstract level. Themes of fleeing or travelling. So we felt like it all tied togther quite nicely."
What are your plans for 2015?
"Long term plans, we're looking at starting our second album with Color Station. That will be more like the end of 2015. Before then, we will be releasing two or three videos for the album. We've got some really good remixes coming out and the album show I mentioned earlier. In terms of completely new music, we're looking at February or March. Then in the summer we will be doing a couple of festivals, so that'll keep us busy."
GYMNAST'S debut album Wild Fleet is available on Spotify and iTunes now.
Words by Phoebe Seymour (@HearMoresey).
Keep up to date on all the latest Northern entertainment news by following us on Twitter, Facebook and Google+.