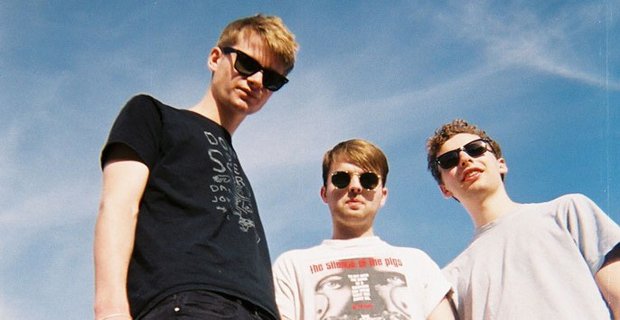 London trio Happyness, consisting of Ash Cooper, Benji Compston and Jonny Allan, are set to officially release their debut album Weird Little Birthday on 16th June; a compilation of thirteen tracks of chilled, melancholic garage rock that contemplate the peculiarities of modern life. The band, who have recently supported Ezra Furman as well as the Orwells, and have played both Liverpool Sound City and Sounds From the Other City based on their strong self-titled EP, have also caught the attention of NME and The Line of Best Fit, receiving positive coverage from both. I caught up with Happyness before they begin their UK headlining tour.
How did you guys decide to pursue music seriously as a band, and what kinds of elements do you think you bring to the UK music scene?
"I'm not sure if it was ever a very serious decision, if anything, the opposite. We wanted to make music we liked and I guess were pretty serious about that. But I think the point we started taking ourselves less seriously was the point we started make good music."
What was the process behind creating Weird Little Birthday? How do you feel it differs or aligns with your self-titled EP?
"It was a pretty lazy process, which was great. We self produced both the EP and the album out of the city and could spend as much time as we wanted just hanging out and playing around with stuff. The EP was actually recorded as a kind of afterthought after we'd tracked pretty much the whole album. We really wanted to get the album out as quickly as possible – for a long time we were planning to just put the album out as the first thing we ever did and see what happened."
Tell us about the lyrical inspiration behind your songs. There seems to be a great attention to detail and mundane aspects of life.
"A lot of our lyrics happen by accident, mishearing words and weird mantras we repeat sometimes."
How much has living in London influenced the record/your music in general, and how do you think that parallels to your American grunge rock influences?
"We wrote the album in a studio we rent in a railway arch in Bermondsey, South London, so I guess being there during the process affected us, even if unintentionally. We were kind of in a little bubble of our own for a long time, and we quite enjoyed that – we never felt very connected to any kind of 'London music thing'. There's a sense of distance between us and a lot of the American bands we like, which feels cool and in that way, being 'from London' has influenced us."
What are your expectations for your first headlining tour?
"Unbeknownst to us we'd set our Sat-Nav to 'Scenic' routing for our last tour. So I guess we expect to get places quicker this time. Plus our record will be out which will be new for us."
You're running a competition for free hand drawn limited edition vinyls for any ticket holders on your tour, tell us more about that?
"Yeah. We're giving away 10 limited copies of the test pressing 7" vinyls of 'Great Minds Think Alike, All Brains Taste The Same' to anyone who buys a ticket to any show on the album tour. Just email us your ticket receipt to weirdsmiling@gmail.com and you can pick up your vinyl from the merch stand on the night. We've drawn on them."
If you can't make it down south to this buzzworthy band's in-store set at Rough Trade on the 16th, keep your calendar free on the 20th June for their gig at the Castle Hotel in Manchester.
Happyness's debut album Weird Little Birthday is available to pre-order here.
Twitter: @HappynessMusic
SoundCloud : Happyness Band
Words by Ruby Hoffman (@RubyBHoffman).
Be sure to 'Like' us on Facebook and follow us on Twitter to keep up to date with all the latest Northern music news!