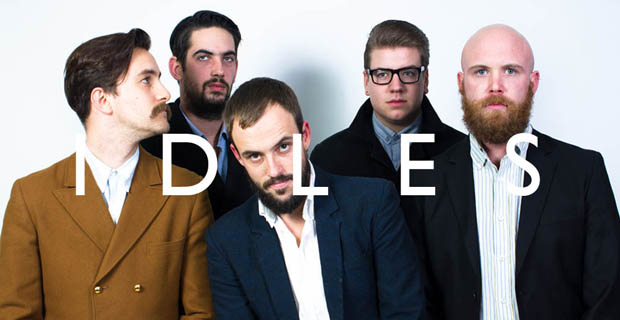 You may be gearing up for Christmas but we're gearing up for yet another exciting Northern Noise Live. On Saturday November 24th, we're returning to The Castle Hotel once more to help the Manc boys City Reign celebrate their single launch properly. They're so excited to be dishing out their new track to you lovely folk that we're more than sure they're bound to put on the show of a lifetime. However before they have time to strut their musical stuff we have a duo of nail-bitingly exciting acts to whet your appetites. Helping us put on the bestest party we possible can are Bristol five-piece Idles. This ace band give indie a much needed shot in the arm with a jittery dose of pure vigor. To say we're well excited is putting it mildly. In fact, we caught up with Idles' vocal bloke Joe Talbot to get the low down on the band, their history and what animal their music would be if, you know, some stupid music site asked them to compare it to an animal. Check it out below.
To buy tickets for Northern Noise Live: City Reign Single Launch w/ Idles & I See Angels click here.
To buy tickets for Northern Noise Live: Nine Black Alps in Blackpool head here.
So let's start at the beginning – how did you guys meet?
"Me and Dev met at college 12 years ago and have been mates ever since, Dev met Andy at Uni and would come and hang at our house every night in our 3rd year. I met Bowen at a friend's club night. And we all met Jon together through a producer friend who drummed for us once but then suggested someone better and with more time on their hands…Jon."
You're a Bristol band – what's the Bristol music scene like these days?
"The scene is vibrant, full of interesting and contrasting bands that all seem to be supporting each other well. Fear of Fiction just put on a great festival that illustrated the amount of great bands coming out of the city. It's a very exciting place to be."
Your website bio cites Joe and Adam's love for MTV2's 120 minutes as one of the reasons for Idles' creation. What was it that was going on in music at that time that made you want to start writing music?
"I think it was more the ritual of staying up till an un-Godly hour very night listening to music that we were also playing at our club night, that made us realise that all we seemed to do was listen to new music. I feel the music of 7 years ago was not better or worse, but in my head I have this romantic notion of that bloody mess of year that i do miss but would never go back to, 120 Minutes was just our soundtrack."
Bands are always asked how they would describe their sound. So here's a twist on that – if you had to describe your sound as an animal, what animal would it be and why?
"Our music sounds like a pack of wolves, as we'd be shit on our own but we're great together, plus we're aggressive, loud and rough around the edges."
What sound do you try and capture?
"Happy/Angry/Recession Soul."
Who would you say your biggest musical influences are and why?
"Mine would be Otis Redding as his ability to capture passion vocally is the main reason i wanted to sing, although I'll never sound like him.  Bowen loves Johnny Greenwood and David Bowie. Dev loves Mogwai and Joy Division.  Andy loves Nick Cave and Gangnam Style. Jon loves drumming and life."
What about non-musical influences – anything can influence a creative process. What stuff gets your creative juices flowing?
"The things I write about most are the things that piss me off, my creative juices get flowing when I'm either with the boys or when I'm on my own and angry. My other passions are painters, photography, architecture and film."
Do you remember your very first gig as Idles? How did it go?
"Our first gig as Idles was in the Golden Lion in Bristol. I can't remember the gig as I got ridiculously drunk and was sick just before going on stage as I was so nervous but the rest was a blur. The gig, i think went well but you'll have to ask the audience. Saying that, Jon and Andy were not yet members but I can't remember their first gigs."
How do you feel the band has evolved since taking those first steps on to a stage?
"In the four years we've been a band, I feel we've done extremely well with the time we've had to work on our craft and it's paid off so far. Our song writing has improved tremendously in the last six months and we've consistently got better at playing live. The one thing that that we've always done is work hard so we'll never look back with regrets."
We can't wait to have you guys play for us in Manchester. Are you guys a fan of the city? Any memorable trips up North?
"We can't fucking wait to play Manchester! It only our second time up North, the first gig was in Sheffield and that was good but Manchester has produced a lot of bands that we love, so it's an honour to be asked up your way, plus we've heard the crowds are more responsive."
What's been your favourite live performance so far?
"My personal favourite show was playing at The Louisiana in Bristol for Dot to Dot Festival 2 years ago as that was our first proper big gig and it packed out. That was the first time I realised we were a proper band."
What's the most enjoyable part of being in a band?
"Playing music with your best mates."
What the least enjoyable part of being in a band?
"Getting bitched about on the internet."
How do you find life on the road and touring? 
"I love traveling about with the boys. We've only really travelled for no more than 3 nights in a row but we love it. It's one of the main reasons I'm in a band is to travel around playing music."
You recently released an EP – was this a long time coming?
"Yes it has been a long time coming as we constantly are writing so we wanted to release stuff when we started but we needed to raise the cash and get good enough at what we do first."
How was the recording process?
"Fantastic. We discovered new depths to writing songs that we had thought about before but not been able to explore. The whole idea for us recording is to give a different sonic experience to our live shows, so it was refreshing for us. 'Welcome' is something that we enjoyed recording but it also taught us a lot, which showed when we went back into the studio a few weekends ago when everything seemed to go smoother."
What were your main influences in creating the EP?
"Fear."
What's a typical writing process like for Idles?
"One of us will bring an idea to the table then we all write on top of it piece by piece. The whole process is strictly democratic based on a majority vote. We scrap a lot of shit ideas that way and nobody becomes precious but we really respect each other at the same time."
You've recorded a few of music videos – how have you found these experiences?
"I did film at uni and wanted to do it as a job for most of my life, so I loved it. I think we all see it as the stress free part of the musical creative process. The videos are very important to us, so we've taken a real hands-on approach that has worked really well for us so far."
How much say do you have in the artistic direction of your music videos?
"The same as everything else in our dynamic which is equal to everyone else involved. An equal share if you like. We won't work with anyone that wants anything more."
Where would you like to see Idles this time next year?
"Touring and working hard."
And finally, it's nearly Christmas, but what do you all want??!
"A new tattoo, socks, pants, my own body weight in Toblerone, a few Old Fashions and world peace."
To buy tickets for Northern Noise Live: City Reign Single Launch w/ Idles & I See Angels click here.
To buy tickets for Northern Noise Live: Nine Black Alps in Blackpool head here.
Words and interview by Simon Bland. (@SiTweetsToo)
Be sure to 'Like' us on Facebook and follow us on Twitter to keep up to date with all the latest Northern music news!