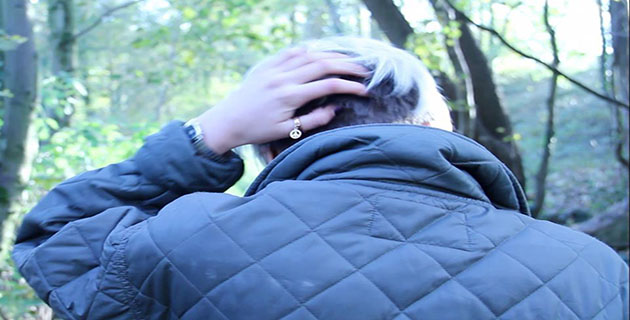 As 2013 slowly starts to get into its stride, us lot at Northern Noise are busy beavering away ideas for even more bum-clenchingly exciting live shows for you lovely people to enjoy. This year we've started as we mean to go on, reclaiming our Saturday night spot at The Castle Hotel for the forseeable future. On Saturday January 26th we'll be re-teaming with our buddies We The Dead for a show that we couldn't be more stoked about. Joining this ace Manc band are fellow Northerners Narwhals and the Birmingham's latest musical offering Kiera Lawlor.  Speaking of Kiera, we caught up with our acoustic opening act for a quick chat about her music, her debut album Bones and her HMV shopping preferences. Check it out below!
Buy tickets for Northern Noise Live: We The Dead w/ Narhwals & Kiera Lawlor here.
Hi Kiera, so how long have you been writing music for?
Hello! Ahh, it's been a long time now, I used to write songs with my best friend when we were about 7 years old and record them on a huge boom box we borrowed off someone down the road. Then we'd play shows on the front drive to all the kids in the neighbourhood and try and sell them our tapes or swap them for Pogs and Pokémon cards! (That makes me feel old!)
But no, my more serious song writing started around 15, I wrote a song about my mate at school and everyone loved it so I just carried on from there really.
How would you describe your sound and what you do all those who may be unaware?
Ha, I can never answer this question! My answer is always 'I just play guitar and sing'
There's not really a specific genre I try to fit in to, I always just play whatever comes to mind and how I'm feeling at the time usually effects how it sounds. I always ask everyone else what genre they'd put me under but they always just say it's something different. I think if I said 'right I'm going to make this style of music' I'd feel a little restricted, I just love playing music and experimenting with it and if other people enjoy it too, that's a massive bonus.
Who would you say your biggest musical influences are?
I grew up listening to everything my parents listened to so a lot of stuff from the 50's / 60's onwards , as a kid I loved Elvis (I actually wanted to be him) and Dusty Springfield, Otis Redding, Sam Cooke, The kinks , Joy Division, The Beatles, Toots & The Maytals, Hendrix etc. And I hated boy/girl pop bands , so I've probably got my parents to thank that I'm not in Girls Aloud or something now ha!
I literally have a new favourite band/singer every week and just listen to them on repeat and I suppose they do influence my music to a certain degree but I never try and sound like anyone else. Amy Winehouse is probably my biggest ever influence not so much in how my music sounds but in the way she crafted her songs, she wrote about the most depressing situations in her life and listening to them, you can feel the pain but she made it all sound so beautiful, she taught me a lot about song writing.
What about non musical influences – film, books, things like that?
Well, daily life is the biggest influence really, I only ever write about things personal to me and that I've been through. A few films really inspire me to keep making music though. Control, Factory Girl, The doors – I've literally watched that film a million times, it just makes me want to play gigs constantly!
What do you usually find easier to write, lyrics or music?
I'm a bit weird when it comes to writing, I only ever write once a year, usually during the summer I lock myself away for 2-4 weeks and write about 10 songs about the past year, it's quite therapeutic really! I usually just play something on guitar and sing anything that comes into my head until something sounds good, it's kinda like my subconscious is rambling about anything that's made me happy/sad over the last year ha!
What first inspired you to get up on stage and perform?
I've always loved performing, I had my first guitar when I was 3 and used to pretend I was Elvis! (my mom has the embarrassing videos to prove it!) I remember watching videos of Amy Winehouse (you probably realise by now I'm her biggest fan!) and just wanting to get up and do it , then once I did the buzz was amazing!
What's been the highlight of your gigging career so far?
I supported Wheatus in 2011, that would probably be more cool if I said I supported them in the 90's but it was still nice to support a band I remember watching on MTV! Another one has to be when myself and my friend (shes a producer) locked ourselves away for 24 hours and wrote and recorded one of my songs 'hands', we wouldn't sleep until it was finished then two days later it got played on BBC Intro Stoke, it felt like Christmas!
Any shows you'd rather forget?
I think I've probably forgotten a few shows already due to having a bit too much to drink before playing, now I won't have any more than a pint before I play because I'm just a ridiculous drunk!
You're from Birmingham but live in Manchester. How have you found being a musician in these two big musical cities?
Yeah, I'm originally from B-town! There's so much talent coming out of Birmingham at the moment like Swim Deep and Peace, I'm so glad the music scene is getting more recognition there! I used to play loads of gigs in Birmingham before I moved to Stafford for uni, the music scene wasn't as big as it is now but it was amazing and I got quite a good following. I've only been in Manchester for 7 months so it took me a while to find out about all the different venues and get in touch with promoters, but now that I have its going really well and I'm loving it!
How do you feel audiences have reacted to your music?
I released my single 'Most' on iTunes in November under my own label 'Loyal Tea Records' and got really positive feedback, I always get really nice comments when I play gigs and stuff which is lovely because I don't really think the music I make is that special so it's always nice to hear good stuff!
Tell us about your album 'Bones'…
Bones is my debut album, which is going to be released at the end of January. It's a really personal album for me, I wrote it when I was going through a bit of a difficult time and writing it really helped me get my head around what was going on, when I first started playing the songs at gigs (and sometimes even now) it was difficult to literally lay everything that was going on then out bare for everyone to hear but I'm quite proud of the songs on there and can't wait to start writing the second album.
How long have you been working on it?
About 2 years, originally I was going to release it late 2011 as a 4 track EP but wanted to save it for an album, so in summer 2012 I wrote the rest of it, I'm glad I waited now.
How pleased are you with the finished product?
Ha, like I said I'm a perfectionist, I don't think I'll ever be 100% pleased with anything I make. I recorded the 'first version' in August 2012 and wasn't happy with it, I only showed it to my parents, they loved it but it just wasn't how I wanted it so I'm actually in the middle of re-recording it now….so if it actually gets released at the end of Jan you'll all know I'm very pleased with it haha!
What do you have planned for 2013?
2013, I've got some big plans, the release of the album, I've got gigs lined up until April already (you can see all the dates on my FB page) , I'm organising a UK tour and hopefully going to be playing a few festivals as well. I've always said if I haven't made it by the 24, I'll get a career, I've just turned 22 now, so the next 2 years I'm going to be working like I've never worked before!
And finally…if you had a HMV gift card that you HAD to spend cus they might stop accepting them at any minute cus they're tricksy like that…what one item would you buy?
Ha, I think they've already stopped accepting them haven't they?! And they only have a 25% sale on! I'd of thought everything would be dirt cheap! You know what, this is really bad being a musician you'd expect me to buy some CD's but I'd probably buy the Absolutely Fabulous box set!
Tickets to our Northern Noise Live show with Kiera Lawlor are just £5 and can be bought here.
Words and interview by Simon Bland. (@SiTweetsToo)
Be sure to 'like' us on Facebook and follow us on Twitter to keep up to date with all the latest Northern music news!