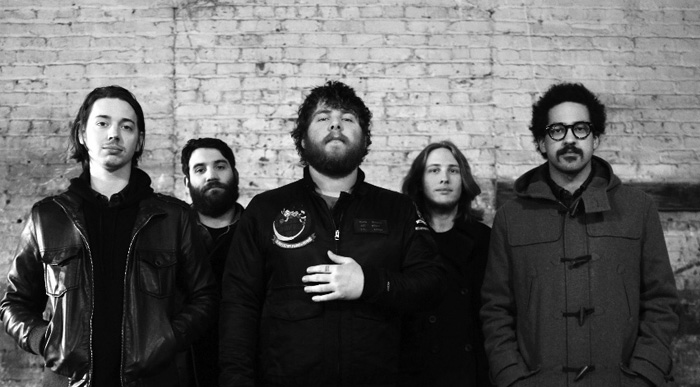 Manchester Orchestra have a busy summer ahead of them.  Their new album Simple Math is tipped to be one of this summer's hottest releases and the online debut of two new tracks; April Fool and titular single Simple Math has done nothing but boost that buzz.  This week the Atlanta five-piece arrive in the UK for two low-key sold out shows, needless to say tickets for these intimate club dates, one at London's XOYO, the second at Manchester's Ruby Lounge sold out pretty fast.   Northern Noise will be at the latter, bringing you all the action from the heart of Manchester, in the meantime however we talked to bassist Jonathan Corley about the formation of the new record, last year's Kevin Devine collaboration Bad Books and the band's fondness for basketball.
While you may have to wait until May 10th to hear the full album,  here's a taster – the intense and haunting new video for Manchester Orchestra's debut single Simple Math which debuted on IFC.com today.
So you guys have some downtime between shows, how do you typically spend your free time these days?
Recently, I think we have all been playing more basketball than anyone expected. The entire band, along with a few of our closest friends entered into a Fantasy Basketball League (NBA). This immediately led us to constantly monitor games, players, injuries and trades.  During our video shoot for 'Simple Math' there was a basketball hoop wedged in between some of the production vehicles. All I have to say is that "Little Andy" had pretty incredible court awareness for a young actor. We started shooting around during some downtime, and pretty soon we found ourselves seeking out courts in Atlanta, too.
Do you enjoy being on the road and interacting with fans?
That's a pretty loaded question. Honestly, I really do enjoy being on the road. There are places we've traveled that I would never get to see aside from the band. As we continually return to cities, it is always exciting to discover the personality of certain towns, or districts. Of course without the fans, none of this would be possible. I am always thankful that people connect with music that we've made.
Bad Books is an example of a great collaboration, how did that album come about?
When Kevin Devine flew down from New York, I picked him up from the airport and we hit the ground running. I'm not sure if we even stopped for food before we arrived at the studio and started tracking the album. Before KD's first trip down to Atlanta, he and Andy had discussed a collaborative project for months. I'm not sure anyone expected the recording process to develop so seamlessly. I'm not sure if I've enjoyed making a record more than that one.
Any plans for Bad Books to play the UK?
I hope so. KD is busy recording records and touring with The Goddamn Band, while MO is trying to release a record of our own. Last year's Bad Books touring took us to some great cities for some really exciting shows. There was a certain energy about them that I haven't felt in small clubs for years.
The UK dates sold out pretty fast…why only two dates and why such small
venues? Feels like a warm up tour…
We will be leading both crowds in stretching exercises and warm-ups. Make sure to bring your running shoes (I personally recommend something with decent arch-support and a polyurethane sole).
Your recent single 'Simple Math' is a mixture of sombre tones, tender lyrics and an
intensity the band seems to be pro at, is this what we can expect from the rest of the
album?
The album goes down a few different paths, without feeling too scattered. It was all tracked last year between Atlanta and Nashville. While 'Simple Math' stands out as the album's title track, the record reaches into countless other sonic headspaces. We certainly challenged ourselves as musicians on Simple Math, while maintaining the "intensity" that you mentioned.
'Simple Math' is  a concept album can you expand on this and discuss what it's about?
While this question may be best directed at Andy, the lyrical content of Simple Math is surprisingly introspective. Andy says, "[Simple Math] is the reaction to his marital, physical, and mental failures. But for the first time, I'm not blaming anyone but myself."
How many songs did you have written in mind for the new album and how did you choose which ones to include on the final track listing?
There were literally dozens of songs that we worked on before settling on the ten tracks that comprise Simple Math. I think each song on this record exists within it for a reason. Other songs that we were
working through may have turned out to be incredible, too. Who knows? Maybe, we'll get a chance to finish recording some of them soon.
Andy's acoustic demos from last summer were great but they're noticeably absent from the 'Simple Math' track listing. Are there any future plans for these or any more on the horizon?
Andy is one of the most prolific songwriters that I've ever met, and I completely respect that in an artist. I'm not sure if any more Summer Demos will appear, because it's March already.
One thing that's great about a Manchester Orchestra show is how intimate it feels.
As your shows get progressively bigger, is it harder to maintain the intimacy between the band and the crowd?
I'm not sure it has as much to do with the size of a crowd as it does the ability to connect with a single person within it. That said, I'm not a big fan of huge barricades and photo-pits. Or fog machines. Sometimes, I really hate the taste of fog machines.
Your tracks translate really well acoustically, any plans to release a stripped down
acoustic record in the future?
That Fourteen Years EP was pretty gnarls.
Last year saw you support Biffy Clyro, a band who're really well known on this side
of the pond, how was that tour?
It was one of the greatest tours we've been on in the UK during a pretty hectic time period. I remember it being incredibly cold, and rainy. We had thousands of dollars in gear stolen from a hotel lobby in London, along with some of our passports. It left me stranded at the US Embassy, trying to get a temporary passport in order to even go home. Biffy Just won the NME Award, and I think they just finished a run through the US' West Coast. Miss those guys.
And finally…have you ever had any feedback from 50 Cent about your track
dedicated to him?  Did he ever return you calls?
Fitty hasn't called me yet. I thought he was going out for drinks with Robert, Chris, and Floyd Mayweather last week (http://exm.nr/dMeqOZ).
Keep up to date with Manchester Orchestra here.