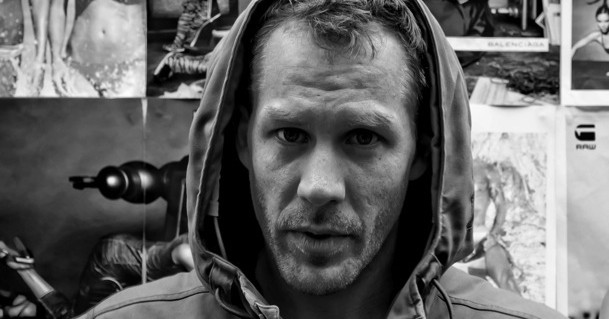 If you've ever wandered around Manchester town center, chances are you will have seen some artwork created by Micah Purnell. Specialising in fly posters, he's even the man behind our fantastic Northern Noise Live designs. They feature anything from an ear, naked people, to this month's tree roots. We caught up with him in Manchester's Soup Kitchen.
He's here to talk about his new project Print & Paste. This was a project 3 years in the making which takes a "16 sheet" advertising board and turning it into a curated outdoor art space just off Oxford Road opposite the old BBC building.
Print & Paste will feature Micah as well as a number of other established artists, each of whom will each take control of the space, one a month at a time, to exhibit specially commissioned art works. So how did the idea come about?
"I found a book in Magma which showed an advertising space in France that had been taken over by artists. I knew a friend that had this space and I thought, if they can do it in France, why not do it here?"
The whole idea of redeeming advertising space is something very close to Micah's ideology.
"I have been involved in redeeming advertising space for over ten years. First with flyers placed in public places, followed by flyposters and more recently billboards themselves."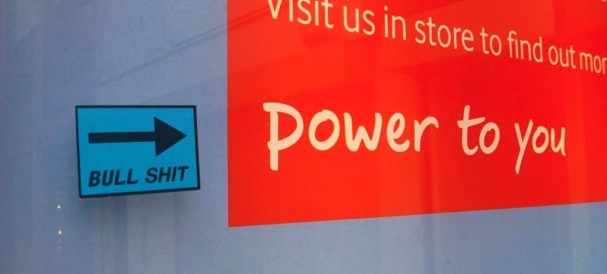 But why?
"The point of adverts is to make us as spectators dissatisfied with our own lives. It increases our vulnerability to psychological distress. Things like placing a high value on acquiring money and possessions, looking good in the eyes of others and wanting to be famous – are encouraged by mainstream media and advertising. Many studies have shown that this increases our susceptibility to the commonest mental illnesses: depression, anxiety and personality disorder." 
This means offering an alternative. The direct opposite of advertising is a free gift, an undeserved favour, expecting nothing in return. Which is exactly what Micah's work, and Print & Paste is all about.
Micah's art posters have no logo, no sponsor, no web links, nothing that means Micah gets anything out of it.
"They bring me no return. The work is designed to encourage and inspire people using words and images – mine and others' – aiming to show people simply that they are valued, offering concepts contrary to contemporary society."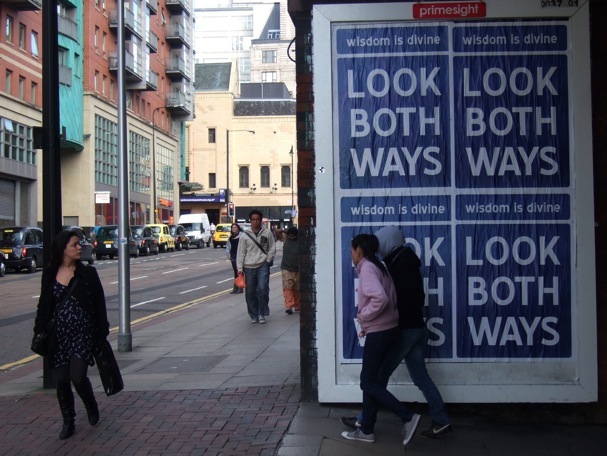 The trouble is in trying to distance himself from his art creates a link and a fuss about him that he wasn't intending. Now the fact he doesn't advertise himself, IS an advert. Doing posters for Northern Noise can only be described as advertising, is this going against what he believes?
"I try to justify advertising your stuff because the event is artistic itself, it's a shared moment. I'm contradicting myself probably, but I've realised a lot of the images I use on your posters are part of what I believe in. About peeling back the truth, stripping back meaning. There's nothing about them making people unhappy, they don't have to buy anything. You can take what you want from the images and get something for free."
So if you are walking down Oxford Road, why not look out for an advertising board, that doesn't want to sell you anything, but rather give away creativity, ideas and art, for free.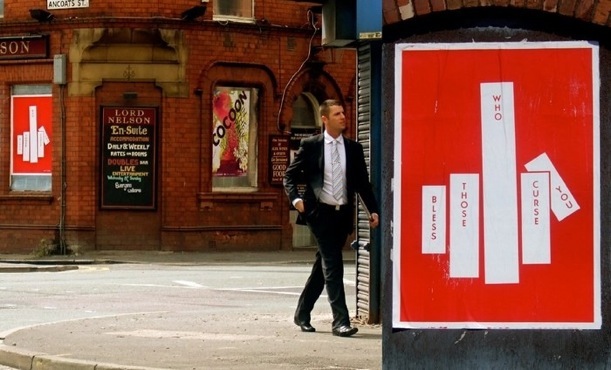 words by Daniel Savage
——————————–
Print & Paste is a collaboration between Micah Purnell, Dave Sedgwick, Nick Chaffe, and Jim Ralley. It is facilitated by Daniel Jones.