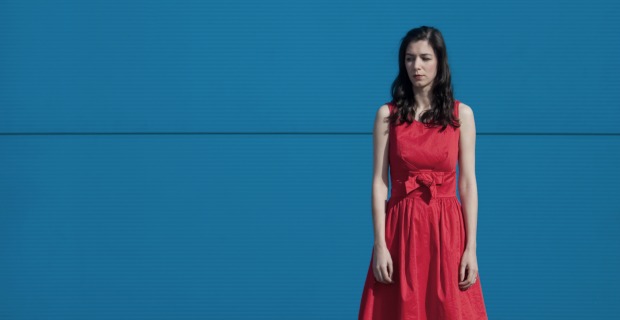 Someone who classes herself as a maverick, Nat Johnson is a singer and guitarist from the lovely northern city of Sheffield.
After two years of being in the pipeline, it is with joy that Nat released her debut solo album Neighbour of the Year late last year. Released on Nat's own label Straw & Hay Records, Nat is no stranger to the hardships of producing an album, having previously released four others with her past band mates.
It was only about a decade ago (2003) that Nat was the founder, lead singer and songwriter for the band Monkey Swallows the Universe (also founded by Kevin Gori). Then, not too long after in 2008, Nat moved on to form Nat Johnson and the Figureheads for four years with four other talented music enthusiasts, including Gori. So far, she's entertained live on BBC 6 Music and played to the masses at festivals such as End of the Road, Green Man, Latitude and No Direction Home. We caught up with her to talk pyjama days, painting phases and holding a special place in her heart for Connie Converse…
When did you start playing the guitar?
"I started with keyboards as a child and then played violin for a few years – I didn't discover the guitar was the instrument for me until I was in my teens. I got my first guitar for my 17th birthday and taught myself to play."
You played and sang in two bands previously, why did you feel it was time to go solo?
"It's all about the songs for me, and what they need, and the songs I started writing for this album didn't need a full permanent band in order for me to go into the studio and start making the record – a lot of the songs on the album are just me, layering up instruments and vocals. I do have a wonderful band with me when I play live though and who also feature on some of the songs on the album."
How did you set about starting up Straw and Hay Records?
"I set up Straw & Hay Records when I made the decision to self-release my album. Straw & Hay is the name of a song on my last album (I'm Across, I'm Ashore). It starts with the line 'They say we're wasting our time away learning the difference 'tween straw and hay'; it's about the specific kind of joy you get from doing something that might seem frivolous to someone else, but means the world to you. In this case, making records.
Neighbour of the Year took you 2 years to create and some of the inspiration for the songs has been drawn from personal experiences. Why did you choose to produce such an honest album?
"I don't think you choose to do such a thing, it either comes out of you or it doesn't and I don't think I could hold it in. Songwriting is a way of figuring things out for me, and if you really want to figure something out you had better be honest with yourself."
What was your album artwork modelled on?
"It's an image by my friend Ella Osborne – it wasn't made specifically for the record but the second I saw it I knew it had to be the album cover. The spooky solitude yet warm colours make perfect sense with the album. I'm in that house."
Why did you want to release Neighbour of the Year on a clear vinyl?
"I wrote a lot of the album looking out of the window, so the clear vinyl represents me looking out, but also the listener looking in at me. It's a round window."
Who helped you with the animation for the video for Dog?
"A lovely animation company called Fettle made the video. We talked about the themes of the song and I told them all about me and the kinds of things I like and then they came up with the concept for the video, which of course I loved."
We know that the inspiration for the song came from walking during a day in Spring but where are the three best places to walk in Sheffield?
"Well I haven't walked everywhere in Sheffield so I don't feel that I'm an authority on the subject by any means, nor could I pick a top three! We're spoiled silly for nice places to walk in Sheffield though – minutes from the city centre you have beautiful parks like Endcliffe, a bit further into the 'burbs and you'll find places like Rivelin Valley, but then not much further and you could be in the peaks, up Mam Tor, or somewhere like Padley Gorge or at one of the nearby dams."
You're touring next year and will be stopping at Lee Rosy's in Nottingham. Since you like tea and that place has every flavour available will you be testing different ones?
"I've never been to Lee Rosy's before but it sounds right up my street. I'd better not drink too much tea until after I've played though…"
When you perform you're accompanied by some lovely extra musicians on stage; will this be the case come January?
"Yep, I'm accompanied by a bunch of amazing multi-instrumentalists; Katherine Jackson on harmonies, fiddle and guitar, Hannah Browne on harmonies, flute, horn, accordian and glockenspiel and Oliver Allchin on lapsteel, banjo, saw and ukelele."
When you're not performing or writing music you say that you also paint and draw? What inspires you?
"I have to wait 'til I feel the urge to paint, which can last for a few weeks and then disappear again for months, unlike the regular urge I feel to pick up the guitar. I go through phases but I've been mostly painting animals this year – I've painted ostriches, foxes, dogs and birds and I like to draw insects; beetles, flies and praying mantises."
How are your Sundays usually spent?
"Lately I've been really busy with preparing the album and various other things, so I'm looking forward to things hopefully calming down a little bit so I can have a proper Sunday – pyjamas all day, nice food, watch loads of films. Either that or go out for a walk somewhere wonderful followed by a pint of lovely ale in a nice old pub."
Also, you adore Connie Converse, why is this?
"I organised an event earlier this year to celebrate the talents of long-lost singer-songwriter Connie Converse, who deliberately disappeared in 1974. I love Connie's music and felt a real kinship with her from the first time I heard her. At the event in October we performed new arrangements of Connie's songs and two original songs I'd written about Connie."
And finally, since you're always thinking about the next thing to do, what are you thinking of now?
"Right now I'm thinking about our upcoming gigs and preparing for those – There's the UK tour in the New Year to get ready for now! We're heading to Manchester, Nottingham, Oxford, Birmingham, Cardiff and London and finally back to Sheffield."
Stay up to date with Nat Johnson on Facebook and Twitter.
Neighbour of the Year is now available to purchase and download, head here for more details.
Words and interview by Hollyann Prince (@HollyannPrince).
Keep up to date on all the latest Northern entertainment news by following us on Twitter, Facebook and Google+.