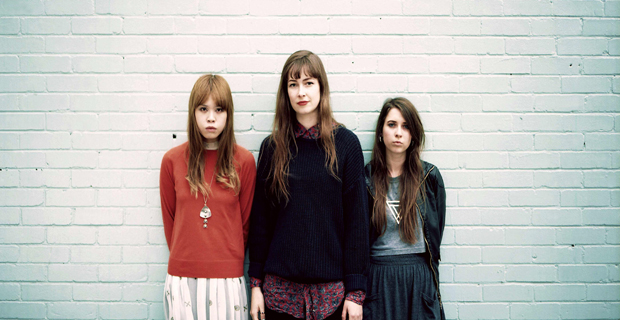 Since January, Northern Noise has been lucky enough to host some amazing bands at our lovely Manchester local, The Castle Hotel. It's been a great year and it's not over yet. This month, Northern Noise Live graduates to a whole new playground complete with bigger bands and bigger fun. To help us celebrate our inaugural Sound Control shindig we've went all out and enlisted the help of a Brighton-based three piece who've been making waves in all the right ponds. On October 19th, Novella will help us throw our biggest party to date. With their bright and breezy brand of indie-pop, whimsical girl rock and irresistibly laid back melodies we're confident it's going to be a night you're not going to want to miss. Earlier this week, we caught up with the Novella girls Hollie Warren, Sophie Hollington and Suki Sou to talk influences, gigs and expectations. Enjoy!
Tickets for Northern Noise Live: Novella w/ Towns can be bought here for the well cheap price of £6.
Hey guys! So let's start at the beginning. Where and how did the three of you meet?
Hollie: "I was looking to meet some new people in Brighton and I messaged Suki on myspace and we got chatting about wanting to be in a band. We played in a band for a little while with our friend Linda (from Echo Lake) but we never finished any songs. Then we all moved to London and after about a year Suki and I decided to start a band again, and she knew Sophy and that she played bass…and so that was the beginning…"
How would you describe your music for all those Novella newbies out there?

Sophy:  "Noisy, melodic, wiggy?… Over the summer we've been writing a ton of new songs and practicing our butts off which has definitely moved things along from our last record. Our songs are still poppy and we still wear our influences on our sleeves (bands like Can, Led Zeppelin, Velvet Underground and Stereolab) but we've become more confident songwriters and better at messing around."
Did finding your sound come naturally or was it the result of numerous refining sessions?
Hollie: "Our sound has changed a lot from the beginning, we seem to go in six month phases of evolving… none of us had written songs before or ever played live before so it took a while for us to find our feet and determine our role in the band, that's something we've only really defined in the last year. I think that the songs we're writing now are definitely the closest we've come to actually making the music I think we all want to make."
Starting out, what was it that you wanted to bring to the current music scene that you thought might be missing?
Hollie: "I don't think it was like that really… we tried not to think too much about what type of 'scene' we would be part of and we just wrote music that we liked. We knew what we didn't want to sound like so I think that guided us as much as anything else."
You've supported some big names like 2:54, Veronica Falls and Friends just to name a few. How did you find those experiences?
Sophy: "Our first two proper tours were with Veronica Falls and we had the most fun. They're great people. The other shows were more one-offs but it's always nice playing to a packed-out venue to people that are genuinely excited about new bands."
Do you still enjoy the intimacy of smaller shows?
Hollie: "We still mostly play small shows. Playing on a big stage feels slightly bizarre – we played Brighton Dome for the Great Escape and it was a 2000 capacity venue and we just felt so far away from everyone and each other."
Sophy: "It's much more fun playing to 100 people in a 100 capacity venue than it is playing to 100 people in a 2000 capacity venue!"
What's been the most memorable gig you've played and what made it so unforgettable?
Sophy: "Probably the first. I remember every bum note. We made a right hoo-haa out of it and invited all our friends which in hindsight wasn't such a great idea."
Growing up, was there one gig or musical performance that convinced you that music was the career you wanted to pursue?
Hollie: "Difficult to say, I've wanted to play music for as long as I can remember… Just before we started Novella I went to see Sonic Youth play on New Year's Eve and it was pretty incredible, although I was pretty convinced beforehand that I wanted to be in a band."
Sophy: "Sadly it wasn't a gig. It was probably coming from dregs of the MTV generation (when they still played music videos). When I was 12/13 I watched MTV2 religiously and bought some sweatbands and a bass as a result."
Suki: "Remember my grandmother (She was a big fan of the velvet underground.) was watching a Beatles documentary when I was about 10. I come from Asia and they are not really into rock music. So thank god to my grand parents! They played "This Boy" the b-side to "I want to hold your hand" It made me want to have a bob hair cut and plays guitars!"
You worked with Warm Brains AKA Rory Attwell on your debut EP – how did that collaboration come about?
Sophy: "The first time we met him was at a show we played where he was doing the sound about 2-ish years ago. We recorded both our first single and the track for the Marshall Teller split with Rory so it wasn't exactly a new experience recording the EP, just a very pleasant one! The boat (you know he records on a boat right?) is amazing if not a totally weird place to do it all, and Rory is so fun to hang out with, we made him come on tour with us and Veronica Falls to do our sound just after we finished the EP."
Talk us through the writing process – is there a recipe for the Novella sound?
Hollie: "The main element about the Novella writing process is that the starting point could come from any one of us, we're quite equal in that way and it keeps things interesting so that the writing process is a bit different for each song. We usually work on the songs the three of us in our bedrooms and then will work out the drums with Iain, and then usually the vocals come last."
Lyrically, what are your main influences?
Hollie: "Anything and everything… in the beginning I set out with the intention to not write too many songs about boys. I've kind of stuck to that with the new songs but I think I'm more open to writing in a slightly more personal capacity. But I try not to talk about the subject matters of certain songs. I like the idea of it being secret, people can make their own mind up what the lyrics are about."
What about musically?
Sophy:  "When we started the band in its primordial stage nearly 3 years ago we had a number of bands that we all loved which included Stereolab, Velvet Underground and My Bloody Valentine. That's how you build those first bridges I guess. Since then the list has grown to astronomical proportions. Sharing music with each other is a very big part of everything. I think we all have our own heroes though. One of my all time favourite guitarists is a guy called Mark Edwards who had a project called My Dad Is Dead in Ohio in the 1980's. His 4th album 'The Taller You Are The Shorter You Get" is insanely good."
Who are you guys listening to at the moment?
Hollie: "Ty Segall, Pond, Tame Impala, Wooden Shjips, Melody's Echo Chamber, Beach House."
Sophy:  "The Men, Neil Young (always), Can, Beak>, Selda, White Fence"
Suki: "Beatles (Forever), Broadcast, Mort Garson, Jonathan Richman."
If you guys weren't in a band what other profession would you like to attempt?
Hollie: "Well we do all have other full-time professions, so I guess if we weren't in a band, we'd just have a lot more free time!"
Sophy: "Yeah, I'd probably be really successful or something."
Suki:  "I would probably start up my own business."
You guys have posted a fair few music videos from other artists on your site.  Have you ever considered recording a cover song and if so, which artist/song?
Hollie: "We think about covers all the time and we covered Mudhoney's 'Mudride' when we were on tour with Veronica Falls which was really fun. But we've never thought about recording one before. We'd love to cover Ultra Vivid Scene's 'Mercy Seat', it's one of our favourite songs as a band. Or a Velvet Underground song."
Being an all-girl band, do you feel people expect a certain sound or genre of music from you?
Hollie: "We often get called 'dream-pop' which I don't really think we are. Or one thing I think is funny in reviews is when they talk about 'soaring harmonies' on songs with no harmonies, or about a live show – no one sings harmonies when we play live. It's like it's just expected…"
We can't wait to see you guys play Manchester for us later this month. Do you feel there's a noticeable difference between audiences or music lovers up North and down South?
Sophy: "We can't wait either! People are a bit more inclined to come and have a chat with you after the show up North, which is cool. But to be honest we haven't played that many shows outside of London yet. We'll be taking notes this time."
You guys may be from Brighton but are you regular visitors to Manchester or the North in general?
Hollie: "We're big fans of Manchester – the gig with Veronica Falls there was one of our favourites. I have best friends from Leeds so visit there quite often, it's a cool place – the majority of people I've met from the North have been exceptionally friendly."
What do you guys have planned for next year and the remainder of 2012?
Sophy: "We've got a single coming out on Italian Beach Babes again at the end of November and we want to play our new songs to everyone"
Buy tickets for Northern Noise Live: Novella w/ Towns here!
Words and interview by Simon Bland. (@SiTweetsToo)
Be sure to 'Like' us on Facebook and follow us on Twitter to keep up to date with all the latest Northern music news!