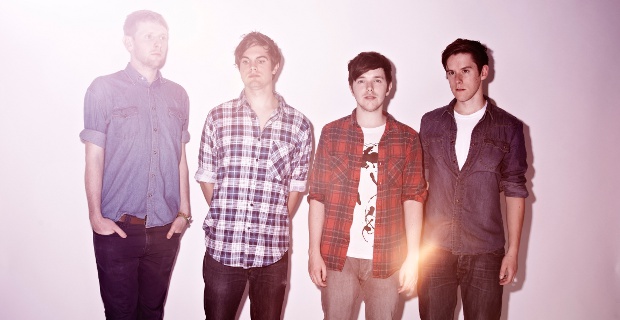 "We were rehearsing a while ago on a bank holiday and the guy from next door started banging on the door in his boxer-shorts," laughs Alex Hillhouse, bassist of Manchester outfit, Patterns. "As we came downstairs he said: 'Look you're too loud and I don't mean to ruin your fun, but I wouldn't mind if it wasn't so rubbish!'"
Luckily the city's more tolerant residents are ardent supporters of their psychedelic electronica. The group have known such small-mindedness before – originally forming while at university in a very different Manchester. "It was all lad-rock indie, people in striped shirts and big jackets," remembers frontman Ciaran McAuley. Patterns reacted against the fallow musical landscape by using samplers. "Why limit yourself to just standing around with guitars when you could play any sound?" asks Ciaran. The result was an ethereal debut EP released on fledgling zine-label Pull Yourself Together, aptly entitled New Noise.
Patterns – New Noise EP by pullyourselftogether
Despite being created in a bedroom with no budget it's a surprisingly textured release. Washes of deliquescent synth loops reverberate, akin to those driving Animal Collective's Merriweather Post Pavilion, while melody comes via shimmers usually found within Pantha Du Prince's tech-house LP's. "We'd describe it as being the space between being awake and being asleep," explains Alex.
The kef is underpinned by a use of slow-tempo drums and subtle guitar lines, which are played on-stage alongside synth and sampler, making for a gripping live spectacle. In the summer they caught the eye of Manchester label, Melodic, and signed "in a bar while drinking zombie cocktails", according to Ciaran. "It wasn't very glamorous," adds Alex before Ciaran interjects: "I remember it glamorous."
The first fruits of this deal came in the form of an October single, Induction, and things are in motion for a debut album next year. "Induction is far more up-front," says Ciaran. "We want to write a serious album. We don't just want to be a blog novelty," he adds.  Indeed the single sees guitars take precedence in a mix which retains the epic nature of their bedroom EP. "We've got a lot of recognition for it from around Europe," says guitarist Laurence Radford.
Overseas adoration recently led to a gig in Nantes in which psychedelic sonic elements were heightened further. "We had visuals projected, which is quite important to us given our reference points. We took stuff from old VHS clips and video-synthesizers, really saturated images," Ciaran says. 
The B-side, Throwing Stones, which loosely depicts a methadone trip, was the focus of a Manchester Scenewipe session in the BBC Philharmonic Orchestra room. "We spent the first hour just walking around and clapping because the sound was so brilliant," says Alex. Watch the performance below. As for the future; "We want to be like Radiohead and be doing things in quite a few years time, but not like The Rolling Stones. We don't want to take it too far," Ciaran laughs. As for the album it's back to the bedroom to record, but luckily for the neighbours, drums will now be added in a recording studio.
Words: Simon Butcher