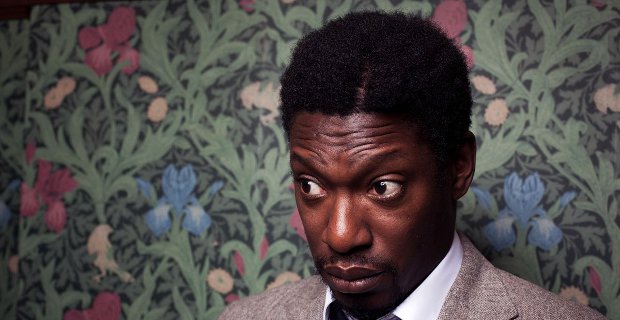 "Sex with a stranger can be quite new and interesting but sex with someone you know can also be good," Roots Manuva replies down a crackly phone line. He bellows like our personal Barry White agony uncle. We're not asking for relationship advice – instead how intimate his upcoming live shows will feel.  New fans, he says, provide the opportunity for "a good first-time shag as it were…"
It's unsurprising that a colourful metaphor answers a clichéd question. The South London born rapper has been in the business of self-expression for over twelve years, beginning by his own admission as "a bloke in a council flat with a sampler and a bag of weed". As we chat he struggles to remember the journey.  "How many records are there now? About three different remix records and five proper albums I think," he says uncertainly.
Indeed Roots Manuva – Rodney Smith – enjoys cult status drawn from involvement in UK rap's formative years. His intelligent lyrics were an alternative to the gasconaded rhetoric of American counterparts. Outside the hip hop cognoscenti, 2001's breakthrough synth-squelcher Witness (One Hope) is the track most remembered. "I rode off the back of one song for so long," he admits. "But it's financed loads more experimentation."
In a career replete with creative ideas he's melded the dancehall, dub, and reggae influences inherited from Jamaican parents with a distinctly British lyrical introspection. Now nearing the big 40, and a father himself, the title of latest album 4everevolution reads as a mission statement. Despite the rise of Rascal's, Chipmunk's and Ghostpoet's, Manuva is proving to be no dinosaur.
Fatherhood has merely bestowed upon him the virtue of wisdom, allowing more clarity in tumultuous times. "There's something unspeakable about being a parent that lands on your shoulder and makes you want to set a decent example for the young'uns, but still with that confrontational, rebellious spirit," he says.
Skid Valley – a polemic examining Britain's social injustice – is the nearest 4everevolution gets to political, attacking MP's and street gangs. What does he make of last year's riots? "The 'revolutionaries' – the spoils of their struggle was just trainers, ipods and imac's," he says before adding a conspiracy theory of his own. "I wouldn't be surprised if it was a provoked exercise so that they could introduce some heavier laws in time for the Olympics."
"The arts and creativity are always first to go in a downturn and that affects our outlook on life," he continues. Perhaps ironically there's an unemployed bloke with a bag of weed in a council flat now about to makes something special. As for the future of hip hop Manuva foresees a governmental department dedicated to maintaining the genre. Would he like to take charge? "I wouldn't mind being a youth co-ordinator," he chuckles, "just to make sure the syllabus encompasses a full perspective on the art-form – from street corner art right into rave arena's and hopefully one day into opera houses."
Words: Simon Butcher Photography: Dan Medherst