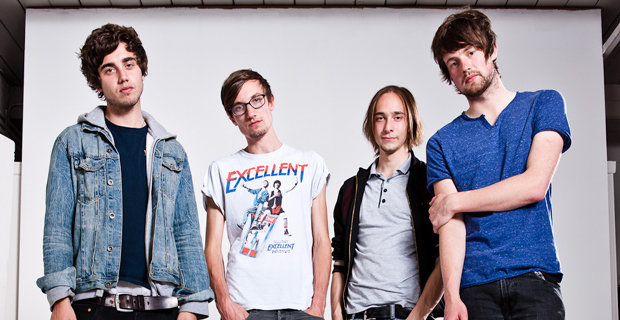 We don't always put on gigs in the city centre, you know. In fact, later this month we'll be taking Northern Noise Live down the road to Fallowfield, nestling deep in the most student-y of student hotspots. And we won't be coming alone. On October 20th, we'll be bringing the ace new Manc band Shinies to help celebrate their single launch at Trof. You might have already spied our bright yellow posters and flyers littering the city. You may have also already seen Shinies – they kidnapped ex-Fun House man Pat Sharp a few weeks ago and beat him to death. But more on that later. Tickets are a bleeding steal at £5, so if you're the type that enjoys dead good music you should come down. It'll be a right larf. In the meantime, we caught up with our headlining act to chat influences, Dutch toffee waffles and Halloween costumes.
Let's start at the beginning – how did the four of you meet?
Adam: "Me and Ric have been friends since school, we met Tom in Manchester then Fisher magically appeared like a wizard one day when we realised we were missing a bass player."
This year's been pretty mental for you guys. What are your thoughts on it, looking back?
A: "Not really thought much about it to be honest. As long as next year is even more mental then we're cool."
Any highlights so far?
A: "Playing a packed out Sound Control at Dot to Dot festival was pretty sweet."
Manchester is renowned for producing homegrown bands, what did you want to bring to the mix?
A: "It's not something that ever crossed our minds…there's a lot going on musically in Manchester and it's great to be a part of it, but I don't think it's about filling gaps, we just want to keep writing music that people appreciate and enjoy."
How did you cross paths with Rory Bratwell?
A: "The guys at Dirty Bingo, who released our last two singles, knew him and recommended him to us and then hooked us up."
He's worked with a lot of well-known names. How do you think this collaboration has affected your sound?
A: "Definitely in a positive way, most of us were pretty new to working in a studio, especially one that was on a boat! Maybe he brought a pirate element. There were some awesome shapes being thrown in the control room when we recorded our last single, Ric and Rory had a dance off which we caught on film and hopefully that will surface at some point! We had most of the sound down before we recorded but Rory's got some cool homemade pedals that helped layer some fat distortion."
Movies, music, art – anything can influence a band. What would you say has been the weirdest influence on your sound?
A: "Toffee Waffles were a massive influence in the beginning, not so much now although we should probably amend that.  That's a hint to anyone who's putting us on and wants to impress with the rider, Dutch Toffee Waffles. They must be Dutch."
Talk us through the writing process. How much of your music is premeditated and how much is formed during jam sessions?
A: "Someone will bring an idea, sometimes a whole song, sometimes a bit of a song, a few notes, or a riff or whatever. We'll jam it out in our basement where we practice and we'll basically cook it out until it's sweet and succulent."
What would you cite as your main musical inspirations?
A: "All massive Fleetwood Mac fans, but I'm not sure how much that comes out in our songs. I'm sure it's there deep down, we like the pop sensibility and the unadulterated heartbreak in albums like Rumours. The Peter Green stuff's cool too. When we first started playing together loud, textured bands like My Bloody Valentine were big influences, we like covering pop hooks in loud noises."
You recently beat Pat Sharpe with a baseball bat then burned him. How did that idea come about?
A: "We were having a barbeque and we were trying to come up with a few ideas for the vid….We had a few people in mind but all settled on Pat Sharp. The director Fabio Youniss has a bit of a twisted mind so he's mostly to blame."
Was it hard convincing him to get involved with the music video?
A: "Nah, we just stuck him in the boot of the car."
Was he always your first choice of 90s star to feature in the video?
A: "We had a few in mind but Pat was one we all agreed on."
Were you guys big fans of Fun House growing up?
A: "Massive fans. I think everyone of a certain age remembers that show with fond memories."
The video has received a lot of press from everyone – including major newspapers. Are you surprised at people's reaction to the video?
A: "Yeah it got a bit ridiculous. We're just waiting for the Daily Mail Readers to turn up at our house with pitchforks and burning images of us."
Who are you guys listening to at the moment? Any band you just can't get enough of?
A: "Loving the new Tame Impala album at the moment and a bit late on the bandwagon but just got the Kindness records and its funk-tastic."
What's been your most memorable live music experience?
A: "Sharing a bill with Martha and the Vandellas was pretty strange. She was still an absolute babe."
What do you have planned for 2013?
A: "World domination Pinky and the Brain style."
And finally, it's nearly Halloween. What are you guys going to dress up as?
A: "Aphrodite's Child? Ric's already halfway to being Demis Roussos. Or this…"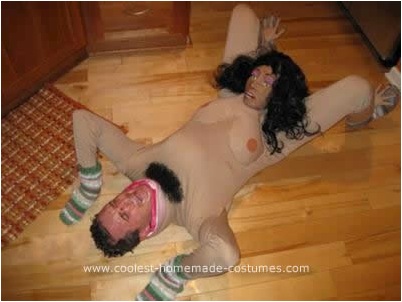 Buy tickets to Northern Noise Live: Shinies Single Launch right here.
Words and interview by Simon Bland. (@SiTweetsToo)
Be sure to 'Like' us on Facebook and follow us on Twitter to keep up to date on all the latest Northern music news!