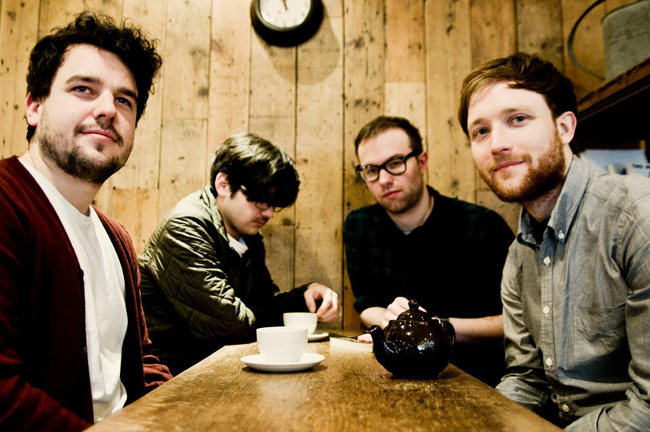 What do you get if you cross four guys armed with Fender Telecasters, Jazz Basses, Gibson Melody Makers, a set of 1960s Ludwig drums, a love of inventing cocktails and a passion for great music? Simple, you get Tellison – A sing along indie-rock generator from 'daaan saaaf'.  The Hammersmith four-piece have just announced the release date for their eagerly anticipated second studio album titled The Wages of Fear. Following up on their successful debut album Contact! Contact! the band's latest record is a huge step in the right direction. The lads seem to have taken everything fans loved about the first album including their catchy choruses, imaginative and intelligent lyrics and distinctive vocals and perfectly applied it to their new material.
The Wages of Fear is currently streaming on the band's Facebook page and is set to be released on June 13th . The record will be promoted by a coinciding tour, which is scheduled to kick off in Cambridge on the album's release date and will head up North a few days later for shows in Liverpool and Leeds. The album sounds superb – as perfectly clean and crisp as the Telecasters' twang that created it. Stand out tracks include the lyrically harmonious Freud Links The Teeth And The Heart, Edith, Say Silence (Heaven & Earth) and of course the records first single Collarbone.
The Wages of Fear will without a doubt push Tellison into the limelight once again and help build on the band's previous successes, which include; becoming a Myspace Recommended Artist twice, having a track featured on the The Inbetweeners, reaching the top five in the independent music charts and sharing a stage with bands such as Biffy Clyro, Noah and the Whale and Hot Club de Paris.
Northern Noise caught up with Tellison vocalist and guitarist Stephen Davidson to get the low down on their writing process, life in the studio and how to make kick ass cocktails.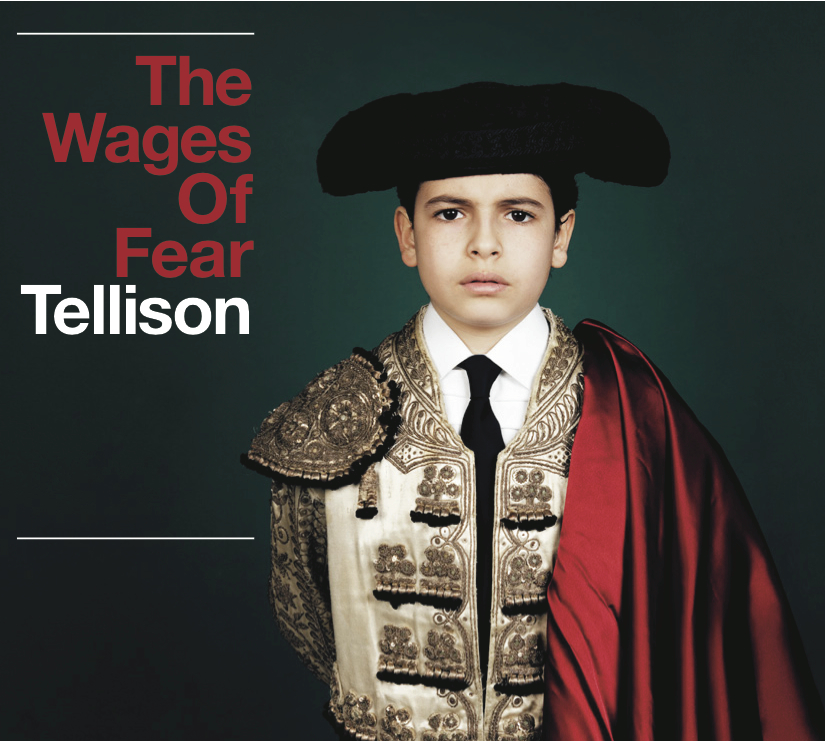 NN: What are the songs on the new album about?
Stephen: Very loosely the record is about the period in our lives between making Contact! Contact! and this album. There's a quiet theme throughout (at least in my songs) of a relationship, but if anything, I think that's often more the landscape on which other things happen.  Lyrically the record deals with the frustrations of being in a band in the current climate whilst trying to finish an English Literature degree without being kicked out of university, self-doubt, tooth pain and a romantic fondness for French girls, train journeys, sewing, the longing for a sense of order in life that is so clearly present in works of fiction and art and regret.
NN: Who/what influences you as a band to create music?
Stephen: I think we draw our influences from all around us. When I first started a band I was interested in the punk rock idea that anyone can be in a great band. That it doesn't matter what your training or background. Since then I guess I've personally drawn musical inspiration from a lot of indie rock bands: Stapleton, Osker and Pedro The Lion are three that have meant a great deal to me. Thematically I find that in analysing life I draw inspiration from it and from the things I encounter. I like to read and sometimes pull elements from things I am reading concurrent to writing a song's lyrics.
NN: Was the recording of your second studio album as fun as your first? Or did you feel the pressure of trying to top fan favourites like Gallery, Hanover Start Clapping and NN personal faves Ambulance and Disaster! Disaster!?
Stephen: Truthfully neither album's recording has been as simple as being "fun" all the way through. Both saw major crises of confidence as well as good moments, moments where everything seemed to align at the right time. There was a lot of drama I guess around the making of both as well as the dull worry about lack of time and money but through both there are times where you listen back to a take or get an edit right and suddenly you feel proud and excited that what you're listening to is a record you have made yourself.  We were conscious that there was a small group of people out there who liked the first album. But we never felt too much pressure from them. If anything we put more pressure on ourselves because we wanted to make something better than last time with, arguably, fewer resources.
As far as "fan favourites" are concerned we tried to bear in mind that those songs were just album tracks when we made them. People liking them came along afterwards. The only yard-stick we have as a band is if we like the music we make, if it speaks to us. The songs that measure up to that get recorded and hopefully, later on, people like them.
NN: How did you go about writing the songs? Any interesting techniques or stories behind how the albums tracks came about?
Stephen: Generally I write songs on my own with an electric guitar that isn't plugged into anything. I find I write best when I'm on my own. Some songs grew out of a phrase or a single lyric. Others just appeared almost fully-formed on a page. After that I'll take what I've made to the rest of the band and they'll either agree that it's worth continuing with or tell me it sucks. On this record we had to do that second part in quite a fragmented way because everyone had to be at their day jobs and couldn't always be at practice. Hank and I did a lot of sequencing and putting together pretty ridiculous midi versions of some of the songs, laughing a lot and then going ahead and using those anyway. We also ate a lot of Chinese food and pizza.
NN: Have you played any big shows in the past and if so what was your favourite?
Stephen: I guess the biggest shows we've played have been festivals or support slots for bigger bands. I think we all really enjoyed playing in Paris in the snow with Tokyo Police Club, at the Southampton Guildhall with Biffy Clyro and Pulled Apart By Horses and playing with Darwin Deez at Truck Festival last year. Luckily for us I think a lot of our songs can be quite immediate so we've been fortunate that crowds who haven't necessarily ever heard us before can, over the course of 30 minutes, warm to us pretty quickly.
NN: As a band, are there any Tellison songs that you particularly enjoy to perform live over the rest?
Stephen: This changes all the time. Sometimes you'll enjoy playing the new songs most partly because I guess there's always the element of danger, of someone messing up, plus it's fun to see what people think of them. Sometimes it's great to play a song that people know and are pleased to be hearing. That's a pretty remarkable experience.
NN: Rumour has it that Tellison have a little alcohol-based hobby when on tour. Where did the love of creating cocktails stem from? Would you care to share any special Tellison blends with Northern Noise readers?
Stephen: The love of creating cocktails came from being on the road and from our overactive, when drunk, imaginations. Here's one we created in Northampton after playing a particularly great show with our friends in My First Tooth and The Lie Awakes. It's called The Hammer Cycle and it's more an experience than a stand-alone cocktail although each stage is a delicious cocktail in itself. Please enjoy responsibly, these are dangerous:

Stage 1: Go to a bar and buy a pint of lager. Drink half.
Stage 2: Buy a double gin and tonic (with ice and lemon if you're feeling badass). Pour this drink into your remaining half pint (this drink is called a "Hammer"). Drink half.
Stage 3: Buy half a pint of cider. Pour it into your glass (this drink is called a "Sledge-Hammer"). Drink half.
Stage 4: Buy a double Jack Daniels and Coke (with ice or not). Pour it into your glass (this is called a "Jack-Hammer"). Drink it all. Enjoy it. If you don't feel good go back to stage 1 and repeat.
NN: Are there any other personal favourite tracks on the new album that fans should be as equally excited about? You looking forward to the tour?
Stephen: That's for you to decide. The album is streaming now on our Facebook page.  Generally we like to tour the whole country. I grew up in Edinburgh where there were not many shows so I know the importance of playing in every city. We'll be touring this record comprehensively over the coming months. Never fear!
For more information on Tellison visit their website.
June tour dates:
3th Mon, CAMBRIDGE, Haymakers
14th Tue, GUILDFORD, Boileroom
15th Wed, WINCHESTER, Railway
16th Thu, KINGSTON, New Slang
17th Fri, BOURENMOUTH, iBar
18th Sat, OXFORD, Jericho
20th Mon, LIVERPOOL, Shipping Forecast
21st Tue, NOTTINGHAM, Bodega
22nd Wed, LEEDS, Brudenell Social Club
23rd Thu, STIRLING, Tollbooth
24th Fri, EDINBURGH, Sneaky Petes
25th Sat, GLASGOW, Captains Rest
26th Sun, MIDDLESBROUGH, Crown
27th Mon, BIRMINGHAM, Flapper
28th Tue, MILTON KEYNES, Sno!bar
29th Wed, BRISTOL, Croft
30th Thu, LONDON, Dingwalls
Interview and words by Damon Ashton.