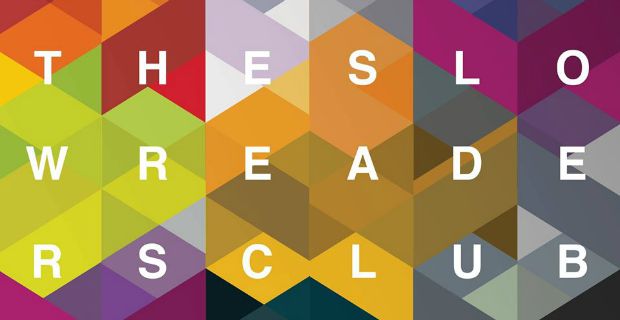 Following the release of their intoxicating new album Cavalcade, 2015 has witnessed the impressive rise of the Manchester based four piece The Slow Readers Club. After recently dominating the Isle of Wight festival with their unique style of indie/electro and selling out Academy 3 for their album launch earlier this year, we caught up with the band's frontman Aaron Starkie to discuss their career highlights so far, influences and future plans in a refreshingly honest interview.
How long have you been playing together?
In its current form, about 2 years or so. We've been making music for a little longer though.
You clearly have a distinctive indie/electro sound to your music, is that something which comes natural as a four piece or is it a genre you are particularly targeting?
I think we all enjoy that kind of music, when we started out we didn't want to be a straight forward guitar band and quickly got the kit together that allowed us to add other instruments.
Musically, what did you want to bring to the table with the new album Cavalcade?
On the first album we had a lot of stings and synths, very big, lots of drama. We were keen to strip it back a little, at least for some tracks on this album. Tracks like "Forever In Your Debt" and "Don't Mind" are quite sparse when compared with the first album. It works well as the bits of silence create some tension and you are able to focus on individual parts a lot more. We've also been able to explore new territory rhythmically as we had a new drummer David replace Neil on the first album
Your lyrical content comes across as very meaningful, when writing the songs how much thought do you give to how transparent or revealing you're being about your own personal life experiences?
I like that it's transparent, it's cathartic. I don't see the point in making music that isn't truthful, I try and draw from experiences throughout my life from childhood to first relationships to working 9-5 to marriage and parenthood. I try to write lyrics that express things that everyone feels but don't always find a way to express.
Can you talk us through the usual writing process. What comes first, the music or the lyrics?
The music nearly always comes first, it can start with a bass line or a beat or a guitar riff or a keyboard part. I will then sing a vocal melody over the top of that with the odd discernible word. The lyrics come later.
Lyrically, what are your biggest influences?
Books like Steppenwolf, The Unbearable Lightness of Being and 1984. Artists like Morrissey, John Lennon, Ian McCulloch, Robert Smith, David Bowie, Johnny Cash and Kurt Cobain.
What artists influence you as a quartet to make the style of music that you do?
As a band we don't agree on much in terms of influences – that's probably why we've never done a cover. However Michael Jackson, The Rocky Soundtrack and Madonna's Immaculate Collection get the best response when we are having a sing along on the way back from a gig.
You've received airplay on both XFM and BBC 6 Music recently, how does it make you feel?
When I cast my mind back to last year when we got our first play from Steve Lamacq I remember feeling a real rush of pride and relief that we were getting somewhere. We've had a lot of support since, all three singles have been featured as XFM. "Shock of The New" and "Don't Mind" were featured on Steve Lamacq's round table. We don't take it for granted and always want to push for more.
You've been very busy on the live scene recently, do the positive live reviews and audience reception inspire you to push onto bigger and better things?
Yes we have a decent size audience in Manchester, Leeds, Sheffield and London now. We have been getting a great response from fans, it's been great so far this year, there is no better buzz than seeing people singing words back at you.
As you say the reviews have been good too, we have journalists who are really championing us and that all helps get more people to gigs. We are keen to keep building and branch out to other cities. We have stuff going on in other countries too so a European tour is one of our targets.
In comparison to your first ever live outing, how do you feel the band has evolved since taking those first steps on to a stage?
There was always something there from the get go. We have always had the ability to put a decent song together. We have grown as musicians and performers and we probably have more interesting arrangements these days but we were always great.
What's been your favourite live performance so far?
Playing to a sold out Manchester Academy 3 for our album launch, with Isle Of Wight Festival a close second.
As a local band, would it be fair to say that you have a favourite venue here in Manchester?
The Night and Day is probably our favourite venue. It's always served us well.
Some people have this misconception that only indie bands come out of Manchester. What do you think of the music scene here?
It depends what you call an indie band. Are Everything Everything indie? I think the music scene is pretty varied now. Manchester has an amazing musical heritage, but it can be suffocating, the caricature of a swaggering, parker wearing, beer swilling Manc looms large over any band that wants to break out.
Your music videos always compliment the unique sound of each song perfectly, just how much say do you have in the artistic direction of your music videos?
It varies, if we have an idea we will put it forward, on the video for "Don't Mind" for example we had a good idea what we wanted. On the others we have pretty much left it to CroftWerk to interpret it in their own way. We are not control freaks, our time is better spent writing music.
If you were to summarise The Slow Readers Club in just 3 words, what would those words be?
Dramatic, Danceable, Doom-laden
You've toured with numerous artists and supported the likes of Catfish & The Bottlemen and The Sunshine Underground. Can we be expecting more shows like this from you in the remainder of 2015?
We have a few festivals in the diary, check out our website. We will be touring after that, we're just in the process of putting that together.
Do you have any particular favourite song to play live?
"Plant The Seed" is a current favourite.
What are your plans for 2015? Will you be touring more with Cavalcade or has work already begun on a follow up album?
We plan to do another tour in October and yeah we have started writing the next record, it's very early days though, expect it in 2020!
More information on upcoming shows can be found on the Slow Readers Club website here.
Words and interview by Damon Ashton (@Damon2604).
Keep up to date on all the latest Northern entertainment news by following us on Twitter, Facebook and Google+.