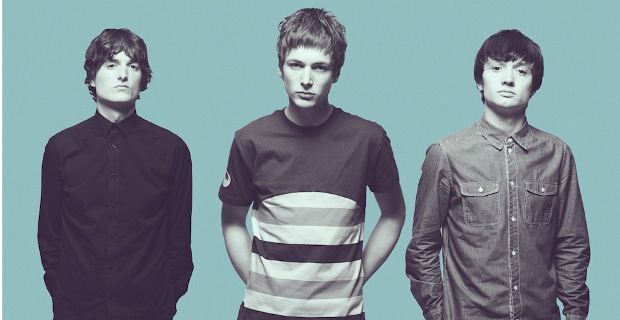 WHEELS IN MOTION
Manchester's punk rock trio Twisted Wheel were on the verge of greatness five years ago – signing a major deal, playing with Weller and Oasis, recording in LA – but things came to a halt after their full length debut. We find out what happened, but more importantly what the future holds…
 "We haven't released any music for three years. I fell out with the lads I started the band with," says Jonny Brown apologetically over the phone. His rugged northern accent instantly reminds us of the frontman he once was, snarling over jarring guitars while commanding huge crowds at hometown shows. He's by no means down and out though, always a straight-talker, he speaks with the same gritty self-belief here as on the previous album. What's the reason? "I've found the band members I want to work with and I'm fired up."
 Album number two is on the way. Eoghan Clifford takes over on drums and Stephen Evans picks up the bass. In contrast to the LA sessions Sony spent a hundred grand on over the course of six weeks this one was made in seven days with Tim Hampton of Bromheads Jacket handling production. The result is 'balls out rock 'n' roll' according to their press release. No doubt their first Manchester show since the hiatus, due to take place at Sound Control on 4th October, will be a raucous affair with crowd-surfing as standard.
 Jonny's renewed sense of purpose came as a result of turning personal problems around. It wasn't just music that gripped him on previous tours. "I fell into it (drugs) big-time really, not trying to be a cock about it but it's in your face every night and then it gets a hold of you. After that creativity doesn't come as naturally, so the easiest thing to do is get more fucked," he recalls openly. After a tough Christmas and New Years Eve his resolution was to be determined. "I decided it was either fuck it off and do nothing, end up with a shit job, or really put effort into it now. I've fucked everything off now and just have a few beers at the weekend."
 Hitting such a low point has proven the catalyst for renewed creativity, with canvas painting, designing artwork, and even bespoke clothing now on the cards. "I designed all the artwork for the first album and singles but with it being a major label they were quite adamant that they knew best," he says of the earlier deal with Columbia, adding "This time we're going to have some unique clothes on tour. We're designing t-shirts and all the covers."
He's keen to get the band back in the public eye and still harbours the same determination which propelled the initial incarnation of Twisted Wheel into the limelight in the first place. "I've still not got anywhere near where I want to be. I never really thought we'd made it back then because I wanted to achieve more than that," he says. "I think after this tour we'll be back. It's going to open the gates again and get people talking about us."
 Having learned lessons from the last album there's a strong head at the helm. But why didn't things go well first time around and what were those lessons? "I'd been in bands in Manchester before but when we got Twisted Wheel together we put our heads down and I said look I want to get a deal now, so we put the effort in and it happened. Next thing we knew we were getting paid two grand a month in wages, free clothes, free instruments, meeting loads of famous people who'd inspired us like Weller and Oasis…
 "We had quite a few record deals on offer and I don't think we picked the right one. Our previous management got us Oasis gigs but because they were looking after Oasis they were looking after Noel and Liam and we weren't a priority," he explains.
 It was the stress of touring which led to the break-up: "One year we did two hundred and ninety gigs and were voted the second hardest working band in Britain or something stupid like that. The other two (previous band members) had girlfriends at the time and I didn't. They'd bring them on tour and we were falling out over space and hotel rooms. I don't think it was the perfect combination to start with really and then when you're stuck together all the time you get worse with each other."
 A full UK tour awaits as interest hasn't waned in the band, and they're focussed on performing some incredible shows. "We're putting real effort into these gigs. We're going to play for about an-hour-and-a-half and really show people what we can do," he says. "Our gigs are always raucous and it's going to be good to do that every night."
 Material from the last record will join in the set with that from the upcoming album, aptly titled Do It Again. "There's some really heavier songs than the first album but there's some mellower moments too. It's diverse," he explains of the new record due on 19th September. "There's a folkie one at the end with an electric guitar – a bit like Billy Bragg. There's songs on there which are going to get us new fans. A lot of people who weren't into the first album are going to get into us with this one."
 Time will tell whether Jonny's strong words will come to fruition but the tenacity and drive on display is admirable. As long as the wheels don't fall off again there could be a great journey awaiting Twisted Wheel.
Words: Simon Butcher
Be sure to 'Like' us on Facebook and Follow us on Twitter to keep up to date with all the latest Northern music news!