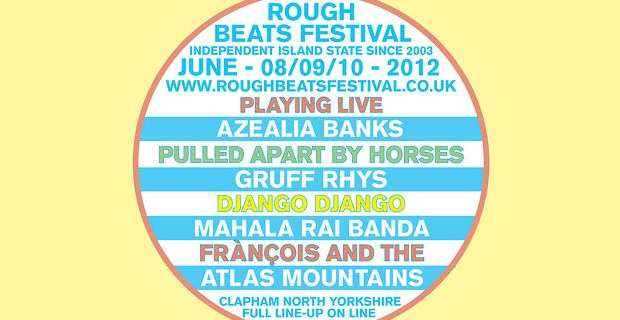 Next in our coverage for the run up to Rough Beats Festival 2012 we asked one of the men behind the festival, Mike McSherry, what he thinks about the festival's growth in popularity ( from 100 capacity to 3000 in 9 years) and what he's most looking forward to this year. 
So Rough Beats has been going on the quiet for quite a few years now. When was the turning point from party into festival? And what made you want to expand?
In some ways I like to think it hasn't yet turned into a festival and it's still just a massive life affirming party with all your favourite old friends. But I suppose it was in 2008 that we really started to notice a significant number of people who had just discovered Rough Beats. The thing about getting a little bit bigger each year is that it allows you to be more and more ambitious with the programming and with the site, so I think that's been a natural evolution.
You've had some great bands and memorable performances over the years. What have been your favourites and why?
I've got a massive soft spot for the Late of The Pier gig; they were really buzzing at the time and played a fantastic set. South London boys Vibe-a-deliks last year were loads of fun and you could tell were loving the Northern crowd and Led Bib played the summer they were shortlisted for the Mercury Prize and played a typically unconventional set by really fantastic musicians. Brilliant.
Obviously it's not all about the music. What's your favourite/most unusual moment/s?
One of my favourite moments is watching a friend, who shall remain nameless, involuntarily air drumming at the front of a big crowd with a massive drunken smile from ear to ear.
Event organisation is hard at the best of times. What's been the biggest learning curve expanding the festival and acquiring bigger artists?
The biggest thing we've learned is that our most successful line-ups are the ones where we trust our own instincts about what makes a good event and trust own taste and judgement about what we would want to see. The most important thing is making sure you don't go bust so you mustn't get sucked into chasing a demographic or booking that one act that will guarantee ticket sales. A lot of commentators this year have pointed to the festival scene and said "these events don't make sense". We've been determined to only put together a line-up that we could get excited about ourselves if we were punters and I think the brilliant line-up this year reflects that, whilst being eclectic at the same time. I think it reflects that we think a festival should be about fun. There are no worthy acts here to nod along to. There will be some beautiful pieces, especially from the likes of Francois and The Atlas Mountains, but not worthy.
What's going to be different this year?
Almost everything on site is going to be different this year. The venues, the food, and the drink the cocktails are all new. As well as there being loads of new spaces including a main stage for the first time, all of the familiar places have been reimagined or enlarged. The site layout is completely different; you can get a flavour of it here. One of the other things that has changed is the security arrangements. Unfortunately last year we were the victim of counterfeit wrist bands being sold so we are changing all of the plans around entry to the site. Rest assured, if you don't have a ticket you won't get in… But some things will never change and it will always be friendly, honest-to-goodness, knees up with great atmosphere, great music, great food and drink, great location and great prices.
What are your hopes for the outcome of Rough Beats 2012?
We just want everyone to have a bloody good time.
Dream line-up?
Azealia Banks, Pulled Apart By Horses, Gruff Rhys, Django Django, Mahala Rai Banda, Francois And The Atlas Mountains, dim, Le KCC Orchestra…. But if you were really going to push me, maybe one day we'll see M.I.A.
Why should people come to Rough Beats?
Because it's fun, beautiful, friendly, affordable and there's a brilliant line-up.
words by Sophie Lea
——————————————————–
Weekend tickets cost £65 (includes camping) and day tickets are £30 (includes camping up to 10am the next day) and are available from us! www.northernnoise.co.uk/tickets
Check out the Rough Beats Facebook and Twitter pages for news, warm-up party announcements and 'The Road to Rough Beats' series. For full line-up go to: www.roughbeatsfestival.co.uk